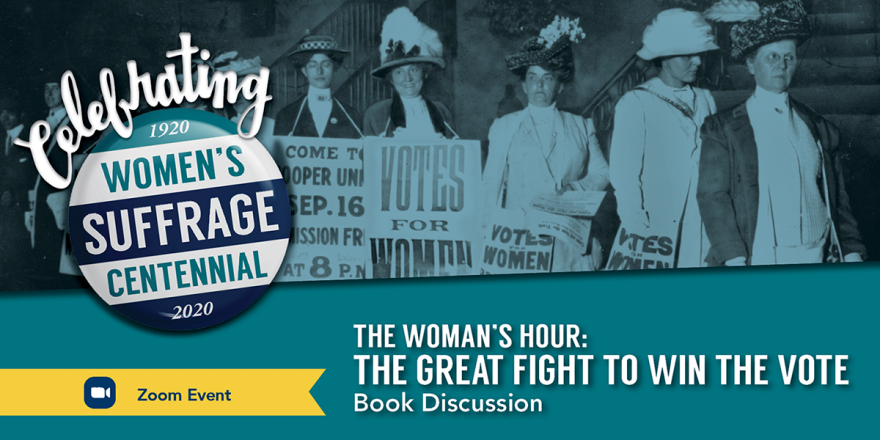 The Woman's Hour: The Great Fight to Win the Vote Book Discussion
Keep up to date with all of our Women's Suffrage events throughout this fall!
7 p.m. - 8:30 p.m. |
Via Zoom
Join the discussion around The Woman's Hour: The Great Fight to Win the Vote by Elaine Weiss with integrated webinars and presentations. All discussions will take place over Zoom. The final session will feature a conversation with the author. Meeting links will be sent to all registered participants the day before the scheduled session. You do not need to attend all sessions.
Wednesday, August 26, 2020 
Sally Bisson-Best will join us for a special night to talk about Doris Stevens, an Omaha native who was an important figure in the suffragist movement and securing women's right to vote. No need to have started the book yet. Important date in history: 
On August 26, 1920, the Secretary of State of State issued the proclamation that the 19th Amendment was now in effect.
Wednesday, September 30, 2020 
Discuss chapters 1-8  
Wednesday, October 28, 2020
Discuss Chapters 9-17
Wednesday, November 11, 2020
Discuss Chapters 18-23
Wednesday, December 2, 2020
​Pour a cup of tea and share a very special visit by the author, Elaine Weiss!
 
The CSM Library has two copies of each book available for checkout. Buy the book, eBook or Audio book on Amazon, or from your favorite book seller.
Questions? Email Melissa Tiemann at mtiemann [at] csm.edu