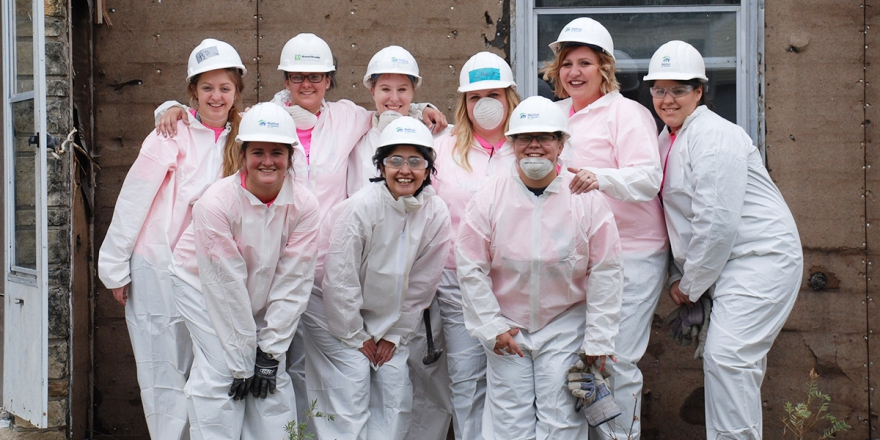 21st Annual Spirit of Service Day set for April 19
OMAHA, NEB. – On Thursday, April 19th, more than 450 students, faculty and staff members from College of Saint Mary will leave behind their daily routine to volunteer together throughout the Omaha Community for the 21st Annual Spirit of Service Day.
"On this day of service, our students learn outside the classroom," explains Carla Gerriets, director of campus ministry. "To serve others and make a difference throughout our community is a life experience we want all of our students to have."
CSM volunteers will complete projects throughout the Omaha Metro area at 26 local non-profit/service agencies. In line with the college's mission, this day embodies one of the six pillars of the university: commitment to compassionate service.
"I signed up for Spirit of Service Day because I feel it is a good thing to do.  CSM emphasizes service, so I look forward to having a school day off to volunteer," says Anne Wilson, who will participate for the first time.  Elisabeth White, who has volunteered in previous years, explains, "I enjoy Spirit of Service Day because you get to help people who have a hard time helping themselves.  You get to give back to the community, see the impact you had, and witness how grateful people are for your help."
Volunteers will gather at the College of Saint Mary Lied Fitness Center for a 7:45 a.m. kickoff breakfast the morning of April 19th. They will then travel to locations across Omaha for either a half day or full day of service.
Volunteer Sites this year
Amanda's Alligators
(Crafting alligator shaped heating/comfort pads for OT patients in honor of former student)
College of Saint Mary, OT Lab, Walsh Hall, 7000 Mercy Road, Omaha
Castellar Elementary School
2316 S. 18th Street, Omaha
Charles E. Lakin Human Services Campus
1415 Avenue J, Council Bluffs
College of Saint Mary Community Garden
College of Saint Mary, east of Spellman Child Development Center, 7000 Mercy Road, Omaha
Food Bank for the Heartland
10525 "J" Street, Omaha
Friendship Program
7315 Maple St, Omaha
Girls Inc.
2811 North 45th Street, Omaha
Grief's Journey (formerly Ted E Bear Hollow)
7811 Farnam Drive, Omaha
Habitat for Humanity of Sarpy County
1001 N. Fort Crook Road #207, Bellevue
Heartland Family Service Donations Center
1503 Avenue J, Council Bluffs
Holy Family Lunch
1715 Izard Street, Omaha
Humble Lily (Bethlehem House's store)
2580 S 90th St, Omaha
Keep Omaha Beautiful
3111 Florence Boulevard, Omaha
Kids Can Community Center
4860 Q Street, Omaha
Mercy Villa
1845 South 72nd Street, Omaha
Micah House
1415 Avenue J, Council Bluffs
Open Door Mission (3 locations)
2107 East Locust Street, Omaha
1620 N. 203rd St., Omaha
1612 Avenue D, Council Bluffs
 
Project Harmony
7111 F St., Omaha
Ronald McDonald House
620 South 38th Avenue, Omaha
Salvation Army (3 locations)
2525 Dodge Street, Omaha
6101 Northwest Radial Highway, Omaha
915 Allied Road, Bellevue
 
SEAN Prom Dress Drive
Omaha South High School, 4519 S. 24th St., Omaha
St. Vincent DePaul Store (4 locations)
5037 South 24th St Omaha NE
5920 Maple St Omaha NE
2101 Leavenworth Omaha NE
2101 Leavenworth Omaha NE (food pantry)
 
Student Occupational Therapy Association (SOTA)
(Posters for Make-A-Wish participants)
College of Saint Mary, 7000 Mercy Road, Omaha
Table Grace Ministries
812 S. 24th St., Omaha
Together Inc. (formerly Together Omaha)
812 S. 24th Street, Omaha
Youth Emergency Services
2602 Harney St., Omaha