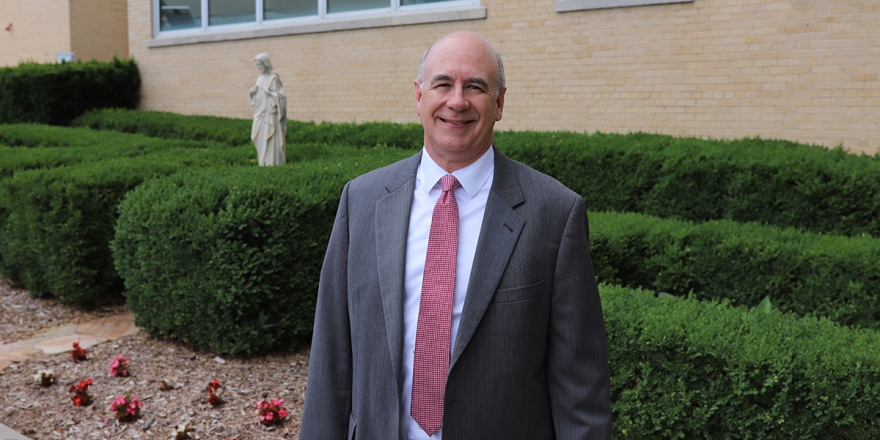 CSM appoints John Healy as Vice President for Academic Affairs
OMAHA, NEB. – College of Saint Mary President Dr. Maryanne Stevens, RSM, is pleased to announce that Dr. John F. (Jack) Healy has been named the University's new vice president for academic affairs. He began his duties on June 18.
As vice president for academic affairs, Healy will serve as the chief academic officer for CSM and is responsible for all educational activities in the undergraduate and graduate academic programs. He will also direct faculty in planning, evaluating and revising curriculum.
"Dr. Healy brings a valuable set of skills and experience from years working in the higher education space," says President Stevens. "Under his leadership, CSM looks to further its goal of providing quality academic programs and in turn advance this university's mission of inspiring students and fostering the leaders of tomorrow."
Healy comes to CSM from Minnesota State University Moorhead, where he served as associate vice president for academic affairs since 2015. From 2012-2015, Healy served as Dean, College of Humanities, Arts, and Social Sciences at the University of the Incarnate Word in San Antonio, Texas. Prior to that he was an associate dean at Central Methodist University in Fayette, Missouri, where he taught English starting in 2000.
"One of my primary interests throughout my time in higher education has been helping students gain access to education, and I know this is central to the mission here at College of Saint Mary," said Healy. "I plan to work hard to ensure quality programming and to continue the growth in our graduate and undergraduate offerings. I like the direction this institution is going, and I'm really excited to be a part of the great work happening here."
Healy holds both a Ph.D. and an M.A. in English from the University of Kansas, and a B.A. in English from Creighton University. He is also in the process of earning a Master of Law Letters (LLM) degree from the University of Missouri School of Law. Healy is joined in Omaha by his spouse, Kathryn Buso Healy.
 
College of Saint Mary – educating leaders since 1923. Founded for women by the Sisters of Mercy, CSM is a thriving Catholic university that provides access to affordable education. CSM fosters potential and leadership through academic excellence, scholarship and lifelong learning. The University offers undergraduate and graduate degrees in many of today's highest-paying, in-demand fields, including physician assistant studies, occupational therapy, nursing, science, education, business and legal studies.
CSM offers its student body an enriching collegiate experience that includes competitive athletics and a wide range of fine arts opportunities. A member of the Great Plains Athletic Conference (GPAC), CSM Flames field teams in 10 competitive sports: basketball, soccer, softball, volleyball, golf, bowling, competitive dance, swimming, tennis and cross country. Fine arts play a large role in rounding out an academic experience, and CSM provides students with the opportunity to continue their passion for music, art and drama.
Located in the heart of Omaha, home of four Fortune 500 companies, CSM's 40-acre campus is adjacent to Aksarben Village's vibrant and bustling retail and entertainment space, as well as Baxter Arena. CSM is minutes from world-class attractions such as the Henry Doorly Zoo and Aquarium, Joslyn Art Museum, Lauritzen Gardens and CenturyLink Center Omaha.
To learn more about College of Saint Mary, see CSM.edu, or contact Kyle Semprini, Director of Communications & Public Relations. 402-399-2407 • ksemprini [at] csm.edu