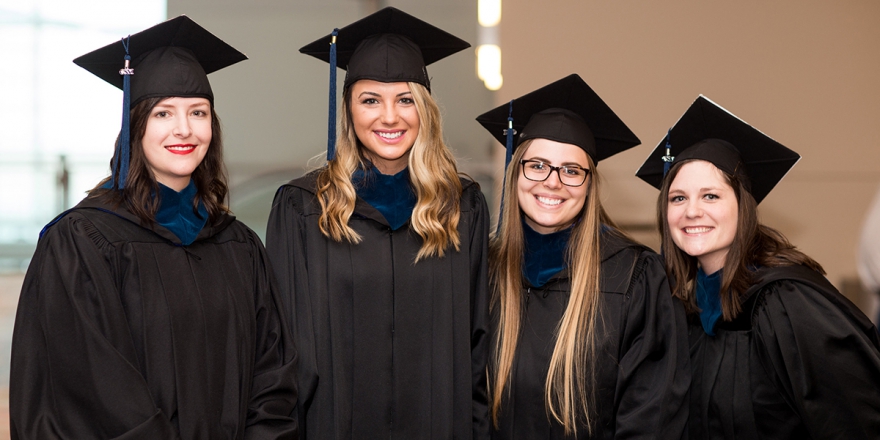 CSM celebrates Class of 2018
College of Saint Mary saw 262 of its students walk across the stage at Spring Commencement on Sunday, May 20, at CenturyLink Center in Omaha. Of those students, 121 of them are spring graduates, and 141 are summer graduates who will receive their official degrees in August.
The commencement address was delivered by Sr. Marilyn Lacey, RSM, founder and Executive Director of Mercy Beyond Borders. CSM President Dr. Maryanne Stevens presented degrees to the graduates.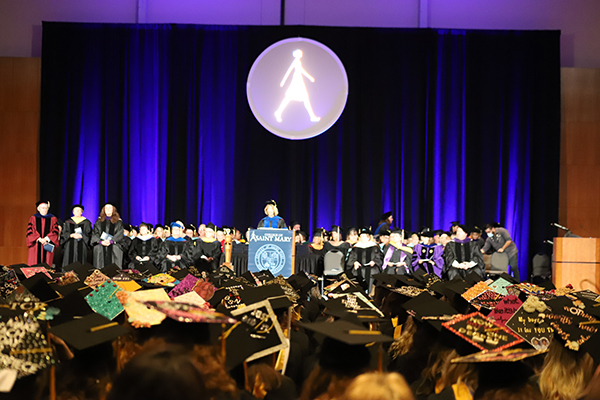 "Stay plugged in," said Sr. Lacey, as she urged graduates to stride forth from CSM with confidence. "Stay grounded in your beliefs. Allow yourself to be flung into the unknown, confident that you have gifts the world needs." Once personally honored by the Dalai Lama as an "unsung hero of compassion", Sr. Lacey has been working with displaced peoples since 1981. She received the $1 million Opus Prize last year for her work and was recognized as an AARP Fellow with just 14 other nonprofit leaders nationally. This year she was celebrated in song at a concert at the National Gallery of Art in Washington, D.C., as one of 20 women impacting the globe in positive ways, amongst Michelle Obama, Hillary Clinton, and Supreme Court Justice Sotomayor.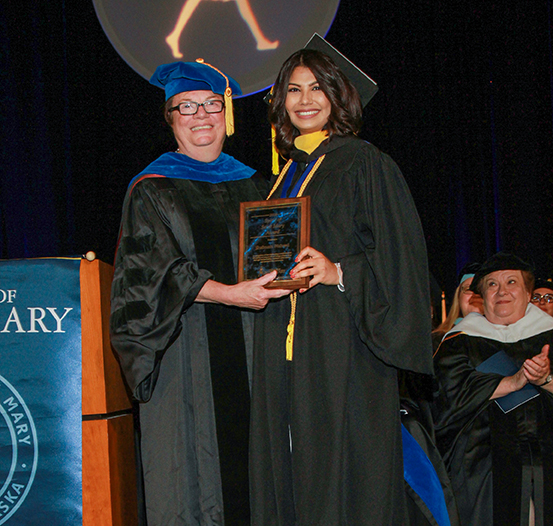 The event also featured the awarding of the College's prestigious Spirit of Saint Mary Award, the highest achievement given to a CSM graduate. Shabnam Waheed '18, biology student from Elkhorn, Nebraska, earned the honor after making outstanding contributions to the quality of campus life and promoting service throughout both the College and the community. By earning the award, Waheed was recognized as the student who best exemplified the spirit of life and growth that is fostered by the College of Saint Mary.
*Graduation Honors
Graduation with honors is based on the undergraduate student's quality point average for College of Saint Mary courses only. To be eligible for honors, the student must complete at least sixty-five semester hours of CSM courses at the bachelor's degree level or thirty-seven semester hours at the associate's degree level.
For Bachelor's Degrees
summa cum laude: a student must obtain a quality point average of at least 3.9
magna cum laude: a student must obtain a quality point average of at least 3.7
cum laude: a student must obtain a quality point average of at least 3.5
 
For Associate's Degrees
with highest honors: a student must obtain a quality point average of at least 3.9
with high honors: a student must obtain a quality point average of at least 3.7
with honors: a student must obtain a quality point average of at least 3.5