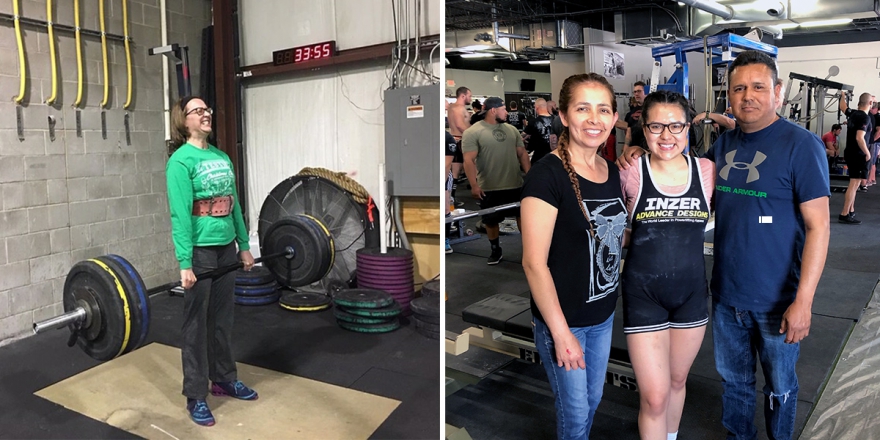 CSM Women Discover True Strength in the Weight Room
OMAHA, NEB. – In the spring of 2015, Dania Cervantes Ayala '19 wrapped her hands around a thick iron bar. She cleared her mind, breathed in, and pushed hundreds of pounds towards the sky – breaking a school record that stands to this day. In 2016, CSM alumna, Stephanie (Trouba) Sharp '87, roamed a gym only a few miles away, going through the same routines, loading iron plates onto a bar, and pushing herself through sweat and exhaustion to new personal bests.
Although both women started powerlifting at different points in their lives, each is showing the world how strong women can be – in mind, body, and spirit. In the weight room, they're both fighting off stereotypes, growing through the sport, and passing on its benefits to other women.
"At the end of the day, I know how strong my body is and what I'm capable of achieving," explains Cervantes Ayala. "I guess I have this sense of confidence that I built for myself, and nobody can take that away from me because I worked really hard to achieve that."
Cervantes Ayala, who is now a senior nursing major at College of Saint Mary, says she didn't consider lifting weights until she needed extra credits her senior year of high school. She signed up for a weights class upon a recommendation from her school counselor. However, her natural abilities soon caught the attention of the powerlifting coaches, and she decided to try out for the team.
She made the team and began working with trainers to learn techniques and build strength. However, as a Deferred Action for Childhood Arrivals (DACA) recipient and hopeful first-generation college student, she was amidst a stressful senior year of high school. Through the sport, she says she was able to learn to manage the stress and develop character traits that she uses on a daily basis.
"My coaches taught me how to leave everything at the door," Cervantes Ayala says. "Powerlifting, even though it's about strength and what you can do with your body, it's a lot of mind. If you think you can pull the weight off the floor or squat the weight, you will be able to accomplish it, but it's definitely in your mind."
This mental perseverance yielded positive results for Cervantes Ayala. She went on to take the state title in the 135 lb division her senior year of high school. Today, she still holds the Omaha South school record in the deadlift, squat, bench press, and total competition. More importantly, she used lessons from the sport to graduate, get into College of Saint Mary's nursing program, and attend college as a Misericordia Scholarship recipient.
Still, in addition to boosting her physical strength, perseverance, and mental abilities, she says competing in the traditionally male-dominated sport has helped shape her into a confident leader and emboldened woman.
"There aren't a lot of women, surprisingly, but it empowers you as a woman," she explains. "It shows you what you are capable of and what your body is capable of. Gaining muscle and body composition is a plus, but what you accomplish, nobody else can do that for you."
Across town, when Sharp started powerlifting, she was no stranger to excelling in arenas where women were in the minority. Already leading in a male-dominant IT career, she had worked in everything from IT project management to business analysis and programming.
So, with two daughters already lifting weights and her husband having recently picked up powerlifting, Sharp decided to give it a try in 2016.
Like Cervantes Ayala, she quickly developed a passion for the sport. Since, she has competed in around 12 weightlifting and powerlifting competitions throughout the last three years, including the Cornhusker State Games. She says this new-found interest has improved her health, boosted her confidence, and showed her what she's capable of doing.
"When you start doing it, you don't know what you can do," explains Sharp. "Last summer I did a back squat of 204 lbs, I did bench of 100 lbs, and deadlift of 260 lbs. You build your confidence when you go basically from empty bar at the beginning to that."
Sharp also says she sees the benefits her own daughters are experiencing through lifting and competition, and she recommends the sport to all women.
"I do think powerlifting as a sport is beneficial for women," Sharp says. "I believe the key benefits are the confidence, gaining strength, and it's just fun meeting other like-minded women and talking to them about the same things…And as you get older too, you don't have to get frailer. You can continue to get strong and stay strong."
Sharp plans to continue to lift and compete in powerlifting competitions in the future. When she isn't lifting hundreds of pounds of iron, she works as a software development manager.  She lives in Omaha with her husband and has two daughters, age 24 and age 19 – both of whom have lifted weights competitively.
Meanwhile, even as an involved student at College of Saint Mary, Cervantes Ayala still finds time to compete in powerlifting events and volunteers as a coach at Omaha South High School. Three days a week, she coaches high schoolers. There, she says she tries to pass on the techniques of the sport, but she also works to pass on the life lessons and positive character traits that sports help develop.
"I just teach them everything I could possibly teach them, including the lessons I've learned from the sport," Cervantes Ayala says. "The life lessons are the same for everyone. You have to teach them how to be independent and help them realize how strong they are and how capable they are."
Cervantes Ayala certainly practices what she preaches. After training all spring, she took home 2nd place in her division in Omaha's Show of Strength Powerlifting Meet earlier this month. Now, in just a handful of days, she'll be striding across the stage with a Bachelor of Science in Nursing degree, Spanish minor, and medical interpreter's certificate.
Photo: Left: Stephanie Sharp '87; Right: Dania Cervantes Ayala '19 with her mother, Patricia Ayala Gonzalez, and father, Martin Cervantes Osornio