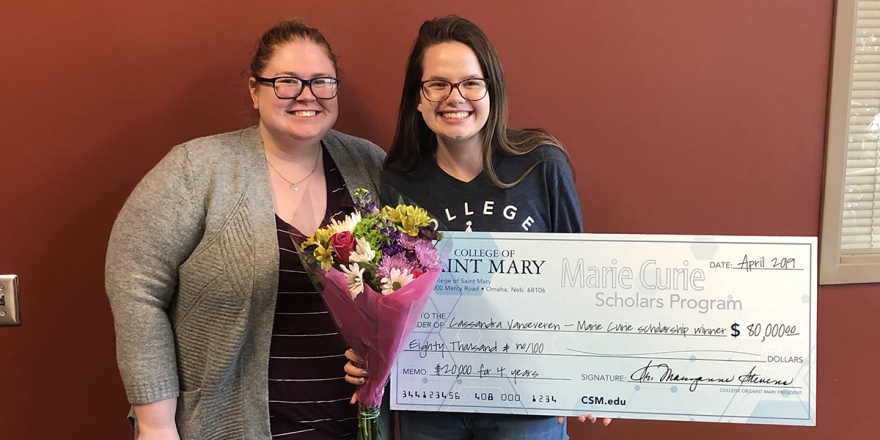 Gretna High Senior receives surprise full-ride scholarship
OMAHA, NEB. – College of Saint Mary (CSM) has selected Cassandra VanOeveren, of Gretna, Neb., as a Marie Curie Scholar, starting in the fall. CSM presented VanOeveren with a surprise scholarship check for $80,000 at Gretna High School on Wednesday, April 10. She receives the scholarship after standing out in academic talent and showing outstanding leadership service.
"Cassandra is an excellent student who consistently delivers extremely high-quality work," said Matthew Johnson, a secondary mathematics teacher at Gretna High School. "She displays an exceptional work ethic, a passion to understand how things work and a compassionate maturity. Cassandra will excel at college and any profession she pursues due to her impressive work ethic, contagious enthusiasm and unimpeachable character."
College of Saint Mary's prestigious Marie Curie Scholars Program, which is funded in part by the National Science Foundation, provides significant financial support and resources to outstanding young women pursuing study in STEM majors, such as biology, chemistry, or math.
Marie Curie Scholars receive up to $20,000 annually for four years in gift aid. In addition to having access to substantial financial resources and facilities, participants also receive free tutoring, have opportunities for undergraduate research, and have access to top programs like the National Institute of Health and NASA research fellowships. Marie Curie Scholars at CSM also often attend and present at national conferences.
VanOeveren earns the scholarship after achieving several honors at Gretna High School. Some of VanOeveren's academic and extracurricular accomplishments include:
National Honors Society member (2017-19)
Academic Honor Roll (2016-19)
NMEA All-State band winner (2016-18)
Cornhusker Girls State participant (2018)
 
At CSM, she plans to major in biology, starting in the fall of 2019. Located in Omaha, in the heart of Aksarben Village, College of Saint Mary uses initiatives like the Marie Curie Scholar Program to provide women from all backgrounds with access to an affordable, excellent college experience, career-driven coursework, and lifelong leadership skills. She is one of five recipients of this year's Marie Curie Scholarship.