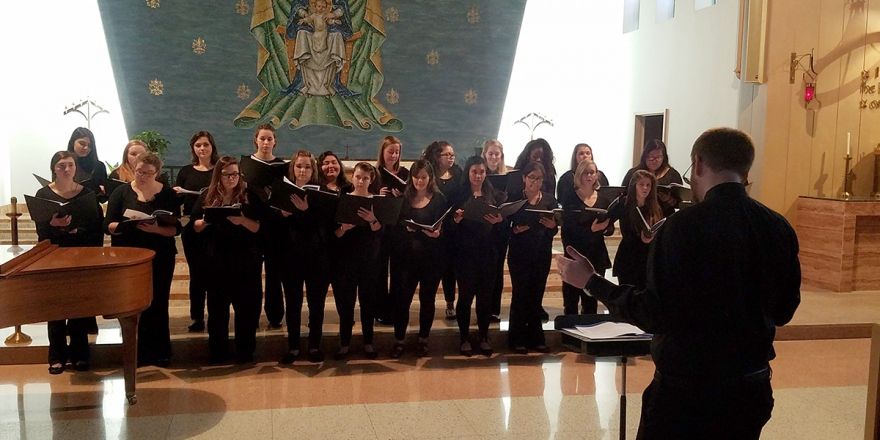 Lessons and Carols Christmas Concert set for Dec. 7
OMAHA, NEB. – College of Saint Mary will host its annual Christmas Concert, Lessons and Carols, on Friday, Dec. 7 at 7 p.m. at Our Lady of Mercy Chapel, 7000 Mercy Road, Omaha.
"This is one of my favorite performances we do all year," says Dr. Chris Krampe, CSM Director of the Fine Arts. "It's a chance for new students and community members to experience this timeless tradition, while providing returning viewers with the feeling of joy and wonder that they've come to expect from this production."
Lessons and Carols is a beloved Christmas tradition which began in England during the late 19th century. It has since gained worldwide popularity for its entertaining, beautiful depiction of the Christmas story. Scripture readings which tell the story of the promise of the Messiah and the birth of Jesus are interspersed with Christmas carols, hymns and choir music.
"Christmas is about bringing people together and spending time with the ones you care about," says McKenna Donovan '20, elementary education and special education major who sings alto in the CSM Singers. "It's great seeing so many people come to the performance—kids, parents, grandparents, faculty, and staff.  We become one family and can share the love of music and Christmas together."
Cost is $10 per person and can be purchased online at CSM.edu/Carols. Children age 12 and under are free. For more information, contact Dr. Chris Krampe, at 402-399-2622 or ckrampe [at] csm.edu.