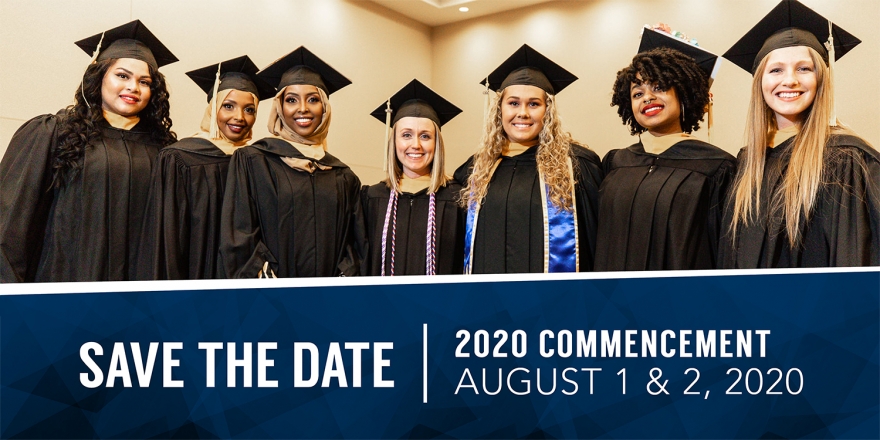 2020 Commencement
Saturday, Aug. 1, 2020

to

Sunday, Aug. 2, 2020
If you're a spring/summer 2020 graduate, you'll want to visit our Commencement 2020 page to RSVP, order cap & gowns, take your exit survey and more!
Commencement 2020
Saturday, August 1st
5:00 p.m. | Mass in Our Lady of Mercy Chapel
This is a Catholic Mass where a special blessing is given to all the graduates.  Non-Catholics are especially invited to attend and join in the prayer for the future of all those graduating.  Academic attire is to be worn.  
Please gather no later than 4:40 p.m. in your cap and gown in Walsh Hall Room 115 to process into Mass.
We invite any student to help at Mass as a reader, a Minister of the Eucharist or by bringing forward the Offertory Gifts.  Please indicate your interest in participating on the event RSVP (accessible on the Commencement 2020 page).  Sr. Beth Driscoll, Liturgy and Music Coordinator will contact you with additional information.
If you know of a priest or minister/rabbi/imam that you would like to invite to participate in concelebrating (Catholic Priest) or helping with the blessing (any ordained minister/rabbi/imam in any faith tradition), please indicate that on the event RSVP (accessible on the Commencement 2020 page).
If you are attending Mass, there will be a light Dinner Reception at 6:00 p.m. on the CSM Plaza
7:30 p.m. | Practical Nursing Certificate Ceremony in the Mercy Hall Dining Room
                Practical Nursing Certificates are awarded
7:30 p.m. | Bachelor Degree Honors Convocation in Gross Auditorium
                Undergraduate Program honors
7:30 p.m. | Bachelor Degree Nursing Pinning Ceremony in Our Lady of Mercy Chapel
                Bachelor Degree Nurses receive their nursing pins
7:30 p.m. | Master Degree Hooding Ceremony in the Lied Fitness Center
                Master Degree students are hooded
Refreshments on the Plaza following all evening ceremonies!
Sunday, August 2nd
10:30 a.m. Commencement at the CHI Health Center
Please arrive no later than 9:45 a.m.
Go to the robing area in the south conference room.
Please do not bring coats or purses into the robing area.
The ceremony will last approximately 1 hour.
Professional photos will be taken when you receive your diploma. Proofs and order forms will be e-mailed to you following the ceremony.
There will also be family picture taking stations in the main lobby.
Please return your robe to the robing area in exchange for your diploma.  The hood, cap and tassel are yours to keep. 
CSM kindly asks that you not wear corsages or other accessories on your academic attire.
Honor cord for bachelor's degree graduates (if earned) will be distributed before the ceremony.