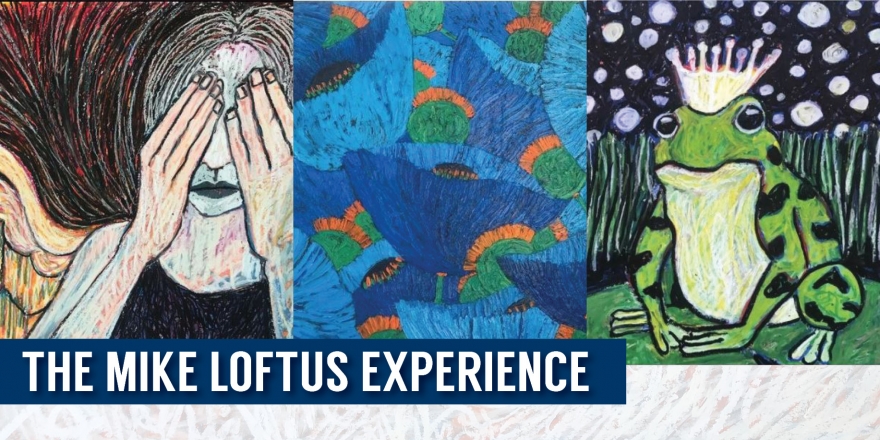 The Mike Loftus Experience: Reception
Thursday, February 3, 2022
5 - 7 p.m. |
Hillmer Art Gallery
Local artist Mike Loftus displays a full range of his work. 
With a current emphasis on oil painting and oil pastel drawing, Mike Loftus has been working and exhibiting as a visual artist in Omaha since the late 1980s.  Originally working with acrylics and chalk pastels exploring themes related to faith and mental health in the early 1990s, Mike's work in the early to late 2000s focused more on his four children but still with an emphasis on matters related to faith and the uncertainty of life and the hereafter.
With a BFA from the University of Nebraska at Omaha in 1993, Mike later returned to school to earn a degree in Special Education.  Having worked since 1994 with children, teenagers and young adults with developmental disabilities, a large part of the themes Mike also explored in his work have to with being a teacher for almost three decades to people with a range of developmental delays such as autism and Down syndrome.
Mike views all of his work as a metaphor for empathy.  Be it an owl, a landscape, a flower or even what may appear to be a tragic character, all images are meant to evoke sympathy and perhaps a state of spiritual empathy with the viewer.  
In the 2000s Mike exhibited work in other cities such as Seattle, Chicago and Minneapolis but in recent years he's primarily returned to showing in Omaha.  
February 3rd Opening Reception will include wine tasting and hors d'oeuvres.
Exhibit: Open January 24th through February 27th