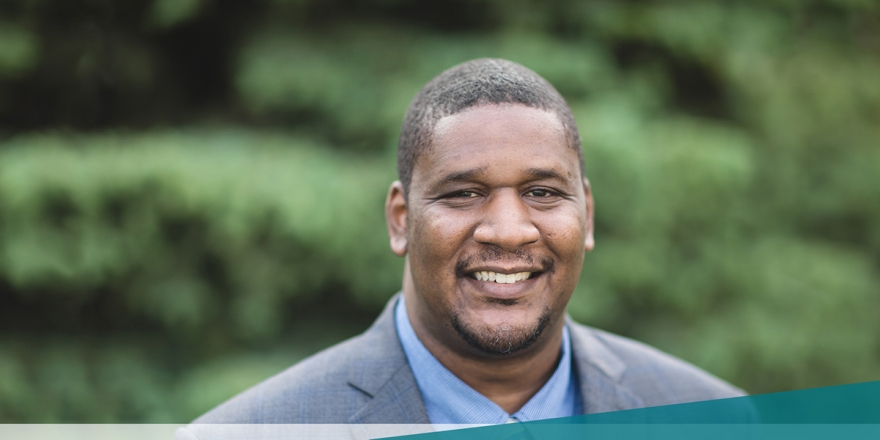 John Frost named new Vice President for Enrollment Services
OMAHA, Neb. – College of Saint Mary is pleased to announce that John Frost has been named the University's new vice president for enrollment services. He began his duties on May 3.
"John Frost brings with him extensive experience in higher education, a commitment to serving the underserved, and an engaging approach to connecting with prospective students, families, and outside organizations," says Dr. Sarah Kottich, provost at CSM.
As vice president for enrollment services, Frost will be responsible for leading CSM's efforts to advance its student recruitment goals. He will also work with university leaders in developing strategies to ensure student success, promote diversity, and elevate partnerships with local businesses and community organizations.
"I'm looking forward to being a part of something special here at College of Saint Mary," says Frost. "I believe CSM can position itself as the premier organization – not just regionally but nationally – that empowers and fosters leadership in women."
Frost comes to CSM from Southern Illinois University, where he has served as the director of admissions. Prior to that, he has held a variety of admissions and leadership positions at Bellevue University, Webster University, Metropolitan Community College, and Kaplan University.
"College of Saint Mary has a reputation for excellence," adds Frost. "In addition to our stellar academic programs, we have the student support and resources to help our students succeed."
Frost has worked as a motivational speaker and is former Chairman and spokesperson of the Multiculturalism and Diversity Committee for Nebraska Association of Collegiate Registrars and Admissions Officers. He received his Master of Science in Organizational Performance from Bellevue University (2018) and his Bachelor of Science in Communications from Wayne State College (2006).
"The number one thing that stands out to me is the 'compassion' component of College of Saint Mary's mission. If there is one thing we've learned in the past year, the world needs more compassion and servant leadership. This institution was built on these principles, and I'm excited to be a part of it."
 
College of Saint Mary – educating leaders since 1923. Founded for women by the Sisters of Mercy, CSM is a thriving Catholic university that provides access to affordable education. CSM fosters potential and leadership through academic excellence, scholarship and lifelong learning. The University offers undergraduate and graduate degrees in many of today's highest-paying, in-demand fields, including physician assistant studies, occupational therapy, nursing, science, education, business and legal studies.
CSM offers its student body an enriching collegiate experience that includes competitive athletics and a wide range of fine arts opportunities. A member of the Great Plains Athletic Conference (GPAC), CSM Flames student-athletes field teams in 11 competitive sports: basketball, soccer, softball, volleyball, bowling, competitive dance, swimming, tennis, track, and cross country. Fine arts play a large role in rounding out an academic experience, and CSM provides students with the opportunity to continue their passion for music, art and drama.
Located in the heart of Omaha, home of four Fortune 500 companies, CSM's 40-acre campus is adjacent to Aksarben Village's vibrant and bustling retail and entertainment space, as well as Baxter Arena. CSM is minutes from world-class attractions such as the Henry Doorly Zoo and Aquarium, Joslyn Art Museum, Lauritzen Gardens and CenturyLink Center Omaha.
To learn more about College of Saint Mary, see CSM.edu, or contact Kyle Semprini, Director of Public Affairs & University Communications. 402-399-2407 • ksemprini [at] csm.edu ()