Growth Through Service
Fundamental to the College of Saint Mary education experience is the ability to identify and learn how to serve others. We believe this is essential to living a fulfilled life and that is why we expect our students to take advantage of the ample service learning opportunities we provide.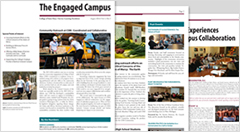 The Engaged Campus
Read the latest issue of College of Saint Mary's service-learning newsletter.
Read More

Founded by the Sisters of Mercy, College of Saint Mary is proud of our Catholic identity and serving others. We provide service opportunities to our students, faculty and staff who reach out to more than 30 community organizations annually.
Our connection with regional corporations and non-profit organizations is key to the robust service learning opportunities available to you. Faculty across all areas of study build service learning projects into their curricula. These projects are designed to help you understand specific course content while also responding to the needs of the community. You'll go out into the community to apply what you learn in the classroom, supporting the work these organizations are doing. Your professor will build  strong, reflective, and analytical components into the course to consider how the project relates to learning objectives, your core values, intended vocation and professional goals.
We are pleased that we have provided more than 10,000 hours of service to the people and organizations in our greater community in the last year. In addition, College of Saint Mary has been named to the President's Higher Education Community Service Honor Roll with Distinction by the Corporation for National and Community Service since 2010.
Service learning is an excellent way for our students to tap into what they are passionate about, network with leaders in our community and connect with local organizations for the betterment of our world.
Each year, the service learning program also organizes one or more immersion trips.  Some of these are local, providing cultural and service learning experiences in Nebraska and surrounding states; other trips travel to places like Laredo and El Paso, Texas.  Typically these trips are organized in the fall and occur either in the spring or over winter break. 
Spirit of Service Day – A Time to Gather Together to Do Good Work!
College of Saint Mary is pleased to hold our annual Spirit of Service Day, a time for students, alumnae, faculty and staff to come together to serve others in the community. There are many ways to serve. You can serve all day or elect to serve in the morning or afternoon at a service site.  We'll hold a kick off for the day (this is where you get your t-shirt!) and we'll have a lot of fun doing good work together. 
Alternative Break Trips
Campus Ministry plans Alternative Break Trips, providing two service-learning opportunities each year.