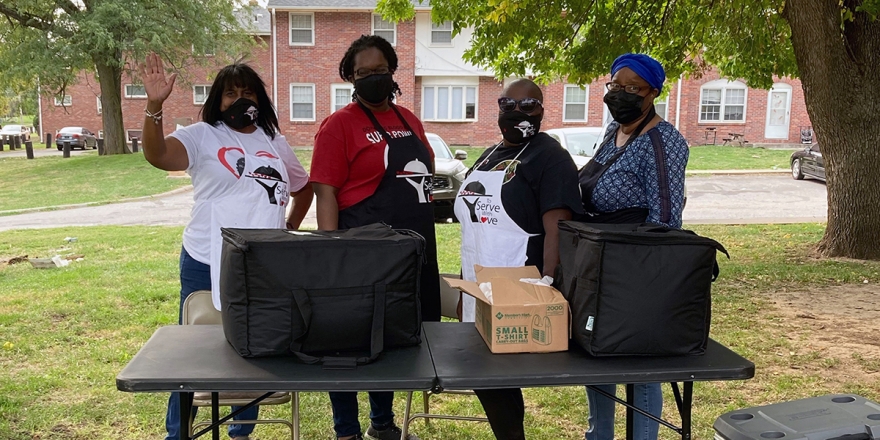 "People are hungry and we have to feed them" – College of Saint Mary alum is on a mission to help feed her community
OMAHA, Neb. – Four years ago, Diann Moore '16 put one of her aspirations on a vision board. It was simple: feed the hungry. However, as a full-time elementary school teacher, she never had the time to begin acting on her vision. That all changed in March.
"Once this pandemic hit, I suddenly had nothing but time," says Moore. "God has provided, and I truly believe this is a calling. People are hungry, and we have to feed them."
Moore sees it first-hand in her community and elsewhere in the city – many people don't know where their next meal is coming from. So, in spring this year, Moore said to herself, "God, this is the time."
She told her husband her plans to search for a food delivery truck so that she could arrange for meals to be given free of charge to those in need in her community. She found that truck in Red Oak, Iowa, and immediately called the health department to see what she needed to begin.
A kindergarten teacher at Wakonda Elementary School in Omaha, Moore spends her Saturday's cooking meals for those in need. Each weekend she delivers those meals to areas within her community.
"I'm now seeing people lining up and waiting for the truck o arrive each week," adds Moore. "People rely on us for food. My dream is to expand to multiple trucks, and to branch out to different, bigger parts of the city."
Currently, they serve foods such as hamburgers, pizza, hot dogs, with sides of potato salad or chips and a drink. This fall, Moore says they will transition to warmer dishes like spaghetti, lasagna, soups and breadsticks. "I want to give the people something that will stick to their bones."

Pictured L-R: Sameerah Ambris '14, Diann Moore '16, Tamika Davis-Gray '17 – all three College of Saint Mary alumnae – help deliver food to Omaha communities on Saturday, Sept. 19.
Moore's spirit of service stems from a lifelong dedication to helping others and working to unlock their full potential. After beginning her career as a certified nurse assistant (CNA), she transitioned out of the healthcare field to pursue her own daycare business and later worked for the school district as a paraprofessional. That's where her passion for teaching started.
"I wanted to teach kids that they can endure anything and overcome any hurdle if they just put their minds to it," says Moore.
She received her bachelor's in education from Concordia University before coming to College of Saint Mary to receive her master's degree in education with an emphasis in curriculum instruction. At the 2016 commencement ceremony, Moore was also honored with the Master of Science in Education Outstanding Student Award.
She says her degree from CSM helped her immensely in curriculum execution in the classroom. "I was able to dig into brain research and why things happen the way they do in a classroom. I still lean on those lessons that I learned at CSM."
She said she also enjoyed the flexibility to take classes on the weekends so that she could still work and raise her family. "CSM is very accommodating to the individual person. It's what sets it apart from other places I'd been."
A large part of College of Saint Mary's mission centers on compassionate service, and Moore has taken those values with her into her community and beyond. The delivery truck feeds 100-125 people per week, and that number continues to grow as word spreads and more donations come in.
Moore hopes her efforts will raise awareness of food insecurity while also meeting a massive need in the Omaha community. Community members can help by donating money or food items to the cause. For more information on how you can help, contact Diann Moore at 402-320-2347 or diann.moore [at] ops.org.