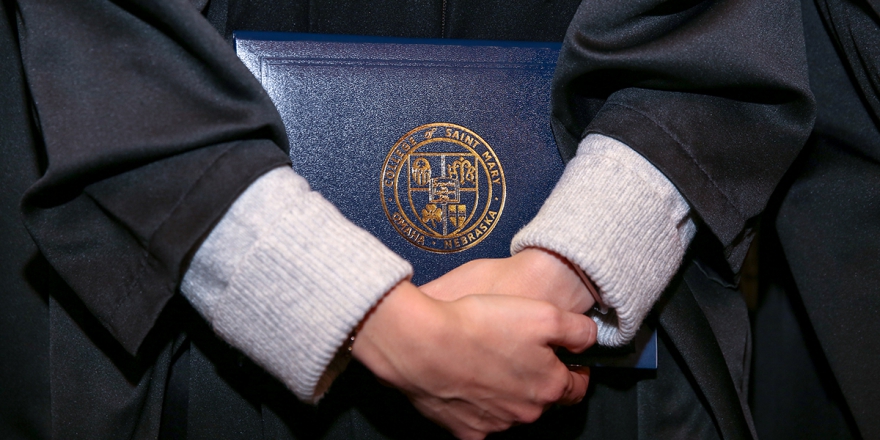 288 students to graduate from College of Saint Mary on May 19
OMAHA, NEB. – College of Saint Mary will graduate 288 students during Spring Commencement on Sunday, May 19th. They include 20 certificates, 146 bachelor's degrees, 111 master's degrees, and three doctorates.
Baccalaureate Mass will take place at 5 p.m. on Saturday, May 18th, in Our Lady of Mercy Chapel. Final Commencement will be held at 10:30 a.m. at the CHI Health Center in Omaha. Kathryn Weil Simon, founder of CSM's Great Conversations series and longtime supporter of the University, will deliver the commencement address.
Simon has always been drawn to opportunities to help women realize their full potential. She's committed her life to service and her example aligns with the mission of College of Saint Mary – to promote inclusivity, dignity, and transformative educational experiences for people from all backgrounds. Simon received an honorary doctoral degree from CSM in April at this year's Great Conversations Luncheon, an event which she began in 2004, and has now grown into an annual series which hosts close to 200 people.
Simon has since created multiple endowed scholarships to College of Saint Mary. She's also donated several pieces of art and gifted a priceless collection of Cinderella memorabilia, including 300 individual titles — 124 of which are held by fewer than 50 libraries worldwide.
Her commitment to service reaches beyond the walls of CSM. She spent the majority of her professional career as a guidance counselor and youth leader. She founded College Planning and Guidance Services of Omaha in 1982, which helped guide and support countless high schoolers through the college admission process. Weil Simon spent the next decade as a guidance counselor at Brownell Talbot School and Duchesne Academy for Girls. All the while, she somehow managed to find time to volunteer at places like Omaha's St. James Orphanage.
Several academic honors will be presented during the ceremonies on Saturday, May 18th, such as the awards for Outstanding Student in Education, Humanities, Music, Psychology, Biology, and Legal Studies. The recipient of the Spirit of Saint Mary Award, the highest achievement bestowed on a CSM graduate, will be revealed during Commencement on Sunday.