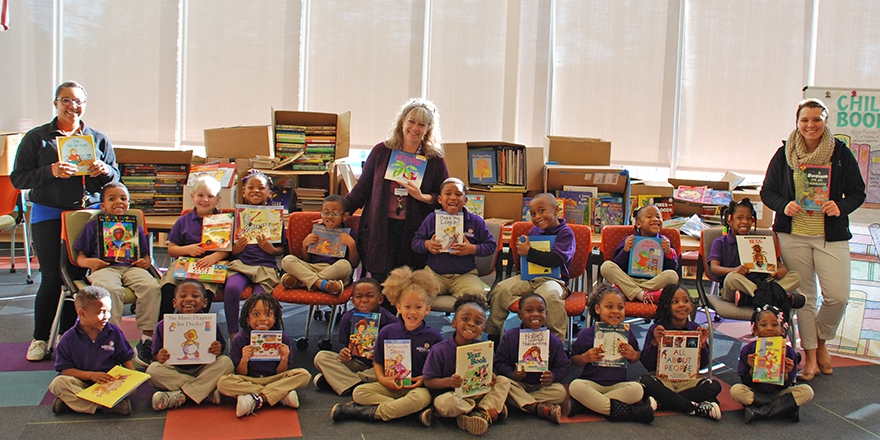 College of Saint Mary donates 2,000+ books to Nelson Mandela Elementary School
"The more that you read, the more things you will know. The more that you learn, the more places you'll go." – Dr. Seuss
Students at Nelson Mandela Elementary School have expanded those opportunities for reading, thanks to College of Saint Mary students, staff and faculty, who donated more than 2,050 books to elementary school and students.
For the past 18 years, the CSM community has come together for seasonal Spirit of Service programs. This year's fall project was a children's book drive. Students and staff loaded more than 20 boxes of K-6 books, which will fill not only the shelves at Nelson Mandela, but at their homes of its students, as well.
"We are so excited about the hard work and generosity of College of Saint Mary that resulted in so many of our scholars having more books in their home libraries," said Dr. Susan Toohey, head of school at Nelson Mandela. "We know that reading is key to success in life and this resource assists us in our mission to have all of our scholars on grade level in reading and math by the end of third grade."
"Service is one of the key pillars of College of Saint Mary's mission," said Kris Czerwiec, director of student leadership and spirit of service co-chair. "Our community teamed up to not only give back to one of our astounding partners, but we doubled our goal."
As a partner of Nelson Mandela Elementary, CSM nursing and public health students (under the supervision on a licensed practitioner) provide vision, weight, height and immunization screenings. CSM also provide a state aligned health curriculum to Nelson Mandela students. Swimming lessons are also taught in a summer enrichment program held at CSM.
By Brittney Long, Director of PR & Communications