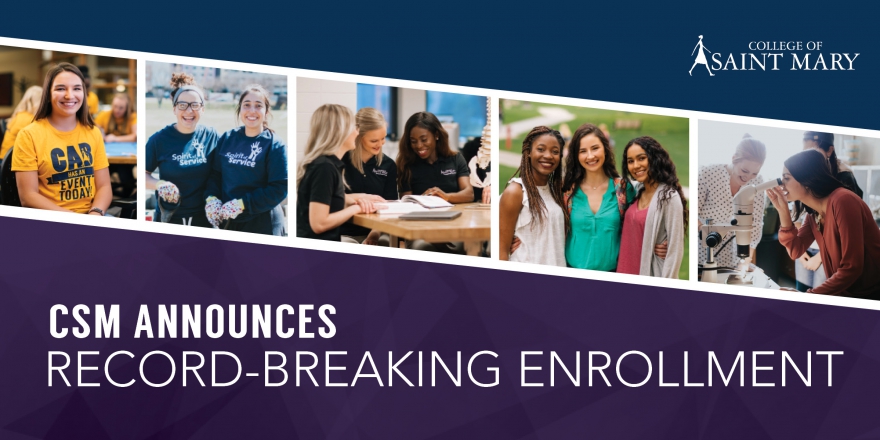 College of Saint Mary announces record-breaking enrollment
OMAHA, Neb. – This fall, the largest incoming freshman class in two decades has pushed College of Saint Mary's (CSM) full-time enrollment to its highest mark in the university's 95-year history. With a record-breaking 1,037 students studying full-time, the total student population hit 1,168 – the highest level in the last quarter-century. In addition to serving the most first-time, full-time students in 20 years, new graduate enrollment also jumped by more than 42 percent.
"Women from 35 states and 11 countries have responded to the opportunity to acquire knowledge, become empowered, and learn to influence the world in positive ways," said President Dr. Maryanne Stevens, RSM. "They are recognizing the advantage of focused, high-demand programs as well as the power of learning in an environment that promotes compassion, dignity, inclusivity, and service."
Students have been drawn to College of Saint Mary in recent years after an institution-wide push for investments in new programs that open an efficient path to graduation in high-demand fields. Most recently, to meet an increasingly loud call for qualified healthcare leaders, CSM announced its online Master of Science in Nursing – Leadership Emphasis, which lets working professionals advance in their careers on their own time and become community healthcare leaders in under 18 months. The university is also preparing the launch of an Occupational Therapy Doctorate and a hybrid Doctor of Physical Therapy program that is just the third of its kind nationally.
The interest in innovative, focused academic programs is spread across both undergraduate and graduate levels at CSM. In addition to seeing substantial undergraduate growth, the university experienced a dramatic increase in demand for its graduate programs. CSM has quickly earned a reputation as a leader in highly sought-after fields like occupational therapy, which has regularly recorded an annual licensure pass rate of 100%. This fall also revealed expanding demand for CSM's Physician Assistant Studies program, which recently graduated its inaugural class.
As momentum has heightened, so has the university's ambitions to make a transformative college experience accessible to all women. In the wake of CSM's recent 33 percent tuition reduction and elimination of all fees, the school has focused on cutting costs substantially while boosting grant and scholarship opportunities for students. In the last academic year, alumnae and friends of CSM doubled the level of donor funded scholarship contributions. As a result, this year's student body is borrowing less and following more direct--and cost-effective--paths to their careers. In addition to serving more high-need students than ever, CSM saw this year's four-year graduation rates jump by nearly 20%.
Along with making moves to drive down costs for students directly, CSM has worked to maximize the overall value of a high-quality education for students. To that end, the university has built out several collaborative tracks for bachelor's and master's programs that let students earn professional degrees in the time usually expected for a bachelor's program. For instance, students at CSM are able to go from high school to earning a master's degree in physician assistant studies or occupational therapy in just five years. Similarly, a qualified undergraduate enrolling in paralegal studies can earn a bachelor's degree in three years while fully qualifying for admission to law school.
"As enrollment continues to grow, we want to ensure students are positioned for success well beyond college. That means minimizing costs, increasing transparency, and helping raise up women from all backgrounds," said Dr. Stevens. "While we work to live out our mission in life-changing ways, we hope to act as a beacon for other universities across the nation."
CSM's push to bring more access and affordability to students from all walks of life, regardless of financial means, has resulted in an especially diverse, determined group this year. With the addition of this fall's incoming class of 375 students, the CSM community includes 141 single parents, 325 first-generation students, and 357 students who are considered to have high financial need. 
The historic student body will also feature more students than ever who have chosen to live on CSM's Aksarben Village campus. With 296 students residing on campus, CSM's active, inclusive campus setting has proven to be an increasingly attractive option for women who want to build bonds, benefit from one-on-one support, and prepare for service-driven leadership opportunities.
"Students want a full college experience and opportunities to progress within in a positive, tight-knit community," said Sara Hanson, Vice President for Enrollment Services. "Our students see the opportunity not just to prepare for a great job, but to grow as individuals, develop fully, and make a difference."
As demand rises, the university continues to cultivate new paths for students to learn, become empowered, and build character. In addition to investing in a fully revamped softball complex last year, the institution is currently renovating the Flames soccer field and clubhouse facility. Two athletic programs, competitive dance and bowling, just completed their first full years of competition, and CSM continues to invest in building out opportunities for women to grow through athletics. In the same light, students will also have access to more avenues for enriching experiences in the arts, with new additions including a full-time theatre director and ongoing plans to bring in dynamic visiting artists.
College of Saint Mary now offers 35 majors, 10 varsity sports, 8 graduate programs, and a range of service and involvement opportunities. Students at CSM learn within an inclusive campus community in the heart of Omaha's Aksarben Village.