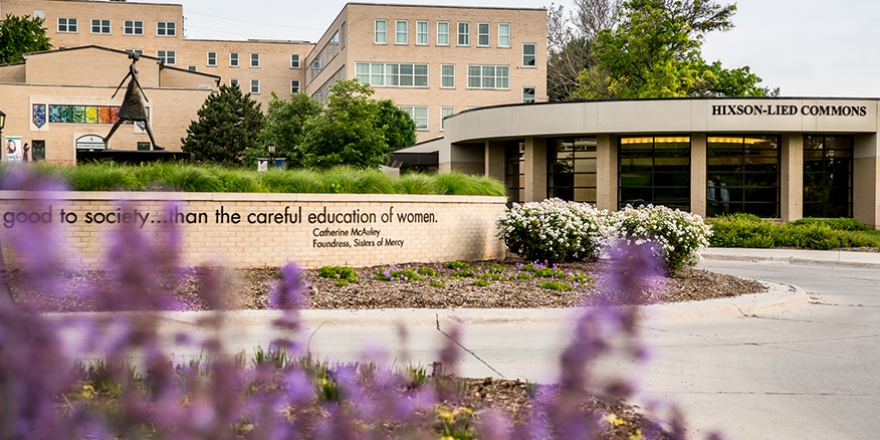 College of Saint Mary awarded $22,495 grant to enhance campus safety
Chicago, IL - Campus Consortium, the largest global education association of schools, colleges and universities, awards College of Saint Mary a $22,495 Grant to enhance campus safety through a state of the art campus safety mobile app. Founded by the Sisters of Mercy, the College is dedicated to academic excellence and service-learning opportunities that empower women by calling forth potential and fostering leadership.
"College of Saint Mary is committed to providing an educational environment that is intellectually challenging and spiritually enriching," said David Ferber, Director of Safety and Security at the University. "Our campus has been named one of the safest campuses in America, and as such we are continually seeking opportunities to be a leader in campus safety. While "Emergency Blue-Light" stations have historically served many campuses, CSM is seeking to use the latest technology to ensure students have instant access to emergency safety assistance at all times and in any location. This grant will enable the school to equip and train students and staff to access safety assistance right from their mobile device."
The Campus Consortium Grant will enable College of Saint Mary to strengthen the safety and security of its students, faculty and staff. The Campus Safety App allows students to contact campus safety with the touch of a button and automatically gives campus safety the caller's location. Students can further customize it to send alerts to their parents, guardians or friends in case of an emergency.
"The Campus Consortium Grant Committee found College of Saint Mary in need of a technology that can transform student safety in a much easier and efficient manner", expressed Anjli Jain, Chairman at Campus Consortium. "The need of a committed security measure is basic, along these lines, the Campus Safety App will be an advantage for the College."
To learn about and apply for a Campus Consortium Grant, please visit campusconsortium.org/grant-programs.
About Campus Consortium
Campus Consortium is a leading education association with more than 37,000 higher education institutions and K-12 school district members. The Campus Consortium's mission is to help members reduce the time, cost and effort associated with implementing enterprise IT services by leveraging shared IT services, lessons learned and best practices so that each member can avoid reinventing the wheel. For more information, please visit Campus Consortium or contact Marketing Desk.
About College of Saint Mary
College of Saint Mary is a thriving Catholic women's university located in Omaha, Nebraska. Enrollment totaled 1,140 students in fall of 2017, propelled by one of the largest incoming classes in the institution's 94-year history.
With more than 35 academic programs, College of Saint Mary offers associate's, bachelor's, master's and doctorate degrees in high-demand majors such as occupational therapy, physician assistant studies, nursing, biology, business, education and legal studies. The student-to-faculty ratio is 11:1. For more information, please visit  http://www.csm.edu/