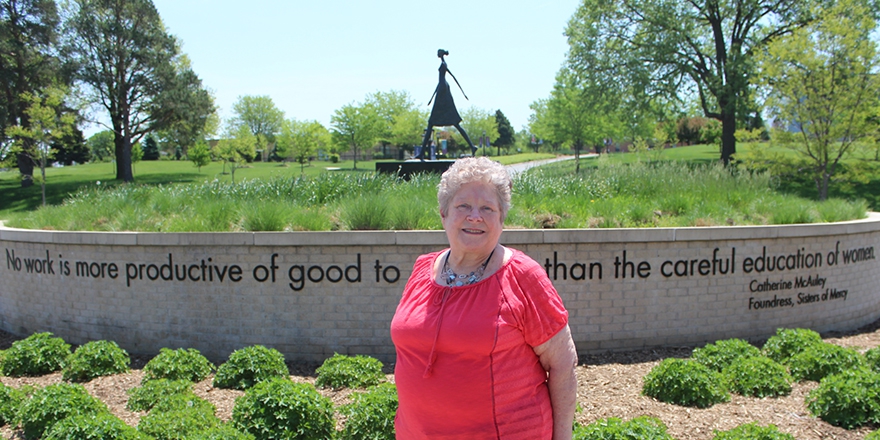 College of Saint Mary celebrates graduating grandma
Mary Nastase isn't your typical College of Saint Mary student – although, at one time, she certainly was.
But that was a lifetime ago – when she enrolled at CSM as a freshman in the fall of 1958. She attended classes for two years but left in 1960 with her two-year degree in hand to get a full-time job, earn a living and eventually start a family.
A lot has changed during the 52 years between Mary Nastase's first day and her return to finish her degree in 2010.
The campus, of course, has expanded with new buildings, new courses, new professors and new leadership. The area surrounding the campus at 72nd and Mercy Road has also changed. Long gone are the Aksarben racing grounds (now inhabited by business and entertainment), and the area west of campus has grown and expanded exponentially.
"Back then, the city basically ended at 72nd Street; there was very little out here past the campus," said Nastase, a 1958 Mercy High graduate. "We felt like we were in our own little world – our own patch of time."
Technology is considerably different with computers, the Internet, email, cell phones and other gadgets that have made life – and research, in particular – less time-intensive but also less rewarding in her opinion.
"I remember taking a bus to the downtown library and getting lost for hours going through the volumes of books, reference material, etc., to do research for papers and assignments; I loved it," she said. "Now, you just turn on the computer and look something up online. It's fascinating. The computer is the best invention I think we've ever had."
The students – along with the times – have also changed in that life is much more casual for the young women who attend class than when she first arrived nearly 60 years ago.
"We all wore skirts or dresses every day, never pants, and now the young ladies all wear shorts, jeans and sweats to class; it's just a much more casual world than when I started here," said Nastase, mother of six, grandmother of 14 and great-grandmother of four. "On Fridays, we wore heels to class. That made things even more formal and less comfortable."
Despite her long absence, she never gave up on the idea of finishing her degree. It was always in the back of her mind.
While chatting with Assistant Vice President for Alumnae & Donor Relations Diane Proulx '72 at an event in 2010, Nastase learned about the opportunity CSM offers students over 65 to take one class each semester for free.
She knew instantly that this was her opportunity to return and accomplish her dream of earning her bachelor's degree in General Studies. Through the years, she took classes at Metropolitan Community College and nearly all the hours transferred to CSM when she returned.
Now, at age 76 (she'll be 77 in December), she'll graduate (as she says, "finally!") with her classmates May 21 to a very loud ovation from family and friends who will travel from all over to see her reach this milestone.
Normally reliant upon her walker and oxygen, Nastase will walk across the stage with only the assistance of two of her granddaughters to accept her diploma. After that, she'll enjoy a big party where more than 130 are expected to celebrate her accomplishment.
And while her classmates will be going on to attend graduate school or enter the workforce with their shiny new degrees in hand, Nastase said she is excited just to have completed something she started a lifetime ago.
"I did this for me; it wasn't for anyone else but me," said Nastase, who was originally supposed to graduate in 1962. "My younger brother has his associates (two-year) degree, but I'm the only one among my seven brothers and sisters – all still living – who finished a four-year degree.
"I'm very proud to have done this. It's the biggest thing in my whole life outside of my marriage and the births of my children."