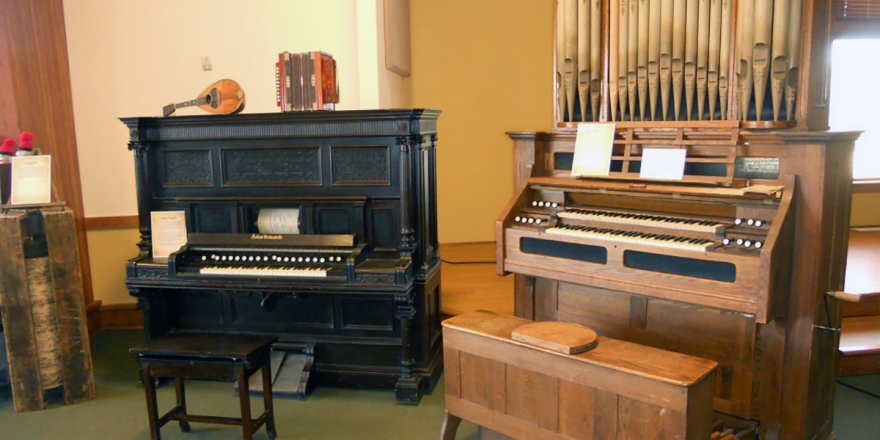 College of Saint Mary exhibit offers a lesson in the piano's history
- Kim Carpenter / Omaha World Herald correspondent - 
There was a time from the mid-19th to at least the mid-20th century when any upwardly middle-class or upper-class home in the United States boasted a piano.
The musical instrument was the ultimate aspirational status symbol. It meant not only could a family afford a piano, it could also afford lessons to learn how to play it. Family members also had the leisure time to practice and play and, of course, they boasted a sophisticated appreciation of music.
With music more accessible than ever today, pianos aren't quite the coveted objects they once were, but they are still prized for the beautiful music they make. College of St. Mary's "Piano Forte: Musical Oddities in Time" highlights that by showcasing a rare collection of pianos and piano-like instruments, ranging from the first pianofortes of the 16th century to the modern-day piano. The exhibition also explores their design, engineering and history.
The collection is curated by Steve Misener, a piano collector, researcher and technician from Stockholm, South Dakota. His collection includes more than 130 pianos, organs and other related instruments and musical items. For "Piano Forte," he transported 25 instruments that are more unusual and can be characterized as "musical oddities."
These include instruments such as a 1575 Cabinet pipe organ, an 1815 Erard harp, an 1856 Steinway square piano, an 1875 McKenzie hammer dulcimer and even a Wurlitzer butterfly toy piano from 1930. Each reflects the age in which it was created and is every bit as historical as it is a musical marvel.
Misener's story began at age 10, when he first became interested in music, history and mechanics and began taking piano lessons. In high school, he worked on pianos for shop class and then studied piano tuning and repair in college. After completing two apprenticeships, Misener opened his own business in 1980. His focus on piano restoration enabled him to begin seeking out and accumulating old and unusual pianos.
The collection is extensive and complete in scope. The oldest piece is a cabinet pipe organ tracing back to the late 1500s. About 35 other pianos were crafted before 1860. Many of the pianos and organs were made in the United States, while others were built in Germany, England, France, Canada and other European countries.
Misener's collection allows visitors to appreciate the origins of the piano, originally dubbed a pianoforte, an instrument that could be played both softly ("piano") and loudly ("forte"). Invented circa 1700, it was preceded by harpsichords, which essentially had only one volume: loud.
"At the time, it was really cutting-edge technology," Misener said. "Harpsichords couldn't be played soft and loud. The piano was revolutionary. It has 88 notes, and a composer could write music for an entire orchestra on just one instrument."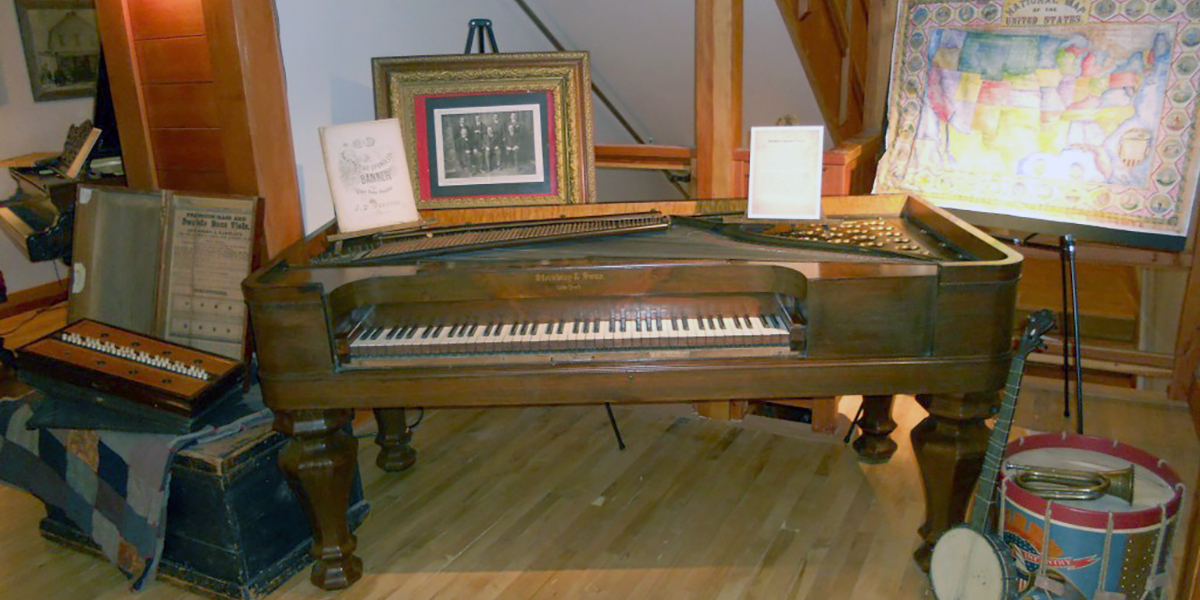 The collector notes that at the beginning of the 20th century, a piano cost as much as an automobile, and it was one of the first items that could be purchased in installments.
"If you wanted music in your home, you had to bring it in," Misener said. "It shows what people were willing to do to make that happen."
While the exhibit has strong appeal for music lovers, viewers with a variety of interests will also find the history, engineering and design components of the pianos interesting. Several instruments are still in working condition, and viewers are invited to play them during the tours and/or listen to Misener play them. The collector also includes stories about the music industry of the time, relevant composers and details of the instruments' previous owners during the tours.
"We're excited to bring such a remarkable and historic exhibit to this campus," said Lizzy Gilbert, director of major gifts at CSM. "It's an opportunity that doesn't come around often, so I'd encourage anyone who has an appreciation for the arts to attend the opening or take a personal tour."
No matter which instrument strikes the strongest chord with viewers, one thing is certain.
"One of the things that stands out, as far as pianos are concerned, is that they all have a story," Misener said.
College of St. Mary Hillmer Art Gallery, 7000 Mercy Road. "Piano Forte: Musical Oddities in Time." Opening reception: 5 to 7 p.m. Thursday. Through Dec. 23. Gallery hours: 9 a.m. to 7:30 p.m. Monday-Thursday, 9 a.m. to 5 p.m. Friday, 8:30 a.m. to 12:30 p.m. Saturday. Admission: free. Schools and community buses are invited for tours, with free bus transport available on a first-come, first-served basis. csm.edu, stevemisenerpiano.com or 402-399-2456.