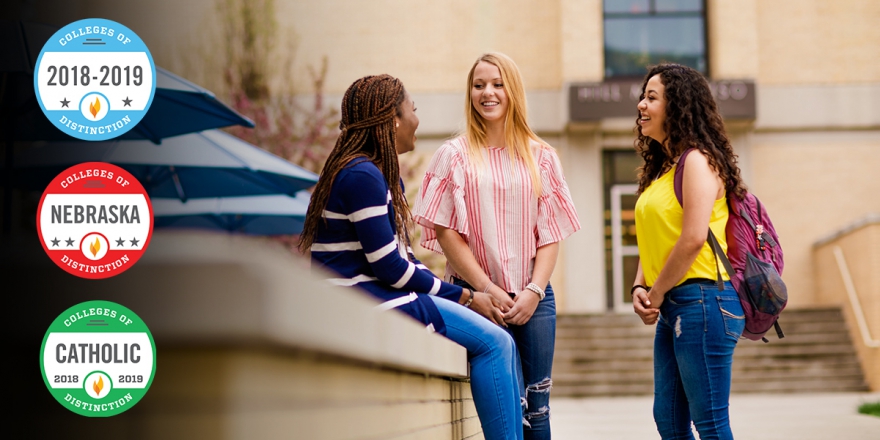 College of Saint Mary honored among national Colleges of Distinction
OMAHA, NEB. – College of Saint Mary (CSM) has been recognized for its committed implementation of High-Impact Educational Practices, earning its title as one of the nation's Colleges of Distinction.
CSM has proven itself to be at the forefront of American higher education with a modern, student-centered approach to teaching. Educating leaders since 1923, the University is committed to providing access to an affordable, quality education. With over 35 programs, CSM emphasizes academic excellence, scholarship and lifelong learning.
"I'm pleased to learn that College of Saint Mary has been recognized as a College of Distinction," says CSM President Dr. Maryanne Stevens, RSM. "This honor adds further validation to the University's commitment to providing access to education and fostering the leaders of tomorrow."
CSM students develop valuable skills through transformative experiences such as study abroad trips, internships, service learning opportunities, campus engagement, independent research, professional networking and student activities.
"We are absolutely thrilled to recognize College of Saint Mary as a College of Distinction for its effective dedication to student success," said Tyson Schritter, Chief Operating Officer for Colleges of Distinction. "Colleges of Distinction is so impressed with CSM's curriculum, which is enriched with the kind of High-Impact Educational Practices that are most crucial for student development. Such innovative engagement is preparing the next generation of young adults to thrive after college."
Colleges of Distinction's selection process consists of a review of each institution's freshman experience and retention efforts alongside its general education programs, alumni success, strategic plan, student satisfaction, and more. Schools are accepted on the basis that they adhere to the Four Distinctions: Engaged Students, Great Teaching, Vibrant Community, and Successful Outcomes.
"Colleges of Distinction is far more than a ranking list of colleges and universities," said Schritter. "We seek out the schools that are wholly focused on the student experience, constantly working to produce graduates who are prepared for a rapidly changing global society. Now recognized as a College of Distinction, College of Saint Mary stands out in the way it strives to help its students to learn, grow, and succeed."
About College of Saint Mary
Founded for women by the Sisters of Mercy, CSM is a thriving Catholic university that provides access to affordable education. CSM fosters potential and leadership through academic excellence, scholarship and lifelong learning. The University offers undergraduate and graduate degrees in many of today's highest-paying, in-demand fields, including physician assistant studies, occupational therapy, nursing, science, education, business and legal studies.
CSM offers its student body an enriching collegiate experience that includes competitive athletics and a wide range of fine arts opportunities. A member of the Great Plains Athletic Conference (GPAC), CSM Flames student-athletes field teams in 10 competitive sports: basketball, soccer, softball, volleyball, bowling, competitive dance, golf, swimming, tennis and cross country. Fine arts play a large role in rounding out an academic experience, and CSM provides students with the opportunity to continue their passion for music, art and drama.
About Colleges of Distinction
Since 2000, the Colleges of Distinction website and guidebook have honored schools throughout the U.S. for their excellence in undergraduate-focused higher education. The cohort of schools in the Colleges of Distinction consortium distinguish themselves through their focus on the undergraduate experience. The website and annual guidebooks provide dynamic college profiles, customized tools, and resources for students, parents, and high school counselors. For more information, and to learn how to become a College of Distinction, visit CollegesofDistinction.com.