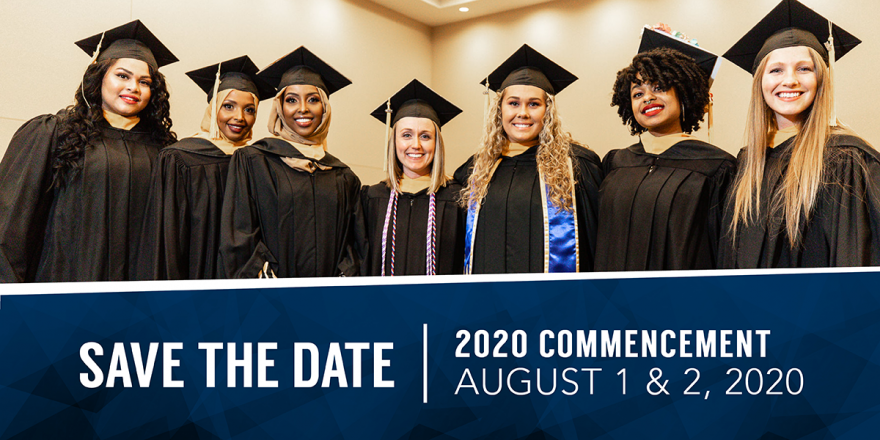 College of Saint Mary moves Commencement Ceremonies to Aug. 1-2
OMAHA, Neb. – In order to protect the health and safety of its students and community, College of Saint Mary (CSM) has postponed its 2020 Commencement Ceremony originally scheduled for May 17th. The College announced plans to reschedule the ceremonies to the weekend of August 1st - 2nd, 2020.
"We recognize that this day signifies such an achievement and is one of the highlights of your experience here at College of Saint Mary," says CSM President Dr. Maryanne Stevens, RSM. "It's our hope that by pushing back the formal commencement date, we'll be allowed to gather together and share the joy of this amazing milestone with you and your families."
Baccalaureate Mass, Honors Ceremony, Nurse Pinning Ceremony and Graduate Hooding Ceremony will take place on campus the evening of Saturday, Aug. 1st. Then Sunday morning, at 10:30 a.m., the College will host its 2020 Commencement Ceremony at CHI Health Center in Omaha.
"This is your day – and I so look forward to being there to greet you as you walk across that stage," adds President Stevens.
The university will still confer degrees this May to all undergraduate and graduate students who are eligible to graduate.
Further information and updates about Commencement will be shared on College of Saint Mary's website at CSM.edu. To stay informed on updates and announcements from the university related to COVID-19, please visit CSM.edu/COVID-info.
 
College of Saint Mary has been educating leaders since 1923. Founded for women by the Sisters of Mercy, CSM is a thriving Catholic university that provides access to affordable education. CSM fosters potential and leadership through academic excellence, scholarship and lifelong learning. The University offers undergraduate and graduate degrees in many of today's highest-paying, in-demand fields, including physician assistant studies, occupational therapy, nursing, science, education, business and legal studies.
CSM offers its student body an enriching collegiate experience that includes competitive athletics and a wide range of fine arts opportunities. A member of the Great Plains Athletic Conference (GPAC), CSM Flames student-athletes field teams in 11 competitive sports: basketball, soccer, softball, volleyball, bowling, competitive dance, golf, swimming, track & field, tennis and cross country. Fine arts play a large role in rounding out an academic experience, and CSM provides students with the opportunity to continue their passion for music, art and drama.
Located in the heart of Omaha, home of four Fortune 500 companies, CSM's 40-acre campus is adjacent to Aksarben Village's vibrant and bustling retail and entertainment space, as well as Baxter Arena. CSM is minutes from world-class attractions such as the Henry Doorly Zoo and Aquarium, Joslyn Art Museum, Lauritzen Gardens and CenturyLink Center Omaha.
To learn more about College of Saint Mary, see CSM.edu or contact Kyle Semprini, Director of Communications & Public Relations. 402-399-2407 • ksemprini [at] csm.edu ()