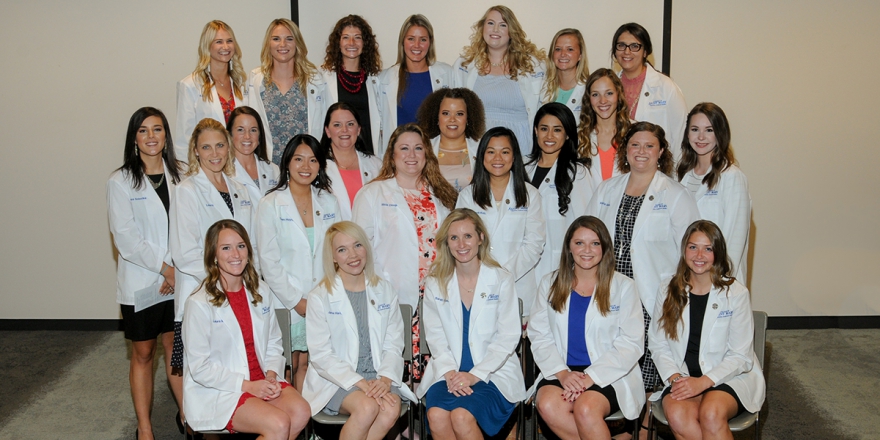 CSM celebrates 2nd Annual Physician Assistant White Coat Ceremony
OMAHA, NEB. – College of Saint Mary hosted its 2nd Annual Physician Assistant White Coat Ceremony on Saturday, July 14. The event recognized those students who have earned entry into clinical patient care.
"We're fortunate to have such an involved and engaged student body, and it is exciting to see the leadership and excellence demonstrated by the people in this room tonight," said CSM President Dr. Maryanne Stevens, RSM. "I'm confident that each of you will continue to live out the College of Saint Mary mission as you leave our campus and begin your clinical year."
President Stevens then congratulated the faculty and staff. "You have empowered these women to become their best selves – you have furthered their abilities to gift our world, and we thank you."
Keynote speaker Jennifer Grove, Ph.D., addressed and congratulated the students. Dr. Grove is an assistant professor of biology at CSM, instructing students in their courses on immunology, hematology, microbiology, infectious disease and clinical genetics.
President Stevens presented the Gold Standard of Spirit Award to Kathryn Janiak. Janiak was selected for the honor by her peers for her passion for the profession, her positive attitude, and willingness to help others.
This is the second group of students to receive the distinguished White Coat honor since CSM's Master of Science Degree in Physician Assistant Studies program was launched in 2016. Some members of the group are also part of CSM's accelerated PA program, which allows students to take pre-PA classes as undergraduates and become a practicing physician assistants in just five years.
Upon receiving their white coats, students will complete their final 12 months of education with hands-on practice in varied clinical rotations. Created during a rising demand for PA careers, CSM's Master of Science Degree in Physician Assistant Studies program is one of CSM's newest academic additions and is one of more than 35 graduate and undergraduate programs offered by the University.
List of Physician Assistant Students:
T'Essence Bessick           
Alicia Clough                                      
Juliet Clutter                     
Lindsey Feilner                                 
Kirsten Flemming            
Victoria Gutierrez                                           
Jane Hartigan    
Tram Huynh                                                      
Sarah Inman                      
Kathryn Janiak                                  
Kara Kane                                                             
​Hanh Keblesh   
Sara McClinton                                 
Laura McPhillips               
Sarah Meuret                                   
Alyssa Meyer                    
Bethany Tomasek           
Laura Pfeil                          
​Katlin Radke                                                      
Erin Root                             
Stacey Samuel                                    
​Raychel Schurman          
Jenna Sobotka                                 
Alexandria Sutton