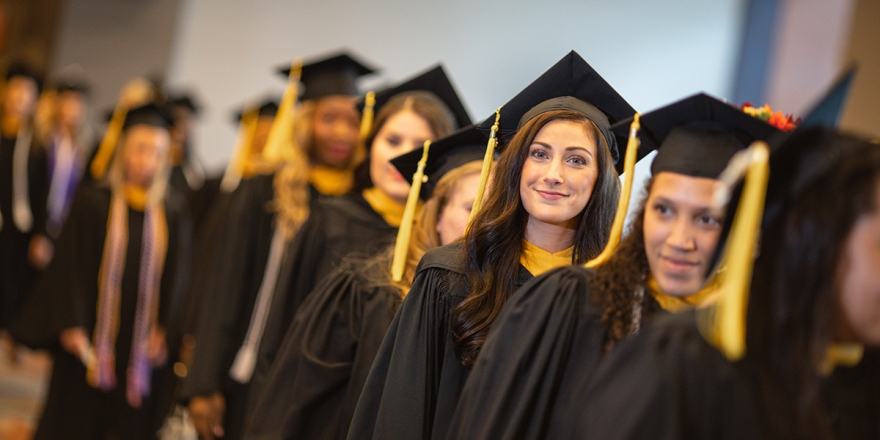 CSM celebrates Class of 2019
College of Saint Mary (CSM) would like to congratulate the 101 students of this year's spring graduating class. These students received their degrees at Spring Commencement on Sunday, May 19th, at the CHI Health Center in Omaha.
The commencement address was delivered by Kathryn Weil Simon, longtime supporter of the College and founder of CSM's Great Conversations speaker series. CSM President Dr. Maryanne Stevens, RSM, presented degrees to the graduates.
The event also featured the awarding of the College's prestigious Spirit of Saint Mary Award, the highest achievement given to a CSM graduate. Katie Golka '19, secondary English education student from Grand Island, Nebraska, earned the honor after making outstanding contributions to the quality of campus life and promoting service throughout both the College and the community. By earning the award, Golka was recognized as the student who best exemplified the spirit of life and growth that is fostered by the College of Saint Mary.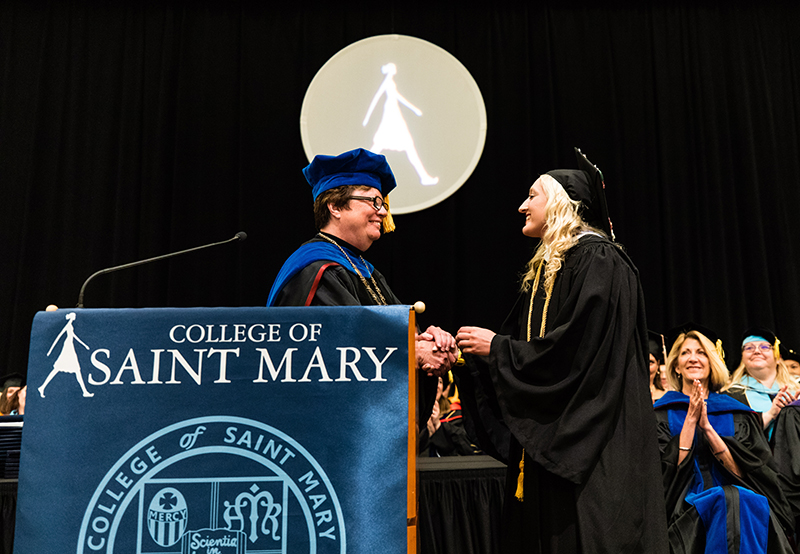 Golka is very involved in the campus community. She has held leadership positions with the Student Education Association of Nebraska, Student Senate, Campus Activities Board and the Knitting Club, which she helped found in the fall of 2018. She played on the CSM tennis team, earning NAIA Academic All-District honors her junior and senior years. Excelling academically, Golka has made the dean's list multiple semesters. During both her sophomore and junior years, she was voted by her peers to receive the Walking Woman in the Making (formerly Queen of Hearts) award. She also volunteers in the Omaha community.
College of Saint Mary's 2019 Commencement ceremony capped a weekend-long celebration, filled with celebratory receptions, Baccalaureate Mass, and honorary gatherings. The celebration marked the 95th Commencement in the College's storied history.
*Graduation Honors
Graduation with honors is based on the undergraduate student's quality point average for College of Saint Mary courses only. To be eligible for honors, the student must complete at least sixty-five semester hours of CSM courses at the bachelor's degree level or thirty-seven semester hours at the associate's degree level.
For Bachelor's Degrees
summa cum laude: a student must obtain a quality point average of at least 3.9
magna cum laude: a student must obtain a quality point average of at least 3.7
cum laude: a student must obtain a quality point average of at least 3.5
 
For Associate's Degrees
with highest honors: a student must obtain a quality point average of at least 3.9
with high honors: a student must obtain a quality point average of at least 3.7
with honors: a student must obtain a quality point average of at least 3.5