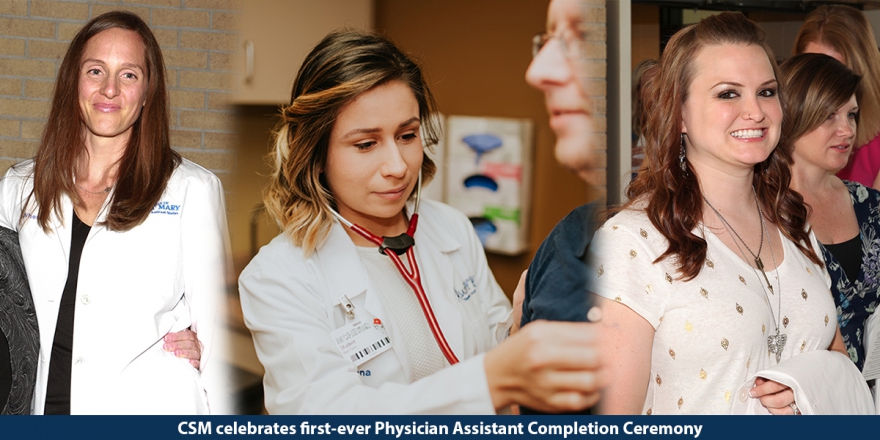 CSM celebrates first-ever Physician Assistant Completion Ceremony
OMAHA, NEB. – As College of Saint Mary (CSM) celebrated its first annual Physician Assistant Completion Ceremony on August 4th, a group of 25 women looked to the stage, remembering a journey of personal discovery, strong bonds, late nights and new knowledge. The event featured CSM's inaugural class of physician assistant studies master's degree students, who will now go on to become certified, practicing physician assistants.  What's more, the event stands as a historic first for the College, and it marks a life-changing moment for individuals planning to positively impact the lives of others.
For Mitzi Infante Magana '18, when she first enrolled at CSM in 2012, the physician assistant (PA) program didn't exist. In fact, it wasn't until her junior year that she heard about the new program.
"I decided to put in my application to be in the first class," recalls Magana. "I submitted all of my paperwork, had my interview, and transitioned seamlessly into the graduate program."
Fittingly, when CSM originally decided to answer a growing demand by adding a quality PA program, the school landed on a focused, efficient structure –a perfect fit for students like Magana. By entering the true 3+2 program, Magana fell into the grooves of a pre-PA track for her first three years. Since studies are made up of Bachelor of Science coursework that also serves as prerequisites for the master's in physician assistant studies degree, the August 4th ceremony marks just a five-year trek from fresh undergraduate enrollment to a dream career as a PA.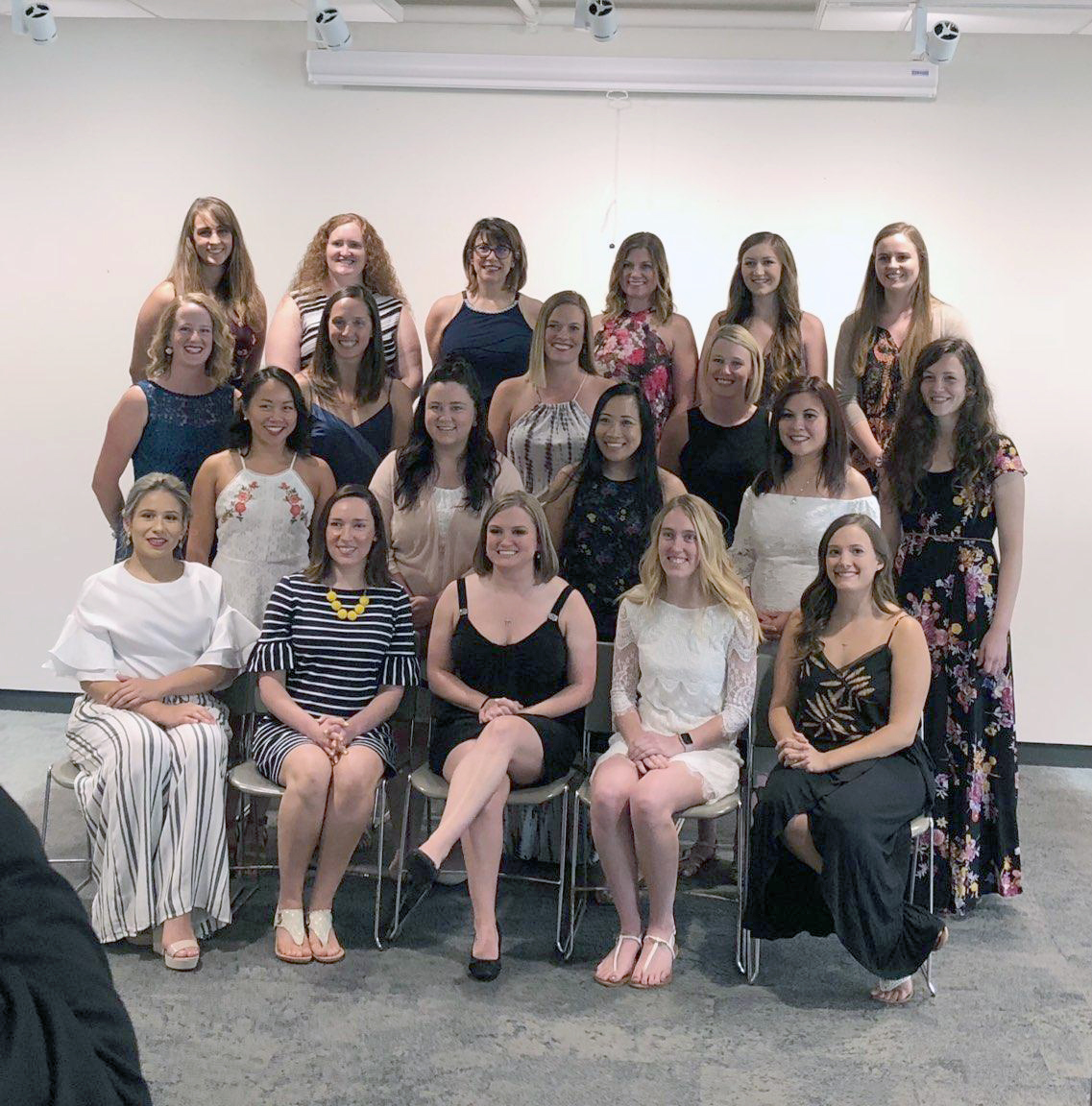 Looking back, she recalls a close-knit group and a learning experience driven by servant leadership within an inclusive, encouraging environment. Now, after receiving her degree, she plans to use all she's learned to serve others in her new career.
"I have actually been offered and accepted a job at One World Community Health Centers here in Omaha," said Magana. "For anyone who does not know me, this is my dream job! I am so excited to become a part of this amazing organization."
Magana and her classmates will meet a growing need. As Americans are living longer and have more healthcare options, the need for skilled, professional healthcare providers continues to increase. In fact, the U.S. Department of Labor projects demand for physician assistants to grow by 22 percent by 2022.
Now, a few short years after the program's official launch, Magana and the pioneer class already are diving into much-needed practice.
For students like Megan Kyle '18, the unique program structure at CSM opened a new door to a top career even during transitional times. As a transfer student, she came to CSM having just earned a BS in human biology and was set up for the master's program. Looking back, she says she's happy to be part of such an important group.
"I am very excited and honored to be a part of the first graduating class from the PA program at CSM," said Kyle. "We are trailblazers, and I am so proud of all of us."
As Kyle, along with her classmates, paved the way for women to come, individually she has found new friends and lifelong leadership skills.
"CSM has forever changed me in more ways than one," says Kyle. "It has given me a sense of close-knit community, blessed me with some of the best friends I could have ever asked for, taught me more about who I am and who I want to be for myself and my family… and allowed me to obtain the education necessary to grow and perform successfully in a career that truly speaks to my heart."

Above: PA Class of 2018 at their White Coat Ceremony last year.
Yet another student, Lisa Whewell '18, was also able to take advantage of the program's structure, but in a completely different way. She made the decision to go back to school in August of 2014 but needed a few more prerequisites before entering the PA program. At that point in time, a family friend told her about CSM's program. In March of 2015, she entered a 1+2-year program. Since students can enter the program at multiple points in the 3+2 pathway, transfer students and non-traditional students who have already earned a bachelor's degree often are able to make an easy transition into the program.
"This was a good fit for me because I knew that I could obtain the prerequisites needed for entry into the program," said Whewell. "CSM had them all lined up for me, so I didn't have to worry about duplicate classes or transferring credits."
As she sets plans to take her boards in August and apply for jobs in Maryland, Whewell says she wouldn't be where she is today without the support of her classmates and her instructors at CSM.
"My classmates taught me, supported me, cried with me and laughed with me. They were there for me at every bump and twist and turn. Every individual worked hard and we were able to pull together as a group to make it through. This program has forever changed our lives," says Whewell.
All three women, along with 22 of their peers, looked on during Saturday's event. Clare Kennedy, MPAS, PA-C, director of the physician assistant studies program at CSM, presided over the ceremony. CSM President Dr. Maryanne Stevens, RSM, delivered the keynote speech, noting the magnitude of the inaugural event, the program, and significance of programs like this for women from all backgrounds.
Now, these women will practice as physician assistants, conducting physical exams, diagnosing and treating illnesses, ordering and interpreting tests, advising on preventative care, and helping in surgery and prescription writing. Upon receiving their degrees, students are prepared to obtain certification and begin medical practice.
Members of the Physician Assistant Studies Class of 2018 include the following:
Colleen Bernal
Alyssa Blum
Allison Cox
Mikaela Gardner
Mitzi Infante Magana
Constance Johnson
Jessica Johnson
Danielle Kollasch
Megan Kyle
Shannon Landry
Brooke Love
Antoinette Mariano-Sabido
Alexa Moyer
Jennifer Nitz-Brown
Nicole Ortmeier
Elizabeth Otte
Jessica Parks
Hannah Pauley
Sarah Pettepier
Mindy Phan
Danielle Ricks
Valerie Tufano
Brooke Wagner
Stephanie Wearmouth
Lisa Whewell