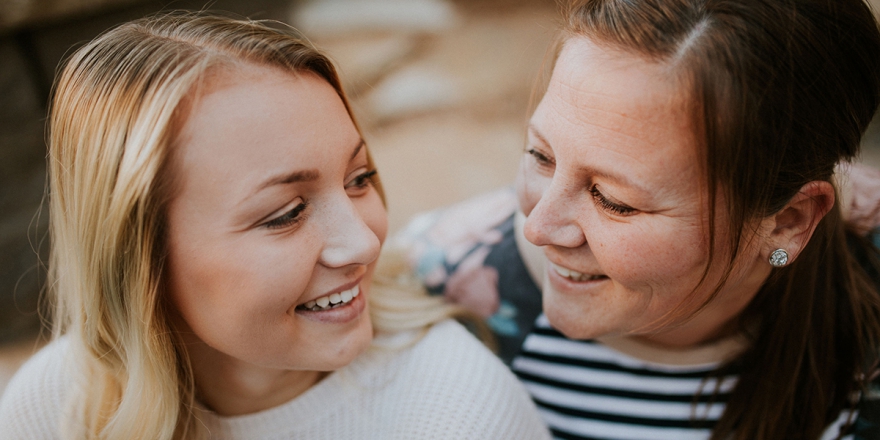 CSM Full Circle: Daughter Returns as Student after Growing Up on Campus
OMAHA, Neb. – This fall Kelsi Williams was preparing for her first semester as a first-year student at College of Saint Mary. As she rummaged through her garage with her mom, Kari Pokorski '04, the two came across a dusty CSM parking sign that read, "Reserved: Kari and Kelsi". It was from nearly 20 years ago, the first time Kelsi lived on CSM's campus, as a one-year-old with her 21-year-old mother.
Kelsi and her mother, Kari, were a part of CSM's Mothers Living and Learning (MLL) program, which makes it possible for single mothers to earn their degrees while living on campus with children. When Kari first joined CSM in 2001 just a year after its initial launch, the program was in its infancy. Although it has since expanded to include a $10-million residence hall and a range of added features, Kari says the program was life-changing, even in its early years.
"I think that if it wasn't for that program, I wouldn't have finished school," she recalls. "It gave me the resources to go to school."
Now, almost two decades later, Kelsi has grown up and returned to complete a degree of her own. Once again, she is living and growing within CSM's campus community – a community that still emboldens mothers through a supportive, inclusive environment. Kelsi says seeing children interacting and growing up on campus, as she did decades before, has been a bit strange.
"It's weird to picture a 'little Kelsi' running around the dining hall," she reflects. "It's amazing to think that I actually lived here before."
Seeing her daughter return to CSM has been a cathartic experience for Kari, too. She was 19 herself when she first became pregnant. At the time, she faced a crossroads in her life that had her questioning continuing with school. It was then that an aunt told her about the brand-new MLL program College of Saint Mary had launched. Kari soon decided it was her best option for both raising Kelsi and preparing for her future.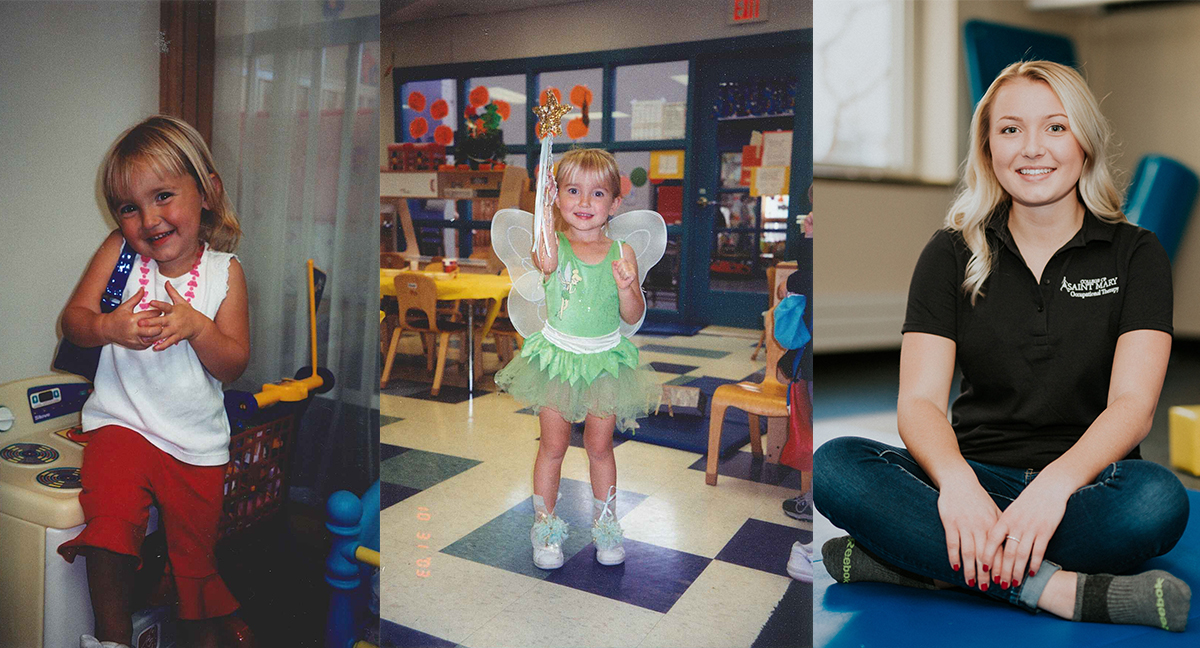 "Living on campus was the biggest thing for me," Kari says. "I didn't have to worry about paying rent right then, and there was a daycare right on campus."
As a single mother at CSM, Kari says the advantages of the MLL program jumped out right away. While Kari took nursing classes, young Kelsi stayed at the on-campus childcare center, where she learned and was taken care of just steps away from her mother's classes. Kari built connections with other mothers and lived within a group that worked together.
"I made some good friends living there with other single mothers. That was another good support; we had each other to lean on for help," she explains. "We babysat each other's kids if we needed to study."
Although most memories were too early for Kelsi to recollect, she says she remembers having her own little stable network, making friends with other kids at the on-campus daycare center and getting dressed up for picture day. She says she felt the warmth of that network even after leaving campus.
"I went to a new school in third grade, and my teacher went to school at CSM. She says she remembered seeing me running around the dining hall when I was one, with my mom," she recalls. "It was crazy going to a new school when I was in third grade and her recognizing me from when I was a baby."
Of course, the pair did face challenges. As she was closing in on her degree, Kari was also about to have a second child. Her plan was to have her baby on the weekend and be back to classes the next week. However, Kelsi fell ill, and Kari missed a full two weeks of classes. She fell behind on coursework.
"My advisors and my clinical instructor really did work with me," she recalls. "They let me do evening clinicals and let me come in during nights. I worked really hard to get that done, and I finished that semester."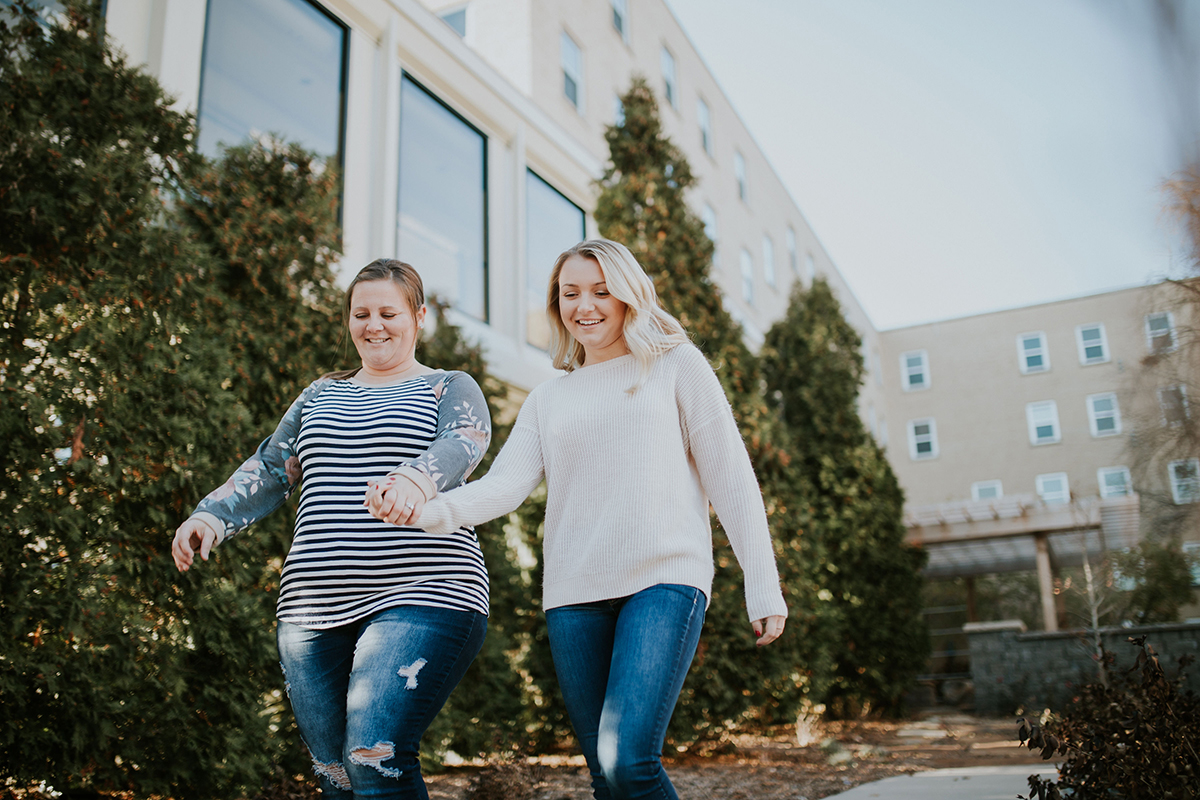 With attentive advisors, understanding professors, and sheer determination herself, Kari buckled down to earn her associate degree from CSM in 2004. She used it to land a job at Children's Hospital and later went on to complete her bachelor's degree. She says her experience at CSM stretched even beyond the doors it opened in her career—emboldening her and inspiring her to be a powerful mentor.
"I learned a lot about myself," she says, "that I can do things that maybe I didn't think I was capable of as a single mom."
Throughout the years, Kari passed these ideals on. Some 16 years later, Kelsi was ready to find a college home for herself. She says her goals were clear exiting high school—she wanted to become an occupational therapist. And CSM was a clear choice.
"My deciding factor is that they had the OT program here, which is a rare program to find around this area," says Kelsi. "I feel like you can get one-on-one help from professors, and they actually know who you are."
Kelsi knew what she wanted to do with her future, and she says she was drawn to a program in OT that allows her to earn her bachelor's degree and master's degree in occupational therapy in just five years. The program has also earned a stellar reputation in recent years, regularly recording an annual licensure pass rate of 100%.
In addition to being proud of her daughter and raising three other children, Kari has continued learning and is currently getting her master's degree as a primary care nurse practitioner—showing the positive domino effect empowering women can have. As a daughter proud of her mom's accomplishments, Kelsi says she is happy her mom chose CSM's MLL program a generation ago.
"Without the program, I don't think my mom could have gone to school, and I don't think she would be where she is today," she says, "especially with having a daycare here so she could go to classes and get her homework and stuff done. I think it is a really nice program for young women with kids."
After graduation, Kelsi hopes to practice as an occupational therapist in pediatrics. Kari is on track to earn her master's degree from University of Nebraska Medical Center in the spring of 2019.