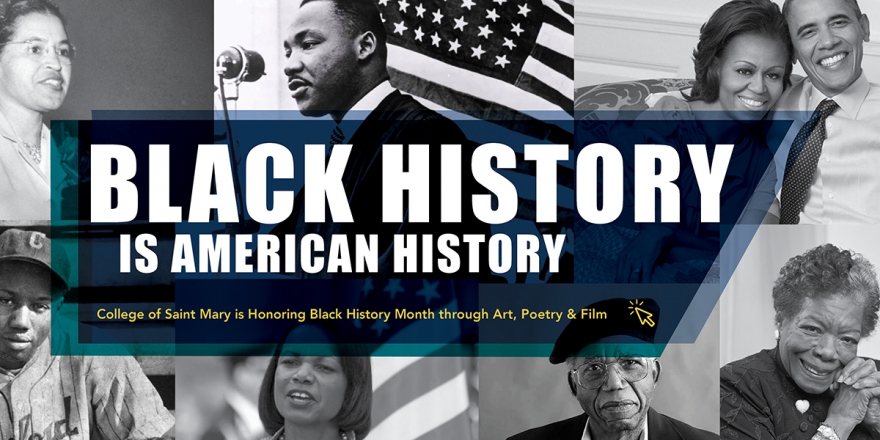 CSM honors African American history through art, poetry and film
OMAHA, NEB. – College of Saint Mary (CSM) is set to host several events in the coming weeks in honor of Black History Month. The events will allow community members to explore the great art and achievements of African Americans, while also examining the history and key aspects of racial discrimination in America.
"CSM is excited to showcase these talented local black artists on our campus," says Alexis Sherman, director of multicultural initiatives. "As Omaha commemorates the 1919 race riots and the lynching of Will Brown, we are humbled as we explore the impact of power and privilege on our community and are thankful to be a part of the larger dialogue happening in the Omaha."
The four events that will take place are the 30 Americans Art Exhibit; the Omaha Table Talk: Power Structures; "I Have a Voice" Art and Poetry Exhibition; and the Black History Month Community Film Festival.
The 30 Americans Art Exhibit is a collection of over 60 works by contemporary African American artists. This exhibition is currently on display at the Joslyn Art Museum through May 5th. Composed of a variety of media, this artwork explores racial and gender identity, ongoing narratives of racial inequality and stereotyping, and the power of protest.
Omaha Table Talk: Power Structures will be held at the Joslyn Art Museum at 5 p.m. on February 12th. This "uncomfortable conversation over comfort food" will delve into the power dynamics and imbalances that perpetuate racial discrimination in America. A light meal will be served, followed by a panel discussion. Facilitated small-group dialogue will be available after the panel. This event is currently sold out, but there is an opportunity to join a wait-list at Inclusive-Communities.org.
"I Have a Voice" Art and Poetry Exhibition will take place February 20th from 6 – 7:30 p.m. in CSM's Gross Auditorium. This dynamic mother-daughter duo will use art and poetry to give voice to black women of America. The women they bring to life triumphed over oppression, racism, self-doubt and gender inequality. Wine and cheese will be served.
CSM is also showing several films during its Black History Month Community Film Festival. These screenings will take place from February 25th through February 28th.  All films will be shown at 6 p.m. in Gross Auditorium at CSM. The following movies will be shown: I Do Not Use; Whitney Young To Become Great; Out of Frame: Unseen Poverty in the Heartland; An Inaugural Ride to Freedom; It Takes a Village, and Wigger. All films were produced by African American filmmakers. A director's commentary and discussion will be held after select films. For more information, visit www.csm.edu/filmfestival.
In addition to honoring the contributions of African Americans in our society, these events fit into CSM's mission and commitment to inspire connectivity and global citizenship within a diverse college community.