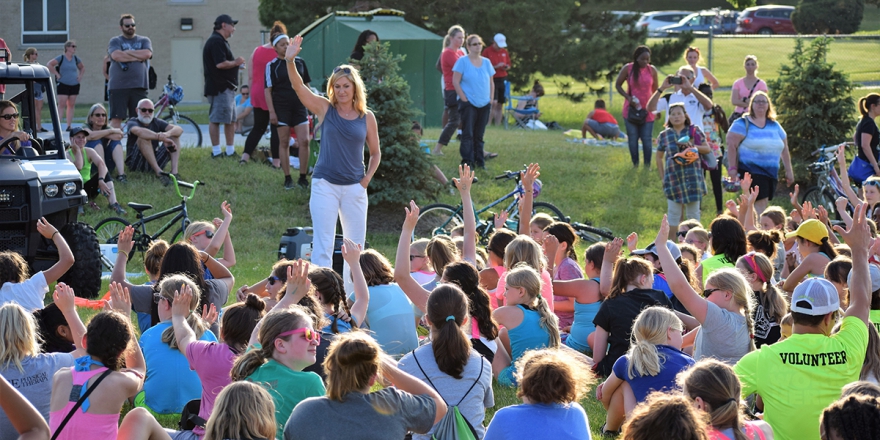 CSM to host Ironhawk Endurance Junior Triathlon Club for girls this summer
OMAHA, NEB. – This summer College of Saint Mary (CSM) is teaming up with Ironhawk Endurance's Juniors Triathlon Club to give girls ages 8-14 access to life-changing training. The free program will take place on CSM's campus and is built to lead girls through a 12-week prep program for a final triathlon race in September.
"Our vision is to give back to the community and get the metro moving," said Brad Hildebrandt, founder of Ironhawk Endurance and leader of this new program. "I want to change the way people think about fitness and to inspire young girls to live healthier lifestyles as they become adults. We wish to empower them to accomplish goals they never thought possible and give everyone in the community access to triathlon."
In step with CSM´s mission to inspire positive leadership and embolden women, the Ironhawk Endurance's Juniors Triathlon Club will guide girls through swimming, biking, and endurance training. Led and designed by a USA Certified coaching staff, the club is built for girls of all experience levels and will include 1-on-1 sessions for girls who have little or no experience swimming or biking.  Ironhawk Endurance will also provide girls with equipment for practice sessions and the final race. Much of the training, as well as the final triathlon, will take place on CSM´s campus, where girls will have a chance to interact with collegiate mentors, meet on-campus athletes, and have access to top-notch facilities, including CSM's Class A swimming pool.
The club has already seen nearly 250 girls sign up from every part of Omaha. CSM Assistant Athletic Director Jamie Adams says programs like this are incredibly important in the development of young women.
"Sport provides a blueprint for physical health, positive role models, and opportunities to make friends and develop skills that can benefit people for their entire life," said Adams. "This program goes even further, in providing great coaching and mentoring for these young women as well as removing the financial barrier to learning a new sport."
Prior to the final September race, girls will be exposed to several special opportunities during training sessions. On June 7th, the opening evening for group training, a bike giveaway will take place. Through the support of Community Bike Project Omaha and other sponsors, girls in need will be given bikes for training and the final race.
On June 14th, the President of USA Triathlon (USAT), Barry Siff, will visit CSM during one of the practices.  Siff is a USA Triathlon Level 2 Certified Race Director, as well as a Level I Certified Coach. He will observe practice and later speak to the participants, giving expert insight into triathlon advantages and opportunities.
"The NCAA recognizes triathlon as an emerging sport and is recruiting girls and young women to take part in the sport," added Hildebrandt. "There are almost two dozen colleges with triathlon as a varsity sport—five are Division-1 schools. That means they're giving scholarships to young women to participate."
Fittingly, the Juniors Triathlon Club, which is built to inspire girls, was started as a response to a bully. When Michelle Bandur, a KETV reporter and active volunteer, received a note suggesting she use an enclosed dollar to change her physical appearance, she used that money to help start the program instead. Now, after thousands of dollars have been donated, the club is set up to build self-esteem, empower girls, and promote strength of mind, body, and spirit.
The final race will kick off at CSM's Lied Fitness Center and include a swimming portion, biking on the Keystone Trail and a running section through campus. The triathlon for girls age 8-10 will include a 100 yard swim, three mile bike and .75 mile run, while the age 11-14 race will incorporate a 150 yard swim, six mile bike and 1.5 mile run.
"We are very excited to have the final competition on our campus," said Adams. "On top of the opportunity to compete, we want these young ladies to be on a college campus, meet some of the Flames athletes, and see what opportunities are available for them."
The Ironhawk Endurance Juniors Triathlon Club starts on June 7th, with weekly group workouts every Thursday evening. The final triathlon will be held on Sunday, September 9th, on the College of Saint Mary campus.
The club is still seeking volunteers and donations. For more information, to donate or volunteer, visit www.ironhawkendurance.com, or visit the Ironhawk Endurance Juniors Triathlon Club Facebook page.
This endeavor wouldn't be possible without the support of the following sponsors: Nebraska Furniture Mart, Charlie's Excavating, Jay Noddle, Burton Prosthetics, Giant, Olympia Cycles, GreenStreet Cycles, Giant Bicycles, Bike Masters, Trek, Peak Performance, Hy-Vee, and Trader Joe's.