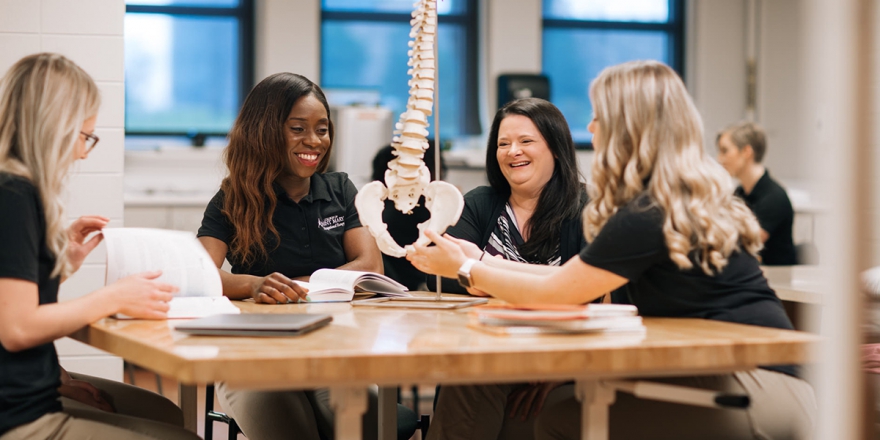 CSM to launch occupational therapy doctoral program in fall 2019
OMAHA, NEB. – College of Saint Mary (CSM) has announced that its widely recognized occupational therapy program will now offer a degree at the doctoral level. Home to a master's level program that has been recognized in recent years for the 100% board licensure examination pass rate of its graduates, CSM will transition to offering an Occupational Therapy Doctorate (OTD) program in August. This will be CSM's second doctoral program, joining the Doctor of Education (Ed.D.), which moved completely online in fall of 2017. 
"At College of Saint Mary, we prepare leaders with character, and this will ensure our occupational therapy graduates are equipped to lead now and into the future," said Vice President for Academic Affairs Dr. Jack Healy. "We take pride in offering rigorous programs that prepare students in mind, body, and spirit to meet the needs of our community. This program will do exactly that."
The OTD program will allow incoming undergraduates, and those who have already completed necessary coursework, to gain hands-on experience and complete their studies with support and guidance to finish faster than traditional models. Through the college's unique undergraduate pathway, new students can start right out of high school and complete both their undergraduate and doctoral work in a total of six years. Students can choose to major in any of CSM's 35 undergraduate programs as long as they meet the prerequisite requirements for OTD program.
The graduate pathway is for students coming into the program having already completed undergraduate coursework, including specific prerequisites. Students earn their OTD degree in three years with this path. 
"We've had great success with our OT program over the years, and the doctoral degree will bring it to the next level," said program director Dr. Kristin Haas.  "Our students will leave here with the knowledge and skills to be successful in a rewarding career that impacts patients, families and the community."
The new doctoral degree focuses on the development of clinical practice skills, research skills, administration, leadership, advocacy, and policy development. As part of the program, students complete two 12-week fieldwork experiences along with a 14-week doctoral experiential component that culminates in a scholarly project.
Widely recognized for pioneering efforts to make college more affordable, College of Saint Mary has constructed this program to allow students to take advantage of dedicated advising and efficiently structured coursework. This design empowers students to achieve on-time graduation.
"Graduates in occupational therapy are in demand across the region," said Dr. Healy. "We are so happy to be offering students this professional program that will hone their skills and prepare them to help people live fuller lives."
According to the U.S. Bureau of Labor Statistics, employment of occupational therapists is projected to grow 24 percent by 2026. Last year, occupational therapist was ranked 11th in the 100 Best Health Care Jobs according to U.S. News & World Report.
CSM is currently accepting applications and is provisionally admitting students for August 2019. The university has submitted a candidacy application to the Accreditation Council for Occupational Therapy Education (ACOTE) of the American Occupational Therapy Association (AOTA).
Those interested in applying or learning more information about the OTD program can visit www.CSM.edu or call enrollment services at 402-399-2355.