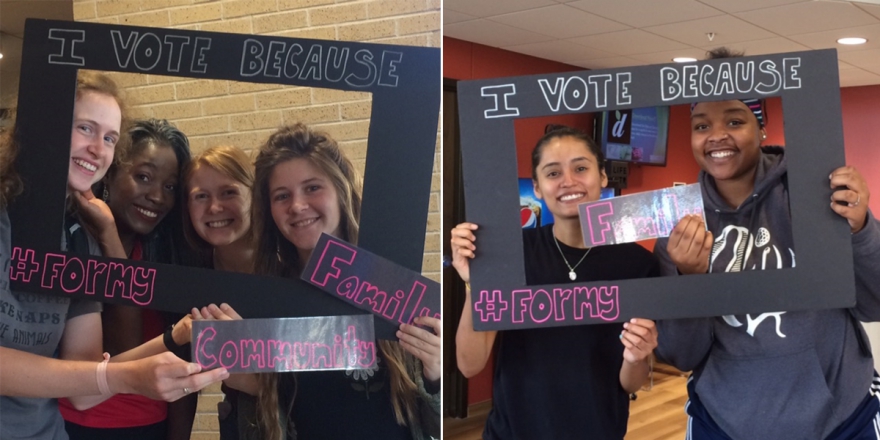 CSM promotes voter awareness and education leading up to midterm election
OMAHA, Neb. – The 2018 Midterm Election is less than a week away and students at College of Saint Mary (CSM) are more prepared than ever to exercise their civil right to vote. For the past several months the University has hosted a variety of nonpartisan events on campus encouraging voter turnout and educating students and community members on their rights as voters.
"I feel it's imperative that students to be engaged in the voting process for each election," said CSM student Meghan Krokaugger, who participated in several events within the "Every Vote Counts" initiative on campus. "By voting we're given a voice in the important issues that impact our communities."
Starting in September the CSM Student Leadership Office, in collaboration with the Service-Learning and Multicultural Initiatives programs, launched the "Fact or Fiction in Voting" series, which included four separate events each touching on topics like accessing reliable information, Medicaid on the ballot, and knowing your voting rights.
"CSM prides itself on empowering women to become leaders in our society," says Kristofer Czerwiec, director of student leadership and organizations. "So it seemed like a natural fit to then empower these same women to exercise their right to vote."
CSM invited the League of Women's Voters to campus on three separate occasions this fall to help register voters on campus. In total, 38 students registered to vote during those sessions.
"We're trying to create an atmosphere on campus that encourages political awareness and engagement," says Dr. Kristin Mattson, professor of political science and director of CSM's service-learning program.
Dr. Mattson says that's easier said than done for this type of election.
"Getting students focused and zeroed in on midterm elections is much more difficult than when the president is on the ballot. So we thought it crucial to help educate our students on the impact these midterms have—understanding which issues are important to them, determining where they stand, and putting those beliefs into action as they show up to vote on Election Day."
CSM even started a photo campaign this fall which saw students, faculty and staff holding a "I vote because _____" sign and posting those photos around campus.
"This shows students that their vote isn't just about them," adds Dr. Mattson. "You're not just voting for yourself – you're voting for what's important to your family and your community."
The Student Leadership Office is hosting a 2018 Midterm Election Watch Party on Tuesday, Nov. 6 at 8 p.m. in Hixson Lied Commons to cap off the "Every Vote Counts" initiative on campus. For more information on how to participate in the voting events on campus or have any other questions, please contact Dr. Kristin Mattson at KMattson [at] csm.edu or 402-399-2656.