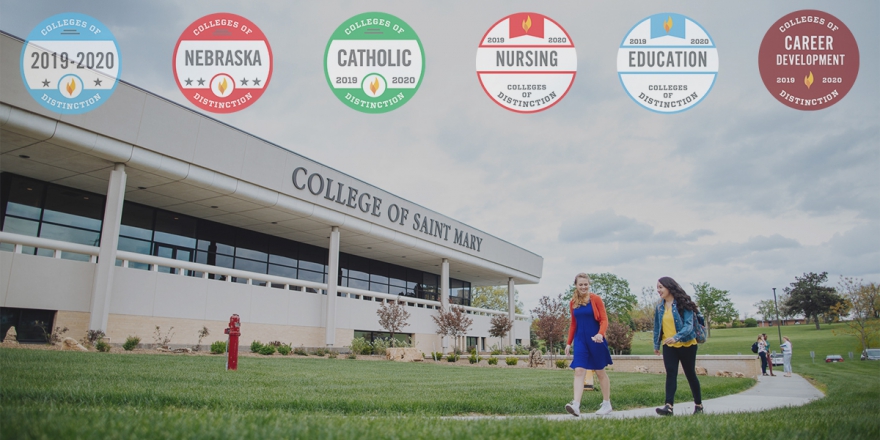 CSM recognized for its academic reputation with national College of Distinction award
OMAHA, NEB. – College of Saint Mary (CSM) is pleased to announce that it has been honored for the second year in a row for its ongoing commitment to academic excellence and High-Impact Educational Practices by being recognized as a national College of Distinction for 2019-20.
"I'm pleased to learn that College of Saint Mary is being recognized as a College of Distinction again this year," says CSM President Dr. Maryanne Stevens, RSM. "This honor just reinforces the University's constant efforts to provide access to education and nurture the leaders of tomorrow."
This is the second time that CSM has been awarded this honor, having first received it for the 2018-19 school year. As part of the overall selection as a College of Distinction, CSM received specific recognition among Nebraska and Catholic colleges and in the areas of education, nursing and career development.
Colleges of Distinction's selection process consists of detailed interviews and research for each institution's freshman experience and retention efforts alongside its general education programs, career development, strategic plan, student satisfaction, and more. Schools are accepted on the basis that they adhere to the Four Distinctions: Engaged Students, Great Teaching, Vibrant Community, and Successful Outcomes.
"We are so proud to see College of Saint Mary walking the walk," said Tyson Schritter, Chief Operating Officer for Colleges of Distinction. "We know that a truly valuable education can't be measured by rank or reputation. Students learn and thrive best when they embrace hands-on learning in a vibrant, welcoming community. That's why it's so encouraging to find CSM take such an innovative approach with its curriculum: its High-Impact Educational Practices ensure that the undergraduate experience is worthwhile and unique."
Schritter credits College of Saint Mary for "putting the student experience first," providing all the tools and opportunities they need to become lifelong learners who are ready to take on any challenge in today's ever-evolving society.
Educating women to be leaders since 1923, CSM has consistently grown and demonstrated its stellar academic reputation in American higher education. With its modern, student-centered approach to teaching, the University remains committed to providing access to an affordable, quality education. CSM fosters academic excellence, scholarship and lifelong learning through its more than 35 programs of study.
CSM students develop valuable skills through transformative experiences such as study abroad trips, independent research, campus engagement, internships, service learning opportunities, professional networking and student activities.
About College of Saint Mary
Founded for women by the Sisters of Mercy, CSM is a thriving Catholic university that provides access to affordable education. CSM fosters potential and leadership through academic excellence, scholarship and lifelong learning. The University offers undergraduate and graduate degrees in many of today's highest-paying, in-demand fields, including physician assistant studies, occupational therapy, nursing, science, education, business and legal studies.
CSM offers its student body an enriching collegiate experience that includes competitive athletics and a wide range of fine arts opportunities. A member of the Great Plains Athletic Conference (GPAC), CSM Flames student-athletes field teams in 11 competitive sports: basketball, soccer, softball, volleyball, bowling, competitive dance, golf, swimming, tennis, cross country and track and field. Fine arts play a large role in rounding out an academic experience, and CSM provides students with the opportunity to continue their passion for music, art and drama.
About Colleges of Distinction
Since 2000, the Colleges of Distinction website and guidebook have honored schools throughout the U.S. for their excellence in undergraduate-focused higher education. The cohort of schools in the Colleges of Distinction consortium distinguish themselves through their focus on the undergraduate experience. The website and annual guidebooks provide dynamic college profiles, customized tools, and resources for students, parents, and high school counselors. For more information, and to learn how to become a College of Distinction, visit CollegesofDistinction.com.