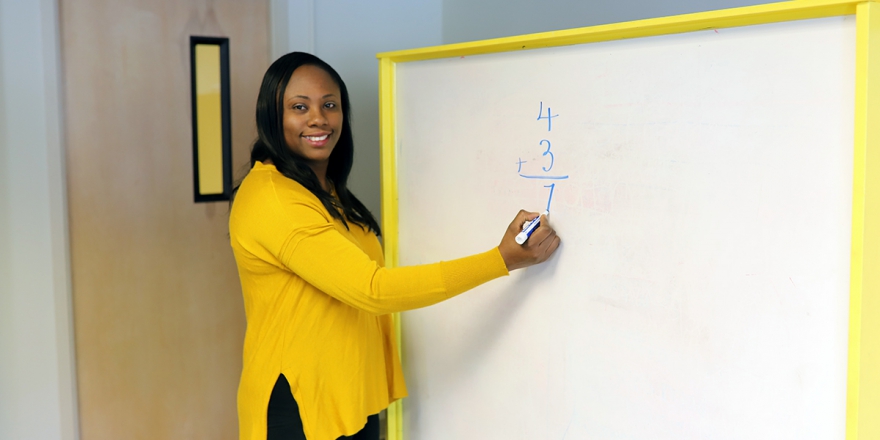 CSM Student Migrates from Jamaica, Driven by Dream to Teach
OMAHA, NEB. – As a little girl in Jamaica, Lorraine Dostal used to peek into her mother's classroom. She would watch intently as the teachers instructed students, noting each move. When she went home, she would dress up her dolls and teach them classes. It is a passion that stuck with her throughout the decades that followed. It stayed with her after she left her home, and it traveled with her nearly 2,000 miles across the Atlantic Ocean.
Now, in December, after overcoming the challenges of learning a new culture and leading in a completely new world, Dostal will walk across the stage at College of Saint Mary and receive her teaching degree.
 "It was from very early, I would say from the age of five, that I wanted to become a teacher," she says. "And my mother was always encouraging us to become teachers. She said we could give back to the community and encouraged me to be a teacher."
But in order to get to the base of that College of Saint Mary stage, she had quite a journey – one where she had to start all over in a new country after already once establishing herself.
Dostal grew up in Runaway Bay, Jamaica, and once she realized she wanted to be a teacher, she was dedicated to her goal. After high school, she went to Moneague Teacher's College to prepare to be an educator.
Upon graduation, she worked at a private school and preschool before landing a job at an elementary school. She says she loved working and interacting with the kids and leading them to new outcomes.
"I love working with children," she explains. "I like to see them grow... It kind of chose me."
But after working as a teacher for six years in Jamaica, she decided she needed to move from the third-world country to the United States.
Suddenly, in addition to having to adapt to a new country, culture, and setting, she had lost the credentials to teach. Like many immigrants, she lost the career that had been so transfixed to her being.
 "It was very challenging, and I think there were times where I wanted to give up," she recalls.
"Just to get the transcripts in from Jamaica takes a long period of time."
Still, her desire to lead and connect remained real. She decided to seek out her teaching degree in Nebraska by going to a big state school. However, she says she couldn't quite navigate the large school setting. She felt lost right away, struggled to connect, and soon became frustrated.
"I started out going to a very large college, and you kind of get lost," she says. "They don't give you that one-on-one."
She knew she needed a more intimate college setting.
One day, as she was considering other options, she says she saw a commercial for College of Saint Mary that piqued her interest. After checking out the university on her own, she decided to give it a try. She says she felt at home right away, and the pieces began falling into place.
"I think the whole experience was good," she explains. "The teachers were straightforward, and they would monitor your progress. If you don't understand something, they would make the time to meet with you and explain."
Still, simply teaching was not enough for Dostal. After meeting with Dr. Acklie, associate professor of education, she started considering a new way to give back to others – one that drew on her unique experience as an immigrant.
"I remember the first day I came to the College of Saint Mary and spoke with Dr. Acklie, and she was so positive," Dostal says. "Since I'm from a different country, she has encouraged me to do elementary education with an English as a Second Language (ESL) minor."
With that spark, she decided to focus in on that ESL minor to complement her elementary education degree. In a spirit fitting to College of Saint Mary's compassion-driven culture, she decided to lead both traditional students and immigrants who might be struggling to fit in.
"Even if I'm not doing it full-time I want to be around other immigrants," she explains. "When they go to school, sometimes people look afraid or intimidated because it is a different culture and a different world. I want to be a mentor for them, even if it's part-time."
As a student in a new environment, she faced struggles herself.  With the uphill climb of being in a new country, and as she worked within an intensive, career-focused teaching program at CSM, she says close relationships with Dr. Acklie and other teachers helped carry her on.
 "Throughout my study, [Dr. Acklie] has encouraged me tremendously along with other teachers, and they kept me going through challenging times," she says. "I am glad that I didn't give up."
That hard work is now finally paying off.  On Saturday, December 15, she will participate in CSM's Commencement Ceremony. The ceremony will take place at 7:30 p.m. in CSM's Lied Fitness Center.
Dostal already has interviews set up for after graduation, and she plans to work in an elementary classroom or as an ESL teacher.