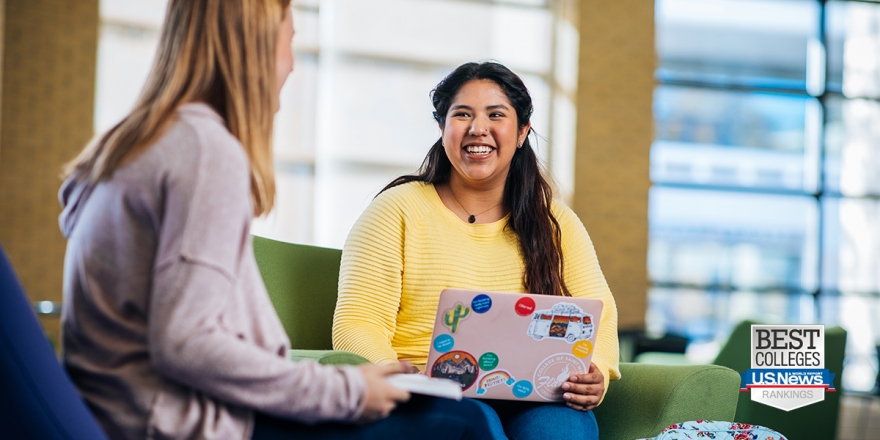 CSM a top 25 Best Value School according to U.S. News
OMAHA, Neb. – College of Saint Mary has been ranked in the Top 25 Best Value Colleges in the nation, according to U.S. News & World Report. CSM boasted the fourth lowest tuition of any school in the top 25 list.
CSM recently slashed tuition by 33 percent (equivalent to $10,000) and eliminated all student fees. The move was in accordance with the institution's mission of providing access and affordability to all women who seek an education. As a result, students are borrowing less and following more direct—and cost-effective—paths to their careers.
The calculation used by U.S. News takes into account a school's academic quality, as indicated by its 2021 U.S. News Best Colleges ranking, and the 2019-2020 net cost of attendance for a student who received the average level of need-based financial aid. The higher the quality of the program and the lower the cost, the better the deal. Only schools ranked in or near the top half of their categories are included because U.S. News considers the most significant values to be among colleges that are above average academically. View full methodology.
The full list of colleges and universities can be found at USnews.com. Each institution selected does not pay for their selection or inclusion on the site.
College of Saint Mary now offers 35 majors, 11 varsity sports, 8 graduate programs, and a range of service and involvement opportunities. Students at CSM learn within an inclusive campus community in the heart of Omaha's Aksarben Village.
About U.S. News & World Report
U.S. News & World Report is a multi-platform publisher of news and information, which includes www.usnews.com and annual print and e-book versions of its authoritative rankings of Best Colleges, Best Graduate Schools and Best Hospitals. Together, U.S. News and usnews.com have earned a reputation as the leading provider of service news and information that improves the quality of life of its readers by focusing on health, personal finance, education, travel, cars, news and opinion.