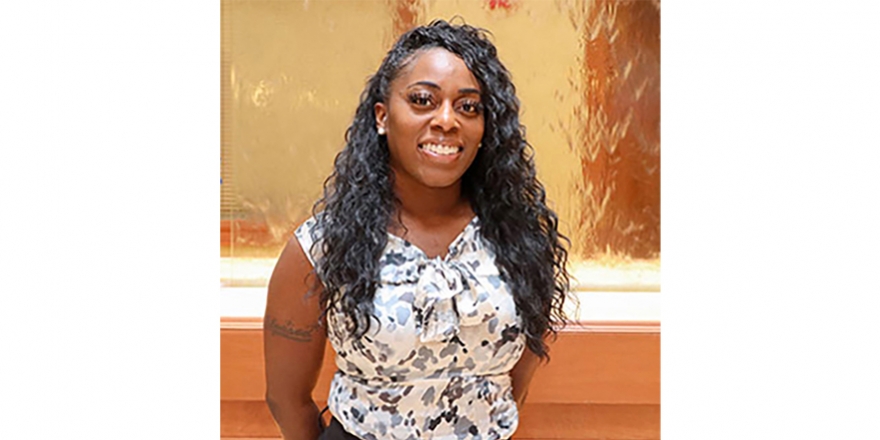 DeMeria Bruce '13 combines passion for nursing and education with new Omaha business
Alumnae Spotlight: DeMeria Bruce '13
Degree: Practical Nursing Certificate
Occupation: Chief Executive Officer for Fulton Homes Education Center
After enjoying her first few years out of college with a successful career in the nursing field, DeMeria Bruce PNC '13 began thinking of switching gears a bit. The 2013 graduate of College of Saint Mary's practical nursing program had worked as a traveling nurse for several years but wanted to settle down and do something to help people in her community. This desire ultimately resulted in Bruce opening her own educational center in 2020 to train people to be CNAs. She credits CSM with showing her how to be a leader and instilling in her the desire to give back and help others.
Describe your CSM Journey and initial career path.
I graduated from Benson High School in 2006. I went to the University of Nebraska-Omaha and Metropolitan Community College before attending CSM. I had always wanted to go through CSM's nursing program, and I loved my time at CSM. After graduating with my practical nursing certificate (PNC) in 2013, I worked in long-term care for two years before deciding to become a traveling nurse. Over the next four years, I lived and worked in 14 different states. I loved getting experience in many different healthcare settings and meeting lots of new people. I moved back to Omaha in 2019 and decided to start my own business.
What is Fulton Homes Education Center?
Fulton Homes Education Center—named after my grandfather's last name—is the business I launched this year. We assist adults in switching career paths and entering the nursing field by offering CNA and CPR classes and clinical labs. Classes are held on Saturdays and Sundays, and each course runs over a period of five weeks. When the course is completed, students take the CNA certification exam. So far, the response from the community has been overwhelming! Our first cohort graduated in April, and we have also begun holding classes on weekdays.
What inspired you to start this business?
As a traveling nurse, I witnessed the high turnover rates among nursing and CNA positions, especially in nursing homes. I believe getting more CNAs into our communities helps with that high turnover rate and expertise gap. Healthcare, specifically nursing, is a great field to go into. It's a very rewarding, in-demand career for many people, including those who maybe had not considered it before.
What did you like about CSM's PNC program?
I enjoyed everything about the PNC program at CSM! Being in a smaller setting with a cohort of 20 women really helped me. The intimate learning environment was an amazing thing I had not experienced at my previous colleges. I grew close to my classmates and am still friends with many of them today. I also came to know my instructors really well; they helped me a lot and pushed me to where I am today. I still look up to them as mentors and stay in contact with them.
What have you enjoyed the most about your career so far?
Transitioning from being a practicing nurse to being the owner of my own business. The skills and leadership I learned at CSM and the experiences I had as a traveling nurse have made me into who I am today. It's like a ripple effect of me taking everything I've gained and passing it along to a new generation of nurses.
What advice do you have for someone thinking of entering the nursing field?
Go for it! Being in the nursing profession, even as a licensed practical nurse (LPN), gives you a rewarding experience like other healthcare professions without excessive pressure and stress. If you have a passion to become a nurse, go for it and take it seriously.
What motivates you?
Knowing that I can make a difference in my community by helping women and men enter the career of their choice. I'm only the second person in my family to graduate from college, and at first I didn't know exactly what I wanted to do. Being where I am now inspires me to help other people who were in my shoes. My business even offers a special scholarship for women, and I am pleased to know that I can give back to women like me.
How has CSM helped you today?
With leadership! CSM doesn't cut any corners, and I took my education more seriously because of that. CSM definitely taught me how to be a real leader. Being around other women who were equally motivated and passionate about nursing was invaluable to me.
What do you hope to do in the future?
Right now, I want to work on expanding Fulton Homes Education Center. I'd like to add medication aide courses this summer. Eventually I would like to become licensed as an assisted living coordinator and open my own assisted living facility in Omaha.