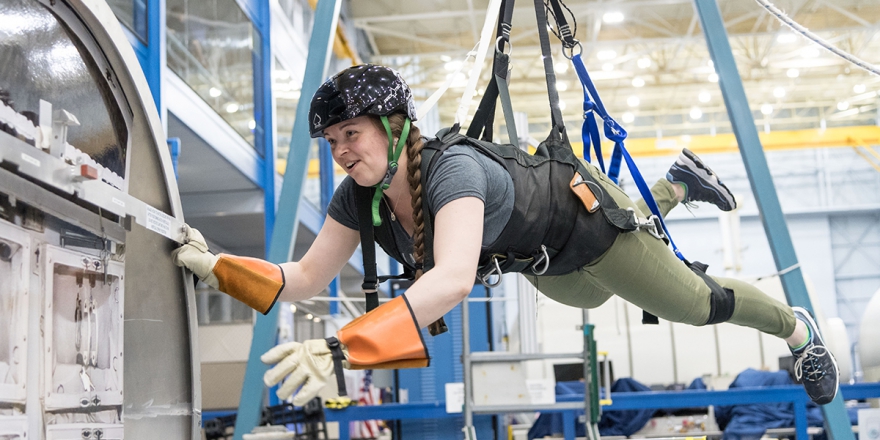 Education student soars to new heights at Johnson Space Center
OMAHA, NEB. – April Francisco Klusaw has been enjoying the opportunity of a lifetime. This semester, the College of Saint Mary education student is interning for the National Aeronautics and Space Administration (NASA) at the Johnson Space Center in Houston, Texas. 
Klusaw's internship is part of the Microgravity University for Educators (MgUE) program.  The MgUE project is a hybrid Professional Development and STEM challenge opportunity for teams of high school students around the country to work under the guidance of their educators and a NASA mentor to design and build a satellite launching experimental device. Throughout this semester, each team and their educators complete online modules about microgravity and does required activities. Once all the modules are completed, a handful of team members from each school spend a week in Houston at the Johnson Space Center (JSC).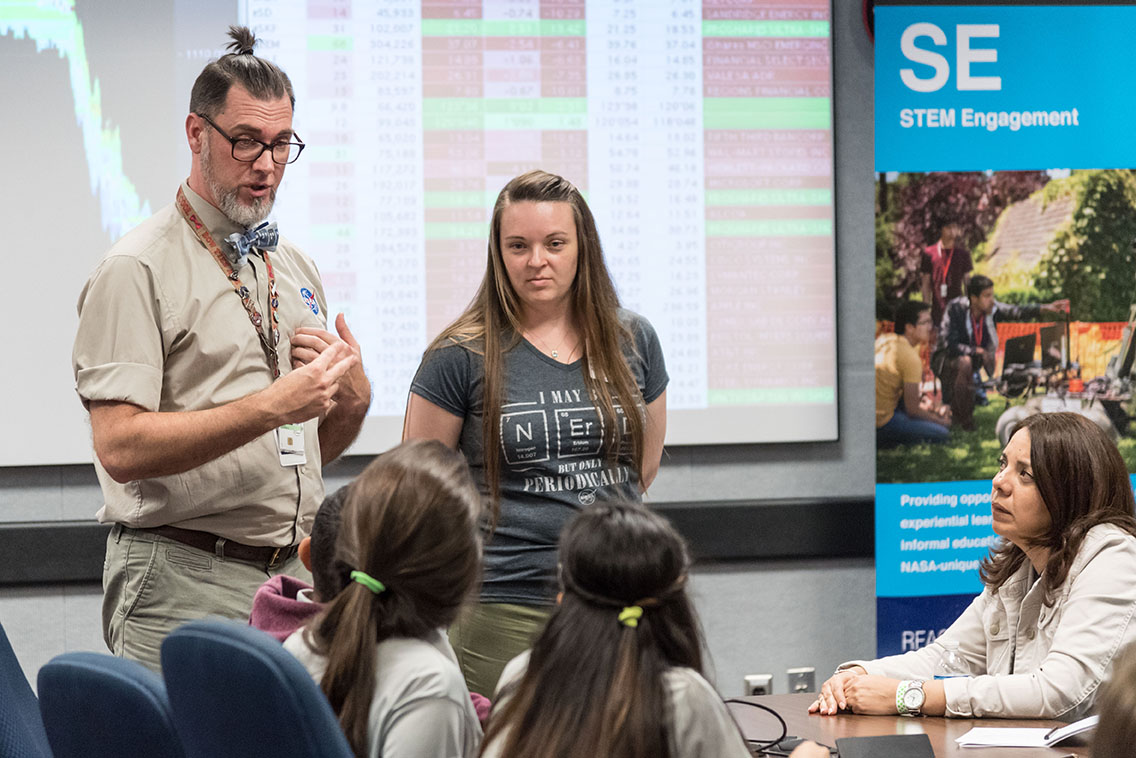 As an intern, Klusaw has various duties relating to the MgUE project. Her first responsibility is working with the online modules.  She evaluated the teams' performance, tracked the progress of the educators, and watched their online presentations. 
"Managing participants, their progress, and discussion boards gave me a different insight into online courses, because I was seeing them from a teacher's and administrator's perspective," adds Klusaw. Other daily tasks revolved around planning and coordinating behind the scenes. "These are the details that are often overlooked by outsiders, but will be beneficial to plan lessons and incorporate technology in my classroom."
Klusaw also did a lot of work to prepare for the weeks the teams came to the JSC. She handled a large amount of scheduling, email communication, and planning for the teams' assignments and on-site activities.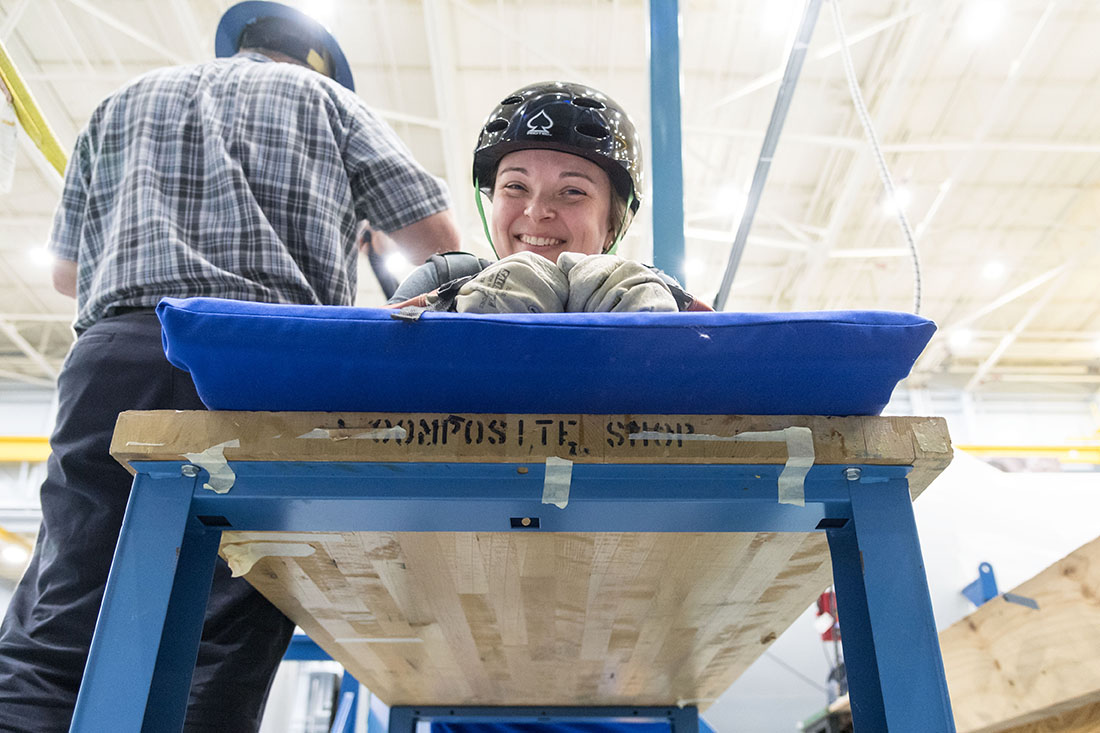 During the weeks the teams were at the JSC, Klusaw led several activities and gave tours of different departments. Klusaw was even dangled from a partial gravity simulator, called "POGO", so the teams could watch how NASA mimics the environment in space for astronauts' training. 
Klusaw says using POGO was both challenging and amazing, and gave her a new respect for astronauts who live and work in space.
"Physics work against you in the microgravity of space and I don't think you can truly understand what that entails until you experience it. Turning wrenches and opening hatch doors turns you around with as much force as you put into your actions – this makes simple tasks so much tougher. Not only does it work your core, but also your mind as you have to problem solve how to stabilize your body in order to exert your force into your work instead of yourself."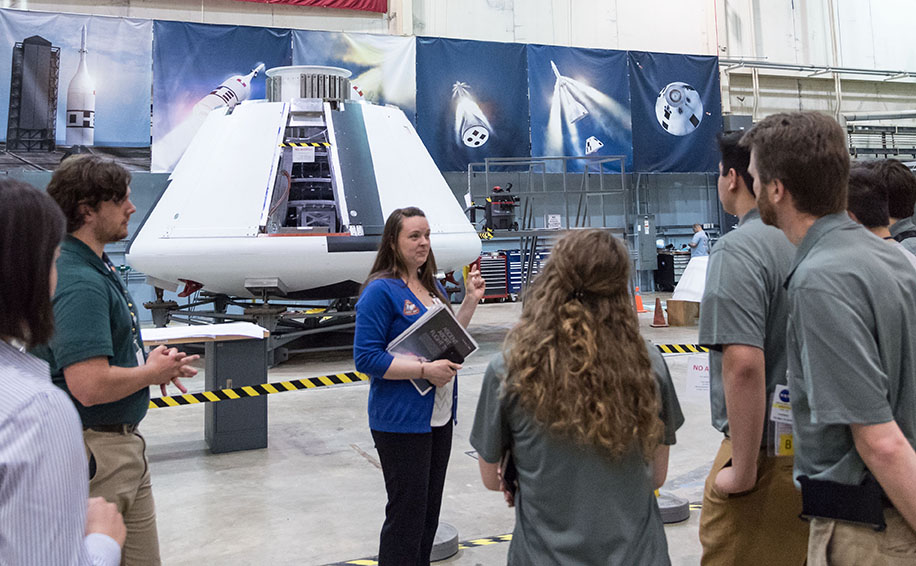 She helped conduct lessons on amusement park physics and managed the online broadcasting of the teams' end-of-week presentations. Klusaw and the teams even received surprise visits from astronauts Serena Aunon-Chancellor, Joe Acaba, and Kjell Lindgren, and Center Director Ellen Ochoa.
Even though the MgUE teams have concluded their time at the JSC, Klusaw still has work to do.  She continues to monitor their assignments and reports and will watch their final online presentations which began at the end of April.
Klusaw finds her internship challenging at times—as she is also taking online classes and is a mother of two—but she is incredibly grateful for this opportunity and loves what she is doing and learning.  She says she will definitely apply what she has learned in her future classroom.