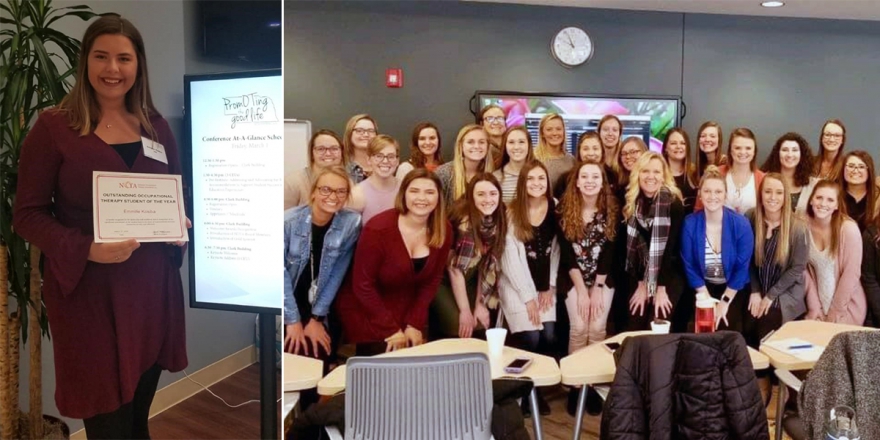 Emmilie Kosiba receives NOTA Outstanding Student of the Year
OMAHA, Neb. – College of Saint Mary (CSM) occupational therapy (OT) student Emmilie Kosiba received the Nebraska Occupational Therapy Association (NOTA) Outstanding Student of the Year award at the annual NOTA conference this month. The award was presented on March 1st by Dr. Whitney Rubin, assistant professor of occupational therapy at CSM.
"[Emmilie] is a passionate OT student. She has been an active member of CSM's Student Occupational Therapy Association (SOTA) every year that she has attended CSM," said Dr. Tara Ruppert, assistant professor of occupational therapy. "She has a strong interest in advocacy and was elected to serve as the Professional Organizations Representative for SOTA in the 2018-2019 school year. She has also been instrumental in establishing connections between the 3 OT programs in Omaha. Emmilie is an excellent representative of occupational therapy."
The annual NOTA conference is an opportunity for OT practitioners, educators and students to network and enhance their knowledge by attending specialized sessions geared toward certain aspects of OT and listening to panel discussions. The theme of the 2019 conference, held in Omaha, was "PromOTing the Good Life."
Over 20 CSM students attended the conference. Dr. Kristin Haas, director of the occupational therapy program at CSM, presented a poster at the conference. In addition, Dr. Jaime Garafalo-Peterson, assistant professor of occupational therapy at CSM, served as a panelist.
Home to a master's level program that has been recognized in recent years for the 100% board licensure examination pass rate of its graduates, the university recently announced it will transition to offering an Occupational Therapy Doctorate (OTD) program in August. 
Employment of occupational therapists is projected to grow 24 percent by 2026, and according to U.S News, occupational therapist is ranked 11th in the 100 Best Health Care Jobs. For more information on CSM's occupational therapy program, visit. CSM.edu/OTD.