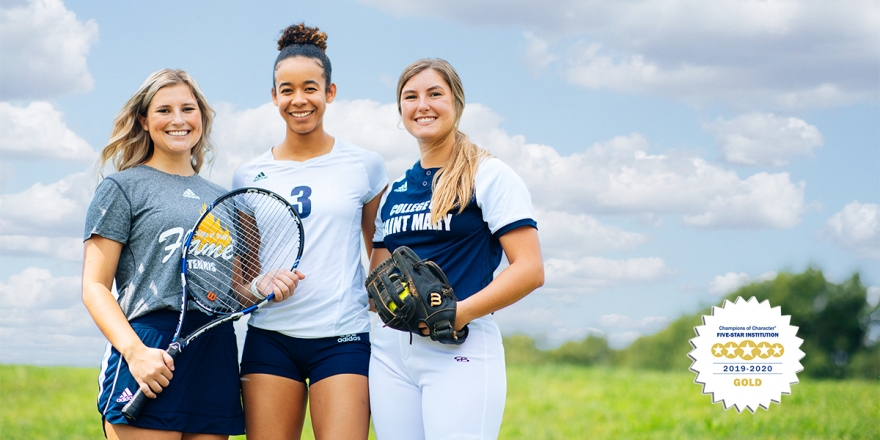 Flames Athletics earns a perfect score for second consecutive year in NAIA Champions of Character program
OMAHA, Neb. – For the second year in a row, the College of Saint Mary Athletic Department has earned a perfect score of 100 in the NAIA's Champions of Character program. It is CSM's third straight year earning GOLD status and the 11th consecutive year of being named a Champions of Character Five-Star Award winner.
"Absolutely outstanding," CSM Director of Athletics Peter Haze Haring said. "Our student-athletes and staff truly embody the core values of being a Champion of Character. They unconditionally accept the purpose of being sincere servant leaders within our community and our outreach truly makes an impact. We strive to be champions within competition and through academic achievement but the third part of being a champion is the effort we provide to those we serve."
Over 180 NAIA member institutions were named Champions of Character Five-Star Award winners.
Institutions are measured on a demonstrated commitment to Champions of Character and earned points in character training, conduct in competition, academic focus, character recognition and character promotion. Institutions earned points based on exceptional student-athlete grade point averages and by having minimal to no ejections in competition throughout the course of the academic year.
Five-Star Conference Award Criteria
Established Champions of Character Conference Committee
Conference has a conduct in competition oversight committee composed of a minimum of three members
At least 60% of members institutions must receive the NAIA Champions of Character Five-Star Institution Award
 
Three Great Plains Athletic Conference schools earned the perfect score of 100 as Midland University and Concordia University joined CSM on the list.
CSM's Champions of Character status history:
2019-20 – GOLD (100 score)
2018-19 – GOLD (100 score)
2017-18 – GOLD (93 score)
2016-17 – SILVER
2015-16 – SILVER
2014-15 – SILVER
2013-14 – BRONZE (first year of the scorecard and status tiers)
To learn more visit: https://www.naia.org/champions-of-character/five-star-winners-2020