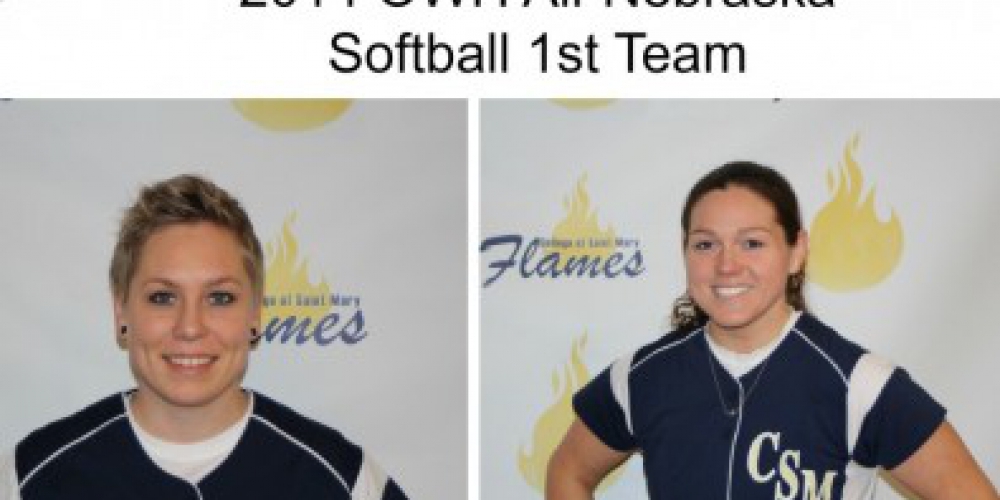 Hatfield, Wohlers named to OWH 1st Team
Hatfield, Wohlers named to Omaha World-Herald 1st Team
The Omaha World Herald announced their 2014 NAIA All-Nebraska team late last week.  College of Saint Mary had five players named to either the first team or honorable mention squad.
 
Leading the way for the Flames was Shelbi Hatfield and Ashley Wohlers (SR/Omaha, Nebraska).  The duo followed up their 1st Team All-Midlands Collegiate Athletic Conference season by being honored with 1st Team All-Nebraska honors.
Shelbi Hatfield, a senior third baseman, led CSM and the MCAC with a battering average of .433 this season and led CSM was named a first team all-conference performer and the Co-Player of the Year.  She also led CSM in runs scored with 28 and hits with 45.
 
Ashley Wohlers, a junior middle infielder, was third on the team with a .370 batting average.  She also was third on the team in doubles (8) and triples (1).  Ashley was a perfect 2-for-2 in stolen bases.
 
Three players were named to the All-Nebraska Honorable Mention team.  Earning the honors were Mariah Gibson (JR/Adel, Iowa), Leah Kipfer (SR/Albia, Iowa), and Jamie Zimmerer (SR/Plattsmouth, Nebraska).  The trio was also named to the MCAC Honorable Mention Team.
 
CSM finished the regular season with a 16-22 overall record and an 11-7 mark in the MCAC.  The Flames qualified for the MCAC postseason softball tournament in Conway, Arkansas.