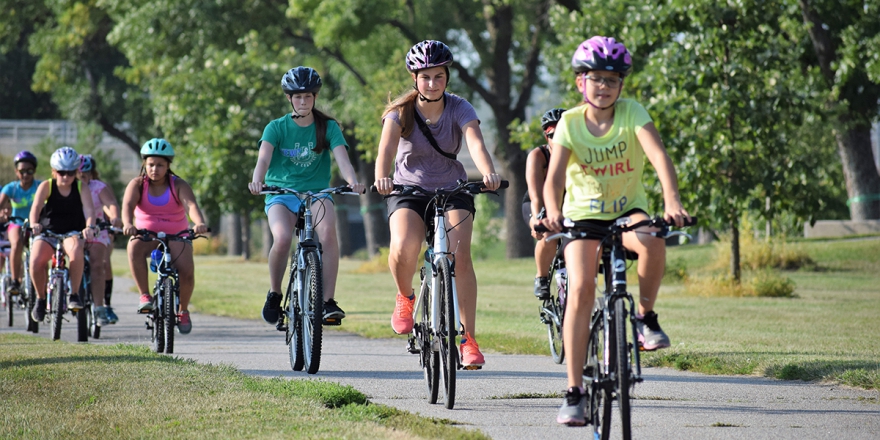 Hundreds of girls receive free bikes from Ironhawk Juniors Tri Club
Omaha, NE - College of Saint Mary will proudly play host to the 2nd Annual Ironhawk Juniors Tri Club program this summer. The university expects nearly twice the number of athletes from its inaugural season in 2018.
This Sunday, the Ironhawk Juniors, girls ages 8-14, will receive their free bikes, helmets and other gear needed to succeed in the one-of-a-kind Tri Club.
The public is encouraged to participate in this positive event on the College of Saint Mary campus, as the girls go through bike safety checks and learn bike skills. At 2 p.m., there will be a special presentation with generous sponsor, Midwest Athletics and Sports Alliance​ (MASA). At that time, MASA President Geoff Thomas will present the Ironhawk Juniors with a $33,790 check.
WHO: Ironhawk Juniors Triathlon Club
WHAT: Bike and Gear Day
WHEN: Sunday, June 2nd, noon-5 p.m., CHECK PRESENTATION 2 p.m.
WHERE: College of Saint Mary Campus, 7000 Mercy Road (By the soccer fields on the East side of campus)
WHY: To empower girls through the sport of triathlon
 
Ironhawk Juniors Triathlon Club began in 2018 to build self-confidence, empower girls through a free triathlon training program culminating in an August triathlon. Through an 8-week training program on the campus of CSM, girls, ages, 8-14, learn the three disciplines of triathlon: swimming, biking and running. Girls learn to honor their self and others, the importance of teamwork and to be kind. To assure there are no barriers to participation, all equipment required to complete a triathlon are provided free to the athletes. No experience is required.
For more information, please visit www.ironhawkjuniors.org. You can also follow on their Facebook page.