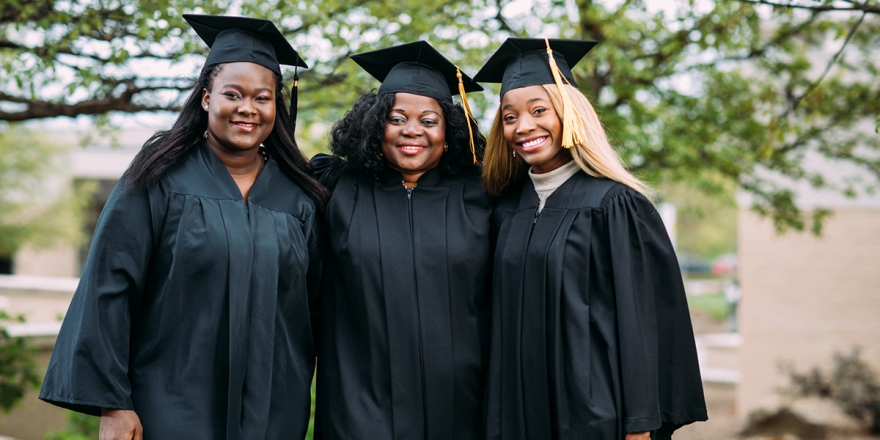 Immigrant mother and daughter share graduation stage after years of sacrifice
OMAHA, NEB. – Less than a decade ago, Alougba "Nicole" Gnonse-Padonou packed up her four children, gathered everything she owned, and moved to the United States. An established nurse in Benin, Africa, she was three months into a promotion when she loaded the plane. She decided to put her career aspirations on hold so her children could have new opportunities in the U.S.
This spring, years since that fateful move, the whole family will celebrate the fruits of that sacrifice. This weekend, Nicole will cross the College of Saint Mary graduation stage on the same day as her oldest daughter, Marlene Djidjoho, with her second daughter, Sena Djidjoho, graduating days prior from Mercy High School.
"I am so excited, so grateful," says Nicole. "I see myself as 'back'. Before, I was down. I laid down myself for my children."
Before making the move to the U.S., Nicole was an accomplished figure in the medical community in Benin. She had worked as a nurse for a total of 17 years, and she was three months into a promotion, in what she describes as her "dream job" in psychiatric nursing, when she decided to move her family to the United States.
Even though her life was stable in Benin, with a master's degree and solid nursing career, Nicole says she hoped to give her children new opportunities in the United States. Years earlier, she had helped a friend who was moving to the U.S., and he encouraged her to make the move. So, when she was selected to receive lottery visas for herself and her whole family, she says it was a chance that was too hard to pass up.
"God decided," recalls Nicole. "I won the lottery visa, and I won for the entire family."
However, Nicole and the family didn't anticipate all of the challenges that come along with life as an immigrant. They were thrust into a new culture and new systems, with little grasp of the English language.
"When we first moved, I didn't know English or anything like that," Marlene recalls. "So, when we came, it was fairly difficult at first because we didn't really know how to blend in and speak the language or understand anyone."
Understandably, Marlene picked up the language faster than her mother, who had spent the entirety of her life speaking, and earning advanced degrees, using French. Early on, Marlene says she saw the frustrating circumstance her mother was forced into.
"A lot of her credits and diploma didn't transfer to the United States, so she had to retake those classes she already took in Benin," Marlene explains about her mother. "That was difficult for her. She was starting all over again in a completely different language."
Truly, Nicole faced an uphill climb when she landed in the states. In a matter of hours, she went from a master-level healthcare provider to starting from scratch. She says it was a big adjustment she didn't fully anticipate.
"I didn't understand what it meant at that time," Nicole recalls, "like a stranger, when they come to our country, we don't ask them to go back to school. We just give them an interpreter to do their job."
With a limited understanding of English, she says she struggled to pass mandatory nursing boards. What's more, with every passing year, she was left locked out of a healthcare industry that was morphing with new practices and technology.
"Instead of staying home and going to the exam and not passing, [I thought] 'Why can't I go to school and update my knowledge?'" Nicole recalls. "So, I decided to go back to school."
Upon recommendation from several friends, she decided to start classes at College of Saint Mary in 2015. Still, as she studied and worked to raise her family, another challenge mounted on the horizon. Her oldest daughter, Marlene, was set to graduate from Mercy High School in the spring, and the challenge of finding an affordable, quality college option loomed.
Picking up and moving to the United States had come at a heavy financial cost for the family. Nicole says money was tight as an immigrant, especially as she re-established her own career.
She decided, once again, to ask for help.
"In her last month, when [Marlene] was graduating from Mercy High School…I got the desire to go see her principal," Nicole says. "I said, 'My daughter is graduating. She will leave you, but I don't know where she will go'…She said, 'Give me two days.'"
A few days later, as Nicole was studying in the CSM library, she was paid a visit by CSM President Dr. Maryanne Stevens, RSM. She asked Nicole for some final paperwork for Marlene.
"She said 'Can you give me the original of the green card?'" Nicole explains. "The following day, the principal called me and said Marlene got a scholarship for Marie Curie."
At CSM, Marlene was awarded the Marie Curie Scholarship, which is an $80,000 scholarship that goes to academically talented women in science and math fields. As a recipient, Djidjoho also gained access to powerful resources, like free tutoring and in-depth research opportunities.
Once she was landed on CSM's inclusive, active campus, Marlene excelled. In addition to being part of the African American Mentoring program and Leadership Leap, she took on executive roles on the Green Team and the Math and Science Club. As a biology major, she earned the Holland Future Prize as an INBRE scholar – a program where she conducted research for disease prevention drugs over the course of two years.
In her four years at CSM, she would also become the 2019 Heart of the Walking Woman recipient and would earn a place on the academic Dean's List. She was also a member of the Student Senate for four years.
"One of my biggest goals is to always improve, meaning every day I can always be better," says Marlene. "That has pushed me to seek out different opportunities and seek out how to specifically better myself because my ultimate goal is to use those leadership skills and those interactions to be able to help patients in need."
Even as an excellent student, she spent college under atypical circumstances. She shared a campus with her mom. Even though Nicole says she was worried being on the same campus might "wreck their relationship" at first, the duo helped one another succeed.
"Especially when it came to writing and things, she had more of a difficult time getting it down," Marlene explains. "So, she understood all of her classes better because she had already taken them in French before, but when it came to relating them to English, I could help her with that."
Fittingly, the mother-daughter pair that studied together, shared meals, and enjoyed some of the same favorite spaces on campus, will graduate together this Sunday. Marlene will graduate with a Bachelor of Science in Biology and minors in psychology and chemistry. Nicole will graduate with a Bachelor of Science in Nursing, with a minor in Theology.
In addition to crossing the stage at the same time, the pair will also celebrate the high school graduation of Nicole's second daughter, Sena. Sena graduated from Mercy High School on May 15th.
All throughout her own journey, Nicole always kept the wellbeing of her children at the forefront. Now, she says graduating at the same time as two of her daughters makes those sacrifices that much more worth it.
"It's not easy, but we did it. We survived," says Nicole. "It's a blessing for me…I wanted one thing, and I have three things, together."
Nicole and Marlene will participate in the CSM Commencement Ceremony on Sunday, May 19th. It will start at 10:30 a.m. in Omaha's CHI Health Center.
Pictured L-R: Sena Djidjoho, Alougba "Nicole" Gnonse-Padonou, Marlene Djidjoho
Photo 2 & 3: (left) Holland Future Prize winners; (right) 2019 Heart of the Walking Woman recipients