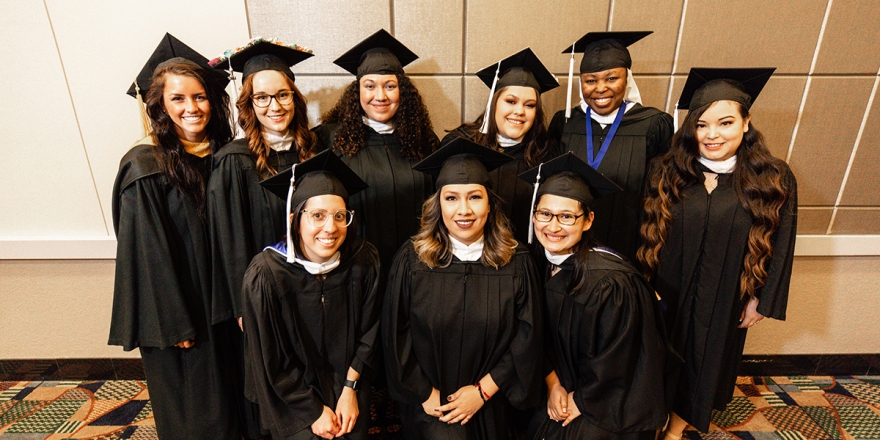 Record number of students graduate from CSM with psychology degrees
The psychology faculty at College of Saint Mary (CSM) are very excited about a new landmark for their department. This May, 10 students graduated with bachelor's degrees in psychology, the most the program has ever had.
Psychology is a very versatile degree. After obtaining a bachelor's degree in psychology, most graduates pursue master's degrees in counseling or social work or enter the workforce directly in areas of human services, business or healthcare settings.
"Psychology helps students develop a variety of skills, so they are well-equipped when going into the workplace," says Dr. Rebecca Hoss, director of the psychology and human services program at College of Saint Mary. "It teaches students oral and research skills as well as how to communicate, write and problem solve."
Phoebe Morgan '19 is in the process of applying and interviewing for a job in nonprofit work for mental health services. "I have a passion for helping others. I am a strong believer in meeting people where they are and helping others in any possible way," says Morgan, originally from San Juan Capistrano, Calif. "My psychology degree will allow me to understand others much easier and to help them live the best life possible."
At CSM, psychology is one option of a bachelor's degree students can pursue before their entrance into the Master's of Physician Assistant Studies program immediately after graduation. This is the route Morgan Lee '19 is taking. "I chose a psychology degree because I found it very interesting and loved that there were so many different course options," says Lee, who will begin her graduate coursework in physician assistant studies at CSM in the fall.
The psychology department also has its own club, the Student Psychology Club. With the support of Dr. Molly Mahoney, professor of psychology, and Dr. Hoss, Phoebe Morgan revived the club in the fall of 2018. "This student organization provides a space for students to talk freely about mental health and public health concerns," explains Morgan. "Being a part of it helped me build my leadership skills." The Student Psychology Club received the Student Organization of the Year award for 2018-19.
Students who graduate with degrees in psychology are well-prepared for several career paths and possess skills that transfer to both their professional and personal lives, all of which are aspects of the student learning goals of CSM.
"My experience at CSM has definitely prepared me for the future," says Lee. "I feel this program has really helped me achieve my goals both academically and personally and gain more confidence in myself."
Pictured L-R (back): Morgan Lee, Morgan Lewis, Miranda Kiley, Alma (Ruby) Gomez, Sister Emilia Ogar, Idalia Garcia; (front): Phoebe Morgan, Breina Romero, Alina Becerra. Not pictured is Jacquelynne Carlson.