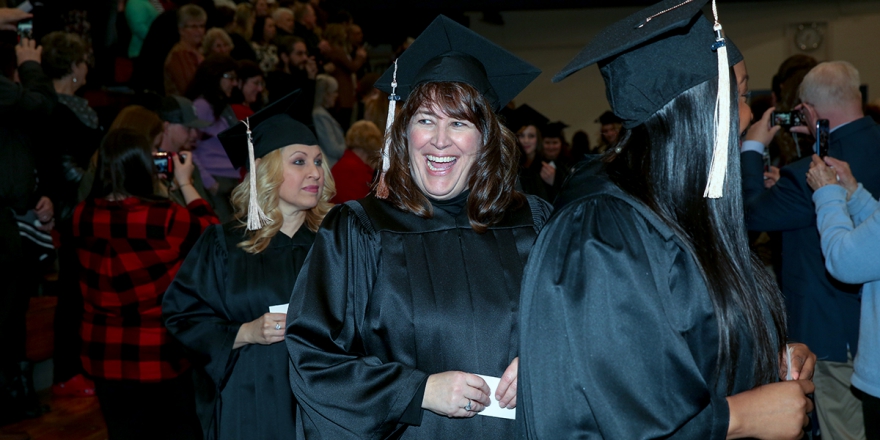 Sixty-six students to graduate from College of Saint Mary on Dec. 15
OMAHA, NEB. – College of Saint Mary will graduate 66 students during Winter Commencement on Saturday, Dec. 15th. They include two associate's degrees, 30 bachelor's degrees, 31 master's degrees, and three doctorates.
Baccalaureate Mass will begin at 5 p.m. in Our Lady of Mercy Chapel. A graduate reception will follow at 6 p.m. in the dining hall. Final Commencement will be held at 7:30 p.m. in the Lied Fitness Center. Lisa Utterback '93, Executive Director for Omaha Public Schools, will deliver the commencement address.
Utterback used her bachelor's degree in education from CSM to further her education and launch a career of service as principal of Miller Park Elementary School. While there, she unified a team of educators and parents and helped transform the school community.  Under her leadership, the school became one of the first schools in the country to receive the Green School Award. Utterback then went on to become the Executive Director for Omaha Public Schools – the position in which she is currently serving.
In addition to establishing a service-driven career in education, she has also spent over 20 years volunteering as a mentor to students and parents in the school system.  She regularly volunteers with Girls Inc., is a Broad Academy Cohort Participant, and has taken on several service initiatives that have landed her recognition, including the American Red Cross Good Samaritan Hero Award and the Omaha Education Association Principal Spirit of Collaboration Award.
 
College of Saint Mary has been educating leaders since 1923. Founded for women by the Sisters of Mercy, CSM is a thriving Catholic university that provides access to affordable education. CSM fosters potential and leadership through academic excellence, scholarship and lifelong learning. The University offers undergraduate and graduate degrees in many of today's highest-paying, in-demand fields, including physician assistant studies, occupational therapy, nursing, science, education, business and legal studies.
CSM offers its student body an enriching collegiate experience that includes competitive athletics and a wide range of fine arts opportunities. A member of the Great Plains Athletic Conference (GPAC), CSM Flames student-athletes field teams in 10 competitive sports: basketball, soccer, softball, volleyball, bowling, competitive dance, golf, swimming, tennis and cross country. Fine arts play a large role in rounding out an academic experience, and CSM provides students with the opportunity to continue their passion for music, art and drama.
Located in the heart of Omaha, home of four Fortune 500 companies, CSM's 40-acre campus is adjacent to Aksarben Village's vibrant and bustling retail and entertainment space, as well as Baxter Arena. CSM is minutes from world-class attractions such as the Henry Doorly Zoo and Aquarium, Joslyn Art Museum, Lauritzen Gardens and CenturyLink Center Omaha.
To learn more about College of Saint Mary, see CSM.edu or contact Kyle Semprini, Director of Communications & Public Relations. 402-399-2407 • ksemprini [at] csm.edu