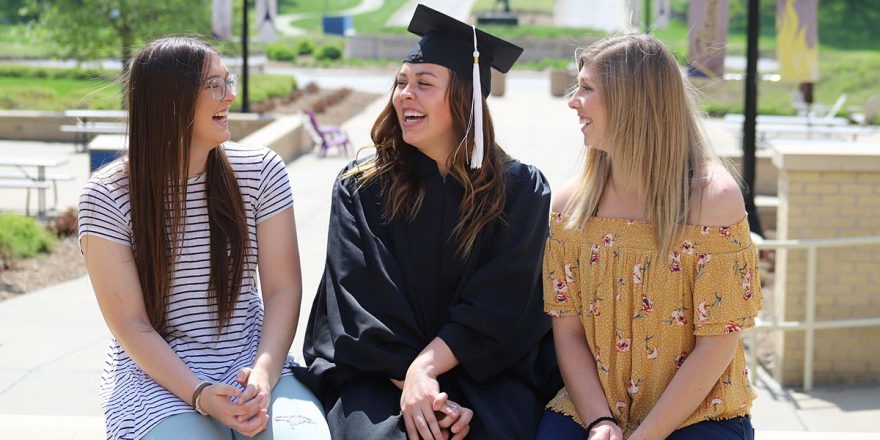 Three sisters enjoy class, life, and graduation at College of Saint Mary
OMAHA, NEB. – At the start of the semester, College of Saint Mary (CSM) professor Dr. Ganesh Naik ran through attendance to see an odd pattern of names: Shull, Shull, and Shull. The three young women sat in a row, faces beaming. The "three sisters," as he often calls them, are Shelby, Shania, and Isabella Shull. For the trio of siblings, college life and family life run together at CSM. Now, on May 20th, Isabella and Shania will gaze up at their big sister, Shelby, as she receives her bachelor's in general studies and strides towards a career as a physician assistant (PA).
Up to this point, Shelby and her sisters have shared a uniquely close relationship. The Shull sisters, who are all originally from Turin, Iowa, are each 1 year and 9 months apart. Shelby and Shania share an apartment, and most nights the three sisters eat, laugh, and study together. When the youngest sister, Isabella, needs help with her homework, she always has a place to go. They are an interesting combination: best friends, sisters, and classmates.
"I love it," says Shelby. "It's essentially like having built-in best friends."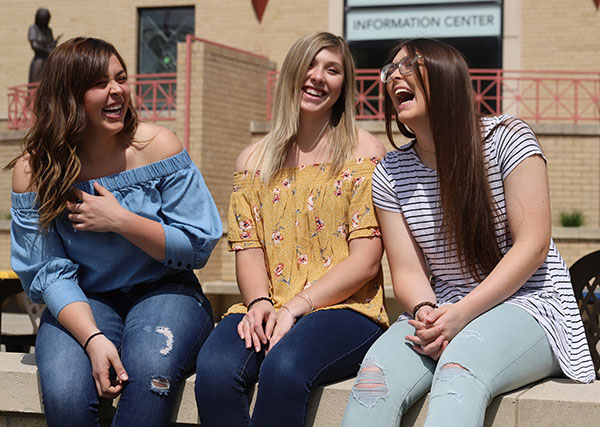 Still, for each of them the path to CSM has meant something different, and for Shelby this spring's graduation marks an important step towards a career as a physician assistant.
Although she's the eldest of the three, Shelby enrolled at CSM at the latest point in her life. After getting her bachelor's degree in health and human physiology and working in the student health department at a larger Midwestern university, she decided she wanted to pursue a more in-depth career in healthcare. Shelby found out her passion resided in working closely with patients in an intensive, hands-on setting.
"I saw PA as the best path and opportunity for what I wanted to do," says Shelby. She also decided CSM was the best place for her to thrive.
But she was a bit late to the game. She enrolled after classes had already begun and looked to CSM administrators to help transfer credits towards the Pre-Physician Assistant Studies program – a track that lets students earn both a bachelor's degree and a master's of science in physician assistant studies in just five years. She says the support she received from the school, despite her late start, foreshadowed her CSM experience.
"[Admissions] went above and beyond to make sure I could get started, which set the tone for the rest of my experience," Shelby says. "I do really well in this environment because it is very conducive to student success."
As she crosses the stage to get her bachelor's after being at CSM two years, she has wasted no time in making her dream come true. Because the university accepted nearly all of her transfer credits, she is able to transition into the final two years of CSM's accelerated Physician's Assistant program this fall.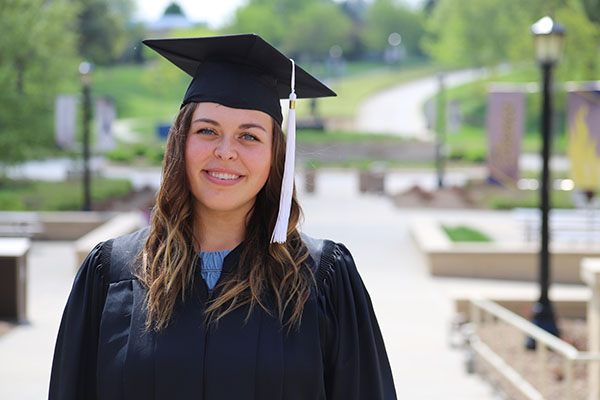 Although she is the oldest, Shelby wasn't the first of the trio to enroll at CSM. That honor belongs to Shania, the second-eldest Shull sister. She went to school a full year before Shelby joined her. Fittingly, Shania, who is a senior, will study side-by-side with Shelby in CSM's PA program this fall.
Still, Shania's decision to pursue a Master of Science Degree in Physician Assistant Studies at CSM was a personal one—even painfully so. After she tore her ACL, she was forced to go through therapy which led to multiple visits to her PA – and a very eye-opening experience.
"I never even considered physician assistant as an option. But then I realized the importance of their work and the impact they can have on someone in need," said Shania, who is excited about the prospect of helping others without the time commitment of pursing a degree as a medical doctor.
She also says being accepted into the PA program gave her a direct path to a top career, and at CSM she knew it was possible to complete it within a focused, five-year track.
"I went from having no clue what I was going to do to having the next five years of my life planned out and decided, which was a relief," she said. "CSM is my path.  Without it, I would not be doing what I'm doing now. I'm really happy."
Now, Shania is set to graduate and will start PA school in the fall – alongside her sister Shelby. Although she recognizes the rigor of the program, she says she's excited to have her sister there along the way.
As Shelby and Shania share PA coursework, the youngest of the sisters, Isabella, will be forging her own path – albeit on the same campus. Isabella is a sophomore and an active student-athlete, playing softball for the Flames. After finding success on the diamond as a four-time letterer and two-time All-Conference third baseman in high school, she decided to continue her athletic career and study at CSM.
She says the chance to play softball and grow within CSM's intimate, welcoming environment drew her to the school.
"I felt that [CSM's] smaller environment would help me succeed more than going somewhere else," she said. "Admissions and the softball coach made me feel really welcome and made clear that they would do anything to help me succeed."
At CSM she balances athletics and coursework within an intensive and regionally renowned occupational therapy (OT) program at CSM. Through the unique, five-year combined bachelor's and master's degree program – a program that made waves last year when graduates hit an unprecedented 100% board pass rate – Isabella will automatically be enrolled in the Master's Degree in Occupational Therapy program as she finishes coursework for her bachelor's in rehabilitation science.
"I was so fortunate to get into Occupational therapy program here, as I know it's really competitive."
Isabella also says she is looking forward to playing softball for another two years.  After that she will have one more year of OT school and then start her career in healthcare.
In the meantime, she is enjoying sharing campus with her sisters. In fact, according to the trio, college has strengthened their relationship.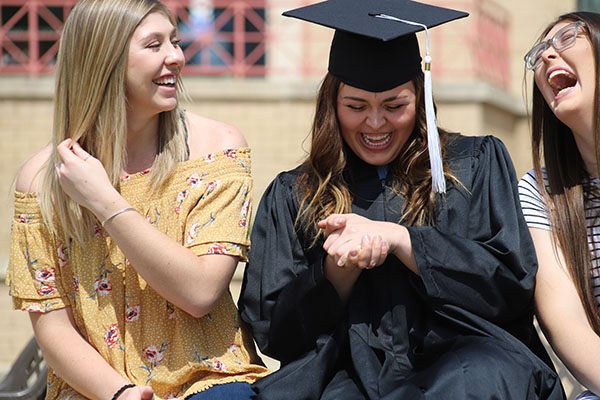 "We're closer in college," says Shania. "We make the choice to hang out together."
They all have their roles and have learned to help each other out. On a typical night, Shelby plays "mom" and keeps the other two in line. Meanwhile, Shania usually cooks dinner, and Isabella introduces her older siblings to her friends.
"We've always been good friends.  Now that we're older, being together gets better," said Isabella. "My friends are jealous of my having my sisters here because they are such a comfort to me."
Shania and Isabella will cheer their sister on at CSM's 2018 Commencement Ceremony on Sunday, May 20th. The event will begin at 10:30 a.m.