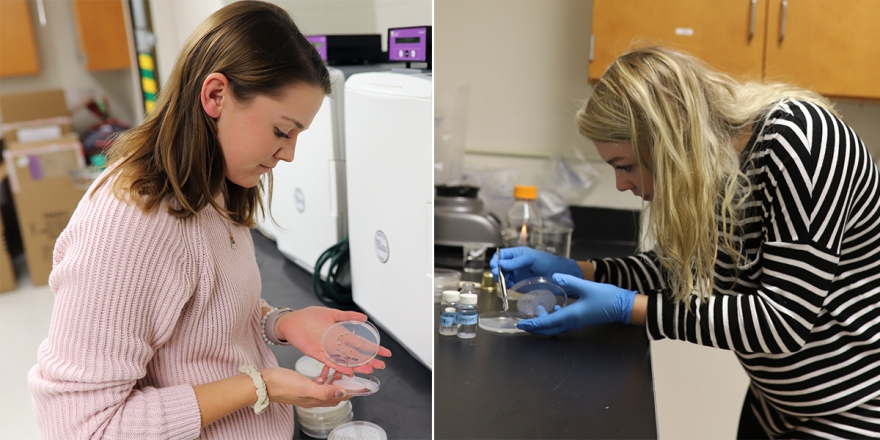 Two CSM students receive NASA Fellowship to enhance life in space
OMAHA, Neb. – Earlier this year Emma Turner, a sophomore at College of Saint Mary (CSM) and an Atlantic, IA, native, got a call with some exciting news – she had been selected as a 2018 NASA Nebraska Space Fellowship recipient. A longtime lover of science and technology, she will now use the competitive fellowship to dive into high-level research and promote life in space.
"When I got [the fellowship], I was out with some friends… I immediately ran home and talked about it with my parents," Turner recalls. "The fact that I was doing something like this was groundbreaking for me."
Turner wasn't the only student at CSM to be awarded with this honor. Treynor, IA, native Aly Anderson also received the good news over the summer.
"Dr. Higley let me know of the opportunity, so I applied last spring, and I received word in July I received the grant," says Anderson. "I knew I had to capitalize on this opportunity."
The competitive NASA Fellowship is awarded to students who demonstrate academic achievement and interest in science, technology, engineering, and math (STEM) careers. In order to qualify for the fellowship, each student was also asked to propose a workforce development activity, research project, internship, or similar project.
"This is a great opportunity for our students to do actual research," says Dr. Phyllis Higley, associate professor of biology. "We teach about research in class, but it's not the same as actually putting that into practice. This project will provide great authentic experience and professional development for them."
After receiving the NASA Fellowship, the students will now work on an interactive research project to aid space exploration. The students each work 10 hours a week for 30 weeks total.
"I've always been interested in biology since I can remember, and the idea of NASA is so cool to me," Turner explains. "It's a really good opportunity. I didn't think it would ever happen to me." Turner first came to CSM as a recipient of the Marie Curie Scholarship, which provides significant financial support and resources for women who want to major in biology, chemistry or mathematics.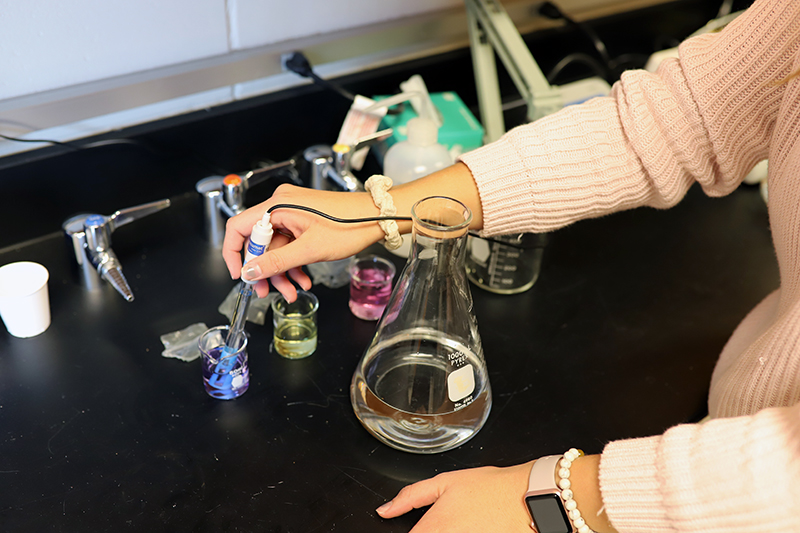 Anderson and Turner will use the fellowship to do hands-on research with a big goal in mind: help support life in outer space. In the lab, Turner will work with lettuce and a microorganism called Pythium. Pythium is the main cause of destruction in lettuce that is grown hydroponically— that is, through a system that uses mineral-rich solutions, rather than soil, to grow plants. Determining what hosts are less likely to support the troublesome Pythium microorganism could boost indoor and soilless agricultural possibilities. 
In space, hydroponic farming has become the go-to method aboard the International Space Station (ISS) – a massive spacecraft used to explore living and working beyond Earth. In addition to cutting the massive cost of transporting food to space, self-sustaining farming systems have the potential to provide food, deliver psychological benefits, and clean up carbon dioxide on-board or in new environments. As humans explore and expand life beyond the globe, figuring out the best way to grow vegetables in space could vastly widen possibilities for human reach.
With the NASA Fellowship, these students are striving to encourage these possibilities by digging into the problem of Pythium root rot and examining how seeds respond to water mold.
Anderson is currently studying how Pythium responds to various temperatures and environments. She'll be monitoring how four different temperatures affect disease severity in three different plants types and tracking those results throughout the semester.
"This is my first experience working in a lab and doing my own research," says Anderson. "I've learned so much already, and I know we really haven't even scratched the surface yet."
Currently, this research is running in conjunction with Turner's CSM classes, including botany. She says this combination of in-class support and experiential learning has been a powerful opportunity.
"I don't feel like I'm just learning about plants to learn about plants," she says. "I can apply it to something, and it's cool because I've never done anything like it before."
The students are able to utilize on-campus labs and resources to study data from past students and uncover findings of their own.
"I've really enjoyed this project so far. It's exciting to verify the work of previous students and expand on their research," says Anderson. A double major in chemistry and biology, Anderson says she plans on going to medical school after graduating from CSM.
 "Learning the process, germinating seeds, examining reactions, formulating tests, and recording results – this is invaluable experience for someone going into the medical field."
In addition to conducting her research, each student is tasked with completing progress reports and preparing a presentation. Both Anderson and Turner will present their findings at the Nebraska Academy of Sciences annual meeting in Lincoln this spring.
Top Photo: Aly Anderson (left) and Emma Turner (right).