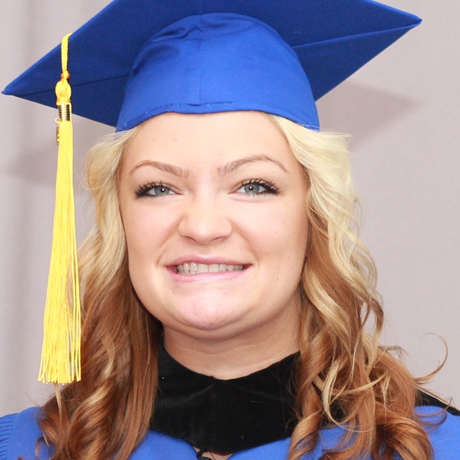 Natalie Pfeifer
Class of 2015
Madison, Nebraska
Major: Nursing
This is What I Mean by Bloom
Natalie Pfeifer grew up in Madison, Nebraska, with her eyes on her mom.
"I chose my major because my mother is a registered nurse and I look up to her and everything she has accomplished," Natalie said.
Natalie chose College of Saint Mary because, from the moment she walked onto campus, she felt welcome and she liked the atmosphere.
"College of Saint Mary is more than a university. It's a family," she said. " When you come to College of Saint Mary, you get to know a lot of people and build intimate bonds with them. People really do care for you and want you to succeed in life.
"My favorite thing about College of Saint Mary is the friendships and connections I've made with classmates, faculty and staff," she continued.
Those relationships begin forming the moment you arrive.
"I was sick once during my freshman year and went home for the day," Natalie said. "When I got back, my friends threw me a 'We Still Love You Even Though You're Sick' party. My closet was filled with balloons and there was a pound of Reese's Peanut Butter Cups. I got lots of hugs and love! They're still my friends."
She sees attending an all-women's college as an advantage.
"The greatest benefit of attending an all-women's college is the confidence that is instilled in you as a woman and as a leader daily," Natalie said. "The focus here is on learning. Because of my experiences at College of Saint Mary, I will be confident in interviews and job performance."
Natalie serves as an executive for the Multicultural Association of Students and the Student Nurses Association and is a student ambassador.