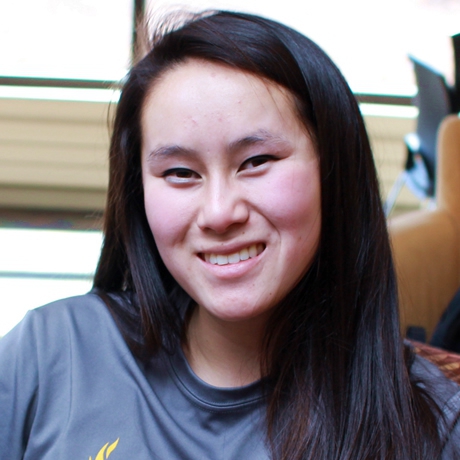 Shannon Landry
Class of 2016
Papillion, Nebraska
Major: Human Biology
This is What I Mean by Bloom
Athlete, leader, achiever — Shannon Landry fits all these descriptions.
The human biology major chose to attend College of Saint Mary as a junior in high school. She plans to pursue a degree in medicine upon graduation.
"I have always had a dream of being in the medical field and I heard great things about College of Saint Mary's faculty and science courses," Shannon said.  It also didn't hurt that her high school soccer coach in Papillion also encouraged her to play collegiate soccer for The Flames.
And she is glad she listened.
"College of Saint Mary provides a great environment for students to learn, grow and prosper," she said. "The college is big enough to have a 'college experience,' yet also small enough to settle down and focus on classes. The greatest benefit of attending an all-women's college is that you really get to learn how to lead. College of Saint Mary challenges women to take charge and create their own path and I think developing that 'take charge' attitude will help me throughout my life."
Shannon's "take charge" attitude has already made a difference at College of Saint Mary where she serves as president of the math and science club and treasurer of the Student Athletic Advisory Committee, is a member of both the soccer and swimming teams, and participates in ROTC, Leadership Launch and Aquarium Club.
"My favorite thing about College of Saint Mary is the faculty," Shannon said. "Their willingness to help and their drive make me want to learn more and push myself to be my best. They have become some of my most respected role models."