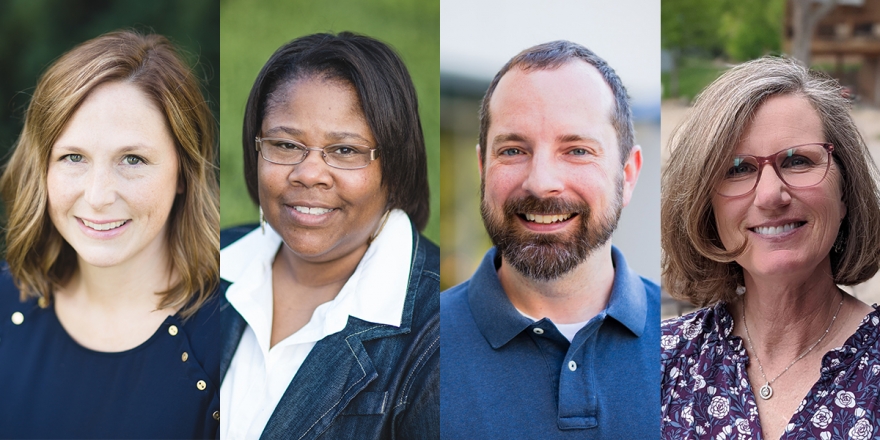 College of Saint Mary celebrates four doctoral debuts
OMAHA, Neb. – College of Saint Mary is pleased to award doctoral degrees to four of its staff and faculty this summer. Dr. Mindy Barna, Dr. Kelly Murphy, Dr. Tracey Toney, and Dr. Patricia O'Connor received their Doctor of Education in Education Leadership (Ed.D.) degree on Sunday, Aug. 2nd. Each of them continues to shepherd the CSM mission by providing quality academic experiences and contributing to an environment that calls forth potential in its students.
Dr. Mindy Barna serves as the associate dean for health professions at CSM. She recently completed her dissertation titled, "Nursing Students' Perceptions of Spiritual Well-Being, Academic Persistence and Academic Success." Dr. Barna chose this topic for the very same reason she chose a career in higher education – she is passionate about student success. After her years of work at CSM, she discovered spiritual well-being and positivity directly relates to a student's experience. She is the mother of four children and says the online doctoral program at CSM offered her the flexibility she needed to research and work on presentations when it was convenient for her schedule. Dr. Barna also expressed, "the CSM faculty were very encouraging and very supportive of my research."
Dr. Tracey Toney serves CSM as an assistant professor of nursing and as the Simulation/Nursing Lab coordinator. Her completed dissertation is titled, "Single Mother Students living On-Campus with Child(ren) Perceived Factors that Facilitate Their Academic Success: A Phenomenological Investigation." Her topic is deeply sentimental. Her goal with the finished product was to "uncover and bring attention to her subjects' academic experiences and strategies they adopted in their efforts to persist in their academic programs." The path to her dissertation was nothing short of challenging; Dr. Toney states, "it wasn't until the death of my father that I decided to own my circumstances, live in the here and now, and grow and continue to elevate my life." She also states CSM's role as a supporter and cheerleader was instrumental in her journey.
Dr. Kelly Murphy serves as assistant professor of mathematics and professional math tutor and retention specialist. His dissertation is titled, "The Effects of Mindset and Mathematics Anxiety on Mathematics Performance for Female Undergraduate Students in Developmental Mathematics." Mindset became a focus for him when he heard one of his classmates speak about Carol Dweck's research. "Mindset in the math classroom can be very fixed and is accompanied by math anxiety. This was very apparent in my math classes here at College of Saint Mary," says Dr. Murphy. "I wanted to see what I do to change their mindsets and how I can help even more." The results of his research were extremely positive. He said the doctoral program "challenged me, enlightened me, and was one of the greatest opportunities I have ever had."
Dr. Patricia O'Connor serves as adjunct professor in CSM's teacher education program and the professional writing tutor at the Achievement Center. Her dissertation is titled, "Teacher Use of the Mindfulness-informed Stress Intelligence App During the COVID-19 Pandemic: Results from a Randomized, Waitlist-control Field Trial".  Dr. O'Connor chose her research topic based on her own experiences with mindfulness as an effective method for managing teacher stress.  She stated that the CSM Ed.D. program helped her make the transition from K-12 to higher education, and she appreciated the small cohort size and individualized support she received from her instructors and peers. 
Each of these individuals continues to make their unique mark at College of Saint Mary. The university is proud of their accomplishments.
College of Saint Mary was recently recognized by BestColleges as having one of the top online Doctor of Educational Leadership (Ed.D.) programs in the nation. The online Ed.D. program allows working professionals to advance their careers in education with the convenience of fully online coursework. Students enter and take classes with one cohort and have the options of either a full-time or part-time track. Tailoring classes to individual students' professional goals, CSM offers relevant and interactive courses in curriculum, assessment, teaching and learning, and leadership. Graduates of the program are fully prepared to excel in leadership in any educational, corporate or healthcare setting.