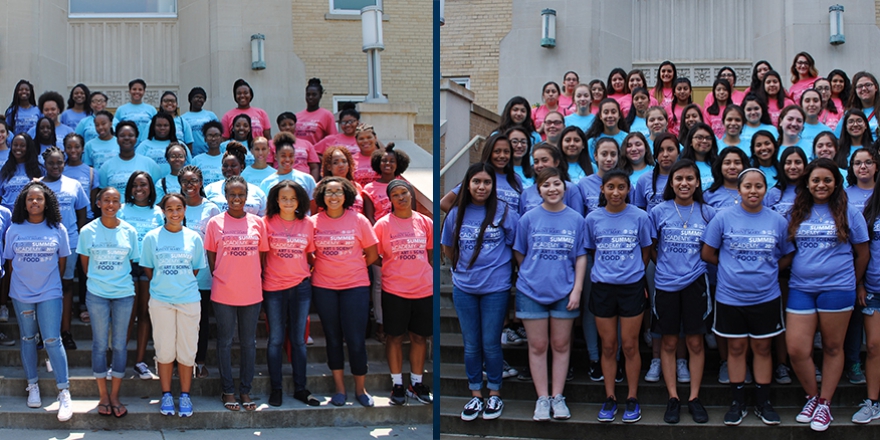 Registration now open for CSM's Latina and African-American Summer Academies
OMAHA, NEB. – College of Saint Mary will host more than 100 tenth and eleventh grade high school girls for its upcoming summer academies. The 17th Annual Latina Summer Academy will be held on campus from June 10-15, and the 5th Annual African/ African-American Summer Academy will take place the following week on June 17-22.
CSM's summer academies are unique one-week opportunities for Latina and African/ African-American girls designed to prepare students for success in education beyond high school.  During the academy, students will learn how to prepare for college entrance, take college-like courses, participate in cultural activities and live in a college residence hall. 
This summer's theme is "Just Add Water". Students will go on field trips and be introduced to a variety of careers.
Students will also explore the visual and performing arts, journaling, meditation, exercise and self-defense. Corporate executives, educators and community leaders from the Omaha area will offer encouraging words and stress the value of education and establishing positive role models.
Attendees live on campus in Lozier Hall chaperoned by College of Saint Mary students and staff.
Tuition, housing and meals is $25. Priority deadline for registration is April 16. To be eligible, the student must be a young woman entering 10th or 11th grade. To register, contact Alexis Sherman at 402-399-2365 or email asherman [at] csm.edu. For information in Spanish, contact Patricia Saavedra, 402-399-2406, or email psaavedra [at] CSM.edu.
To learn more about the academies or to register online, visit CSM.edu/summer-academies.
These services are made possible through funding from the Women's Fund of Omaha and the Sisters of Mercy of the Americas, Northeast Mercy Ministry Fund.