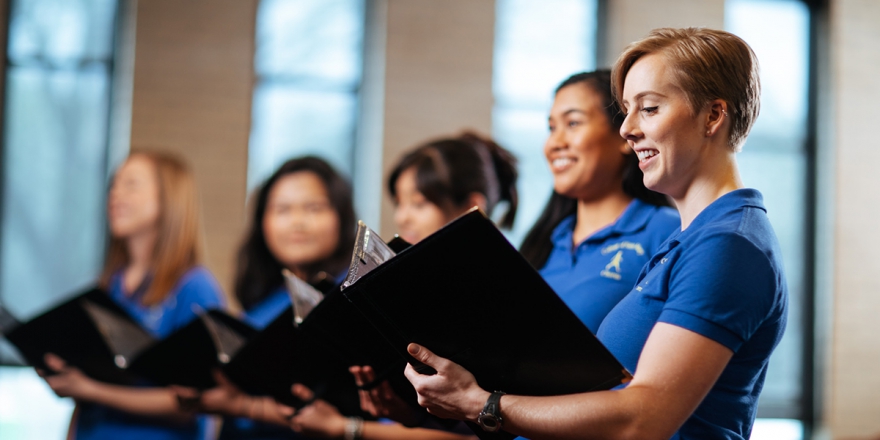 CSM presents two arts performances this November
OMAHA, Neb. – This November, College of Saint Mary will host a pair of free events that will celebrate music and the arts. The University will put on its CSM Fall Choral Concert on Sunday, Nov. 4th, and the Brian Steever Jazz Combo will come to campus on Saturday, Nov. 10th.
"We're excited to help enrich the community through entertaining arts opportunities this fall," said CSM Director of the Fine Arts Dr. Chris Krampe. "We want to invite people to come enjoy campus and connect through great music."
On Sunday, November 4th, in its first major concert of the season, the College of Saint Mary Choir will present a musical performance that will reach across a variety of styles. Tapping into the talents of CSM students, the concert will feature songs that range from classic and sacred music to pop and selections from musicals. The CSM Fall Choral Concert will be held in Our Lady of Mercy Chapel at 3 p.m.
Later in the month, on Saturday, Nov. 10th, Brian Steever Jazz Combo will perform in CSM's Hixson-Lied Commons from 7-8 p.m. Driven by a mission to inject joy into music, the up-and-coming Kansas City drummer, Steever, will perform jazz music in a fun show open to the public. Admission is free and specialty coffee drinks will be available for purchase.
Both the CSM Fall Choral Concert and the Brian Steever Jazz Combo performances are free and open to the community.