A Growing Field — A Way to Improve Lives
Bachelor's Degree in Rehabilitative Science and Master's Degree in Occupational Therapy
The occupational therapy program at College of Saint Mary prepares you to deliver services that help people improve their lives. The program emphasizes compassionate, ethical services for all people, particularly those who are vulnerable to compromised health and quality of living.
College of Saint Mary's occupational therapy program is a unique, 5-year combined bachelor's and master's degree program. When you apply and are accepted, you will enroll in the bachelor's degree in rehabilitative science program, then move automatically into the master's degree in occupational therapy program.
95% of our students participate in some type of service learning opportunity.
All students complete off-site fieldwork experiences at some of the nation's top healthcare facilities.
As an occupational therapist, you will be able to help patients develop and maintain vital living and working skills. Occupational therapists evaluate physical and mental abilities, track progress and design activity programs. You can make an impact on those who need it most. After graduating, your knowledge and skills will help you become a vital member of the healthcare community.
The total number of College of Saint Mary graduates who passed the National Board for Certification in Occupational Therapy (NBCOT) certificate exam in 2014 – including first-time test takers and repeat test-takers – is 38 out of 40 graduates for an overall pass rate of 95%. As of 2014, the National Board for Certification in Occupational Therapy only posts the overall pass rate of a program regardless of the number of attempts for a student to pass the exam. The most current information about the board pass rate for College of Saint Mary is posted by NBCOT.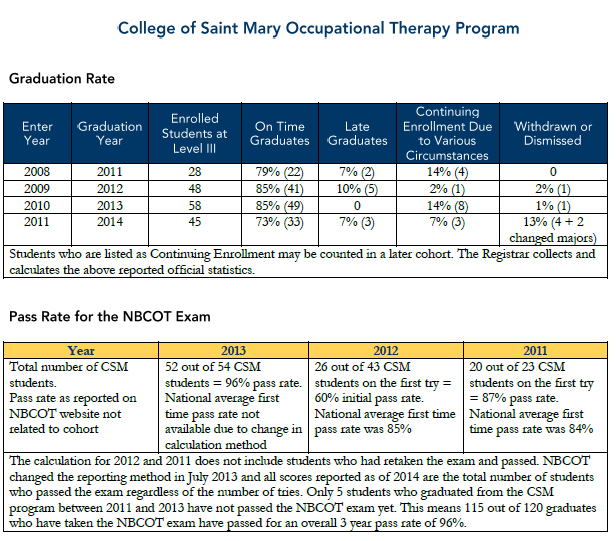 The occupational therapy program is accredited by the Accreditation Council for Occupational Therapy Education (ACOTE) of the American Occupational Therapy Association (AOTA), located at 4720 Montgomery Lane, Suite 200, Bethesda, MD 20814-3449, phone 1-800-877-1383, extension 2914, accred@aota.org. In 2010, College of Saint Mary received a 10-year re-accreditation from ACOTE. This accreditation period is only awarded to programs that are in full compliance with all ACOTE standards, and provides national recognition of our program.
Degrees Offered
Bachelor of Rehabilitation Studies
Master of Occupational Therapy
Career Outlook
The U.S. Department of Labor projects employment of occupational therapists to increase by as much as 26 percent by 2022. With a median annual salary of $75,400, occupational therapy is a high-demand career. After graduating from our program you will be prepared with the knowledge and skills to establish a higher quality of living for your patients. Many of our students are offered jobs at the completion of their Level II fieldwork, or upon graduation.
 Source: U.S. Department of Labor/Employment and Training Administration