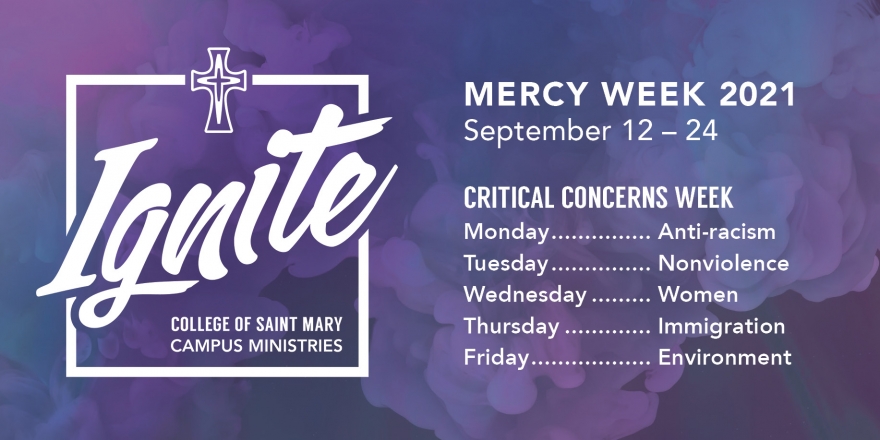 Mercy Week
Sunday, September 12, 2021

to

Friday, September 24, 2021
Mercy week is a time for all the Mercy schools and universities to join the Sisters of Mercy in honoring their heritage and recognize the ongoing work of the Sisters and everyone in the Mercy Community. The Sisters of Mercy were founded in Dublin, Ireland by a courageous woman named Catherine McAuley.
The Sisters of Mercy now are doing their work as fearlessly all around the world, and are joined by Mercy schools and universities, Mercy Associates, and Mercy Corps Volunteers. We celebrate their work and ours from Founders Day, September 12 through Mercy Day, September 24, each year.
On Monday, September 13 through Friday, September 17, CSM will give special attention to each one of the Sisters of Mercy's Critical Concerns: Anti-racism, Nonviolence, Women, Immigration, and the Environment. Every day there will be information and activities in the Ministry Hub on the first floor of Walsh Hall, plus these special events!
MONDAY 9.13  
The Threat to American Democracy Series:  Critical Race Theory- What is the Big Deal? | Noon - 1 p.m.
Join the discussion to explore this current topic. All CSM faculty, staff, students, alumnae, and friends are encouraged to participate. This event is offered in partnership with the Office of Community Engagement and Movement in Omaha for Racial Equity (MORE).
TUESDAY 9.14  
Nonviolence Service Project | 11 a.m. - 1 p.m.
Create care packages for survivors of sexual violence.  Lunch Provided.
Located in the Campus Ministry hub in Walsh Hall.
WEDNESDAY 9.15  
Curtiss Lecture:
World Humor in the Bible: The Rabble-Rousing Rhetoric of Prophetic Humor | 7 p.m. - 8 p.m.
Featuring Dr. Terri Bednarz, RSM
Dr. Bednarz will illustrate the obscure forms of humor in the Bible, including amusing wordplays, sardonic hyperbole, scatological jokes, comic absurdity and appalling reversals. She will discuss the prophetic function of Biblical humor and demonstrate how prophetic humor compels us to respond to the urgent needs in our world today.
THURSDAY 9.16  
"Sexual Violence in ICE and Detention Facilities" |  Noon - 1 p.m.
Learn about a one of the issues facing immigrants in the United States: sexual violence in detention facilities. Lunch will be provided and giveaways for attendees
Sponsored by Project SPEAK and the Office of Diversity and Inclusion
Located in the Campus Ministry hub in Walsh Hall.
MONDAY 9.20  
CSM Missioning Service |  Noon - 1 p.m.
All are welcome as CSM celebrates our mission and honors our heritage! We will recognize staff and faculty for years of service to CSM and renew our commitment to our CSM Mission and values.
Located on the CSM Plaza.
WEDNESDAY 9.22  
Social Justice Fair |  11 a.m. - 1 p.m.
Enjoy free lunch on the CSM Plaza while you visit organizations that are doing something to help. Visit at least one organization that corresponds to one of the Critical Concerns and win prizes!
Located on the CSM Plaza.
THURSDAY 9.23  
Mercy Associates Information Session |  12:30 - 1 p.m.
All are welcome to learn more about what Mercy Associates are all about! Mercy Associates are people who live the values of the Sisters of Mercy. Women and men of all faith traditions are welcome to be part of a community that values spirituality, service, and justice.
Located in Walsh 148 and via Zoom.
For Zoom link information, please contact Andrea Stapleton at astapleton [at] csm.edu.
FRIDAY 9.24  
Mercy Day Picnic |  5 p.m. - 7p.m. 
The CSM community will enjoy free lunch on the plaza to celebrate our Mercy Heritage and honor the Sisters of Mercy and Foundress, Catherine McAuley.
Located on the CSM Plaza.