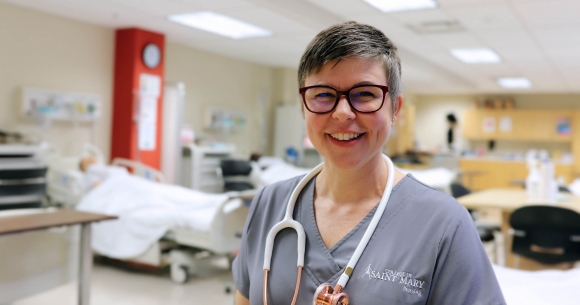 Nontraditional Student Begins 'Second Life' at CSM
Angie Washington, now 46, was a missionary serving in Bolivia, South America, when she faced complications in her fourth pregnancy. She delivered her youngest son by C-section.
Soon after, she researched pregnancy, birth and women's healthcare. That's when she discovered midwifery. "I hadn't had any exposure to it before then, but when I learned about midwifery and midwives, I said, 'That's what I want to do,'" Angie said.
Angie began looking at colleges when she moved back to Omaha in 2015. To become a midwife, she would have to become a registered nurse. "I looked at the nursing program at College of Saint Mary, and I was hooked," she said.
Angie finished one year of pre-nursing. But then, life happened. Her marriage ended, and she had five children to care for. She earned her practical nursing certificate from a local community college to gain employment.
Then, last year, Angie learned about the Josie Harper Nursing Scholarship, which was established to help financially disadvantaged students, including those who are first-generation, single parents, ethnic minorities and/or Pell-eligible, who desire a nursing career. The scholarship provides a debt-free pathway.
Angie was readmitted to CSM and received the scholarship. She's in the second semester of her first year of the nursing program. "In the next two and half years, I'll be able to have my bachelor's with my RN, which will allow me to pursue the master's level, which is the midwifery training," she said.
After serving as a missionary for 13 years, Angie considers her college journey her second life. "What I love about College of Saint Mary is the support for single moms and the different resources available to nontraditional students and all types of individuals," she said. "I really feel supported here. I feel at home."
From her first day on campus, Angie recognized that the professors had a relationship-based approach with their students. "I feel like the faculty, the teachers, the instructors, they all have the intent of 'Let me get to know you and figure out what works best for you to learn this information or this skill,'" she said. "Especially with nursing, it is a relational career path, so they model those soft skills from the beginning of respect, dignity and inclusivity."
Following graduation in 2025, Angie plans to work in the labor and delivery field for one to two years before beginning her online training at Frontier Nursing University, specializing in midwifery. Due to the lack of preceptors in Nebraska – there are only about 25 midwives in the state – Angie will have to travel to other states. However, she hopes to return to Nebraska to work and expand the availability of midwives, especially for people of color.
"That's where my heart is right now," Angie said.
Black women are three to four times more likely to die in childbirth than White women of the same socio-economic level. "I believe birthing facilities are a part of that solution," Angie said. "Pregnancy is not a disease. Pregnancy is not a sickness. Yet, we send our women to places riddled with disease and sickness. It instills fear, and it invokes a lot of unnecessary interventions so having a birthing facility as an option apart from the hospital setting would be such a great resource, especially for the people of color in Nebraska."
By Leeanna Ellis